RIMS Bangalore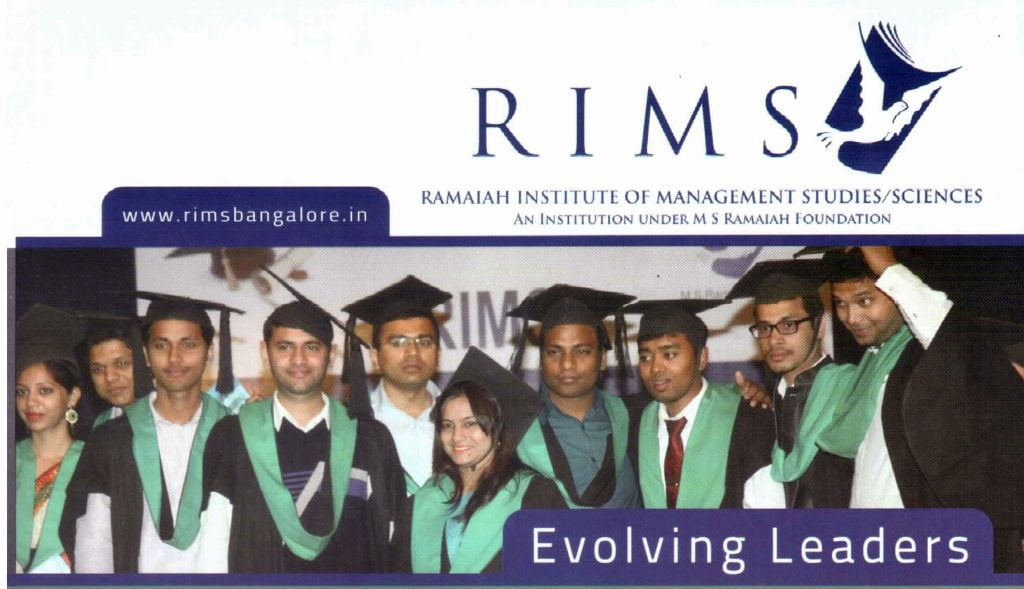 How Are RIMS Bangalore Different ?
First And Only B-School in India to have earned two Global accreditation in a record period of Time
Only B-school In India to Have won the highest STAR Award of the American Society For Quality ( at National Quality Education Conference November 2012), Two Awards of Destination [2010 and 2011] and Two ITEA Finalist Awards at the World Conference on Quality and Continuous Improvement [2011 and 2012]
ONLY B-School in India to have an 'Education Leader of the year 2012 (IACBE) and "Teaching Excellence Award Winner for Asia 2012 [ACBSP] guiding the academic programs.
Excellent Placement record
Why Rims Bangalore
Location Advantage – Silicon Valley Of India.
95% of the batch of 2012 – 14 has successfully been placed with attractive salaries with maximum salary of 16 Lakhs.
Contemporary And Dynamic Curriculum With Equal Emphasis On Knowing, Doing And Being.
Passionate Faculties, Applied Research And Relevant Outreach Activities.
Excellent Placement Record.
RIMS Bangalore Locational advantage – Silicon Valley of India.
#15, New BEL Road, MSRIT Post, M.S. Ramaiah Nagar, Bangalore-560054,
Telephone: 011-64614275/ 011-26344275 Mobile No: 9811004275/ 9250374279
RIMS BANGALORE PROGRAMS OFFERED
All programs are two-years and are full Time
RIMS BANGALORE  EXCLUSIVES
Well-designed course to meet the dynamic marked scenario
Regular industrial visits, In-house workshop and presentations
Wifi-Campus, Indoor and outdoor sports activates
Opportunity to undertake faculty directed independent and Research projects
Stucents have option to pursue dual specialization programs
SAP certified Course, Computer lab with latest Configurations
Branded iPad for every student, Medical And Accident insurance
Hostel facility, Canteen Facility, Educational loan facility with leading banks


RIMS Bangalore Few Representative List Of Recruiters