GL Bajaj Institute of Management & Research
GL Bajaj Institute of Management & Research
Address-:Plot No. 2, Knowledge Park III,
Greater Noida, Distt. G.B.Nagar, U.P., India
Admission Contact Number(GLBIMR):-09811004275 ,09250376104
Phone No.-: 011-26344275, 011-64614275
Website-: www.glbimr.org
GL Bajaj Institute of Management & Research
( GLBIMR ) is located in the midst of industrial township comprising of tycoons like LG Electronics Yamaha, Moserbaer, Honda etc. and the hub of educational institutions in the Knowledge Park of Greater Noida. This adds weightage to GLBIMR in inducting an industrial mind set conducive to growth and development.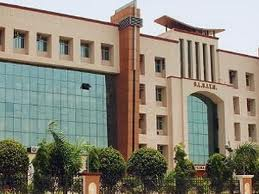 GL Bajaj Institute of Management & Research- GLBIMR belives in 3C Model of learning which is based on 3C approach of competition, collaboration and cooperation to facilitiate developmentof future coporate leaders. The curriculum has a strong international perspective, prepares students to manage lead and succeed in the increasingly competitive global business environment.
GL Bajaj Institute of Management & Research (GLBIMR,Greater Noida)
MBA College Name
GL Bajaj Institute of Management and Research
Location
Greater Noida
Date of Establishment
2005
Affiliation
AICTE, Ministry of HRD, and Government of India
Courses Offered
PGDM and MBA
MBA Entrance Exam
CAT/MAT/ATMA/XAT/ATMA/CMAT

GL Bajaj Institute of Management & Research GLBIMR  Fees structure

PGDM Rs. 5,45000/- for 2 years.

MBA – Rs 3,00,ooo/- for 2 Years.

Eligibility Requirements in – G.L Bajaj Institute Management and Research(glbimr)
Bachelor's Degree or equivalent (10 + 2 + 3) in any discipline with minimum of 50% aggregate marks from a recognised Indian or foreign university.
College Admission Procedure
Previous academic performance+Entrance test score
Group discussion+
Personal interview.
College Scholarships
Yes,Available
Documents required for MBA Admission in GL Bajaj Institute Management and Research
A Photocopy of Entrance score card.
A Photocopy of Graduation Examination marksheet (1st & 2nd year marksheets for 3 year degree holders and 1st, 2nd & 3rd year marsheets for 4 year degree holders, in case applying for Final Examinations).
A Photocopy of Class 10th /12th Certificate
Colored photographs (4 passport size).
Seats  (Intake)
PGDM -180.(Intake), MBA -120 Seats
GD/PI Cities
New Delhi, Bhubaneswar, Kolkata, Jaipur, Guwahati, Racnchi, Jamshedpur, Patna, Kanpur, Allahabad, Lucknow, Chandigarh.