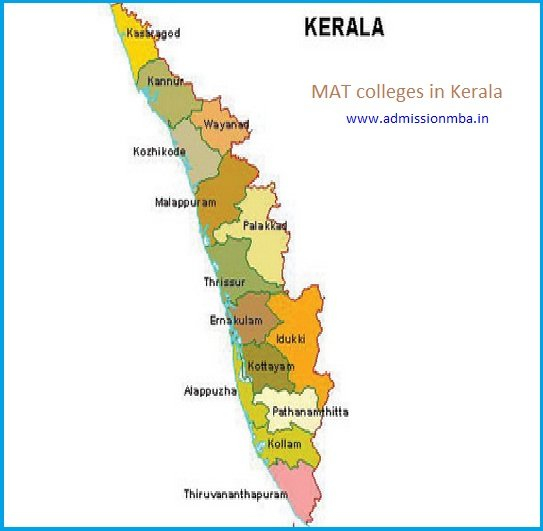 MAT score in Kerala are among the most demanded, searched and preferred colleges for students from Different part of the country to study Management Education either MBA or PGDM.
Management Aptitude Test (MAT) conducted by All India Management Association (AIMA) which is a apex body of professional management with active support of the Government of India is the national wide exam being accepted by over thousand of colleges in India and by many colleges in Kerala, for Providing admission in management education MBA or PGDM. Since MAT exam is held for getting admission in Management Colleges in Kerala also known among students as MAT Colleges in Kerala for the purpose of Post Graduate admission.
List of Top Colleges in Kerala accepting MAT :-
Name MAT Colleges in Kerala
Admission Address

MBA Colleges in Alappuzha accepting MAT score in Kerala

Providence College of Engineering
Vattamala, Perisseri East, Angadikkal, Chengannur
Institute of Management and Technology Punnapra
Vadackkal Po Punnapra Alappuzha Kerala
Mount Zion Institute of Management
Kozhuvalloor, Chengannur, Kerala-689521
Kvm College of Engineering & It
Kokkothamangalam P.O, Cherthala, Alappuzha, Kerala

MBA Colleges in Ernakulam accepting MAT score in Kerala

Ilahia College of Engineering and Technology
Mulavoor P.O Muvattupuzha, Ernakulam Dist. Kerala.
Kmm College of Arts & Science
Pipeline Junction Thrikkakara Po , Ernakulam
Kochi Business School
Edachira, Thengode (P.O)
Marthoma College of Management and Technology
Asramam Campus, Perumbavoor
Adi Shankara Institute of Engineering and Technology
Sankar Nagar, Mattoor,Kalady, Ernakulam, Kerala
Union Christian College
U C College, U C College P O, Aluva, Ernakulam, Kerala
Albertian Institute of Management
Banerji Road Ernakulam
Marian Academy of Management Studies
Puthuppady P.O Kothamangalam Muvattupuzha(Via) Ernakulam Kerala
De Paul Institute of Science & Technology
De Paul Nagar Angamaly South Angamaly Ernakulam Pin – 683 573
Xavier Institute of Management & Entrepreneurship
Kinfra Hi-Tech Park, Off Hmt Road, Hmt P.O. Kalamassery
Bharata Mata College
Bharata Mata College Bharata Mata Institute Of Management Seaport-Airport Road Thrikkakara P.O Kochi – 682021 Ernakulam District Kerala
Rajagiri College of Social Sciences – School of Management
Rajagiri School Of Management Rajagiri Valley Po Kakkanad Kochi 682039 Keraa
Bhavan'S Royal Institute of Management
Off Hill Palace Tripunithura, Thiruvankulam. P.O, Kochi, Kerala. 682305
Jaibharath Arts & Science College
Jb Nagar Vengola P O Perumbavoor
Rajagiri Business School
Rajagiri Valley P.O. Kakkanad Kochi- 682039
Scms School of Technology & Management (Mba)
Prathap Nagar, Muttom ,Aluva
M.E.S. Advanced Institute of Management and Technology (Mes-Aimat)
Marampally P.O Aluva-7 Pin-683107
Rams Kuzhuppilly
Rural Academy For Management Studies (Rams Kuzhuppilly), Kuzhuppilly Ayyampilly P O Pin 682501
Sngist Group of Institutions
Thekkethazham, Manjali,
Scms Cochin School of Business
Scms Campus, Prathap Nagar, Muttom, Aluva, Cochin

MBA Colleges in Idukki accepting MAT score in Kerala

Santhigiri Institute of Management
Santhigiri College Vazhithala P.O. Thodupuzha Idukki
Dc School of Management and Technology
One School Avenue, Pullikkanam, Vagamon
Marian International Institute of Management
Kuttikkanam P.O, Peermade Idukki- 685 531 Kerala

MBA Colleges in Kannur accepting MAT score in Kerala

Chinmaya Institute of Technology (Mba)
Govindagiri Chala Thottada(P.O)
College of Engineering, Thalassery
College Of Engineering – Thalassery, Kundoormala, Eranholi, Thalassery
Vimal Jyothi Institute of Management and Research
Jyothi Nagar
Institute of Technology Mayyil
Pavannurmotta (P.O) Mayyil (Via) Pin- 670602 Kannur (Dist) Kerala (State)

MBA Colleges in Kasaragod accepting MAT score in Kerala

People Institute of Management Studies
Ems Aksharagramam Munnad(Po) Chengala(Via) Kasaragod Kerala 671541

MBA Colleges in Kollam accepting MAT score in Kerala

Tkm Institute of Management
Musaliar Hills,Karuvelil P O Ezhukone,Kollam-691505
Mar Thoma Institute of Information Technology
Chadayamangalam P.O. Ayur.
Bishop Jerome Institute
Fatima College Road, Kollam – 691001
Member Sree Narayana Pillai Institute of Management and Technology
Mukundapuram P.O Chavara Kollam Kerala South India Pin 691585
Gurudev Institute of Management Studies
Gurudev Institute Of Management Studies (Gims), Kottarpuram, Kadakkal, Elampazhannoor P.O, Kadakkal.

MBA Colleges in Kottayam accepting MAT score in Kerala

St.Berchmans Institute of Management Studies
St.Berchmans College, Changanacherry,Kerala-686101
Girideepam Institute of Advanced Learning
Bethany Hills, Vadavathoor P.O., Kottayam – 686010 Kerala
School of Management and Business Studies
Mahatma Gandhi University,Priyadarsini Hills.P.O.,Kottayam.Pin- 686560. Kerala.

MBA Colleges in Kozhikode accepting MAT score in Kerala

Snes Institute of Management Studies and Research
Chethukadave Kunnamangalam Calicut Pin-673571
Farook Institute of Management Studies
Farook College Po Calicut Kerala

MBA Colleges in Malappuram accepting MAT score in Kerala

Mes College of Engineering, Kuttipuram
Thrikkanapuram P.O Malapuaram Dist Kerala
Monti International Institute of Management Studies
Luigi Bhavan Campus Puthanangadi Po Angadippuram Via Malappuram Dt Kerala
Atlas Ideal International College
Inkel Green Educity, Oorakam, P.O.Melmuri

MBA Colleges in Palakkad accepting MAT score in Kerala

Sadanam Institute of Commerce and Management Studies
Gandhi Seva Sadan P.O., Pathiripala, Via Perur, Palakkad.
Jawaharlal College of Engineering and Technology
Lakkidi,Mangalam .P.O ,Palaghat,Kerlala
Lead College of Management
Dhoni
Chathamkulam Institute of Research & Advanced Studies
Edappukulam P.O, Menonpara Road, Kanjikode East
Ahalia School of Management
Kozhippara P.O; Palakkad

MBA Colleges in Pathanamthitta accepting MAT score in Kerala

Musaliar College of Engineering and Technology Pathanamthitta
Musaliar College.P.O Pathanamthitta
Mount Zion College of Engineering
Kadammanitta, Naranganam, Kozhancherry, Pathanamthitta
Sree Narayana Institute of Technology
Theppupara, Ezhamkulam
Mar Athanasios College For Advanced Studies Tiruvalla (Macfast)
Tiruvalla, Pathanamthitta (Dist), Kerala, India

MBA Colleges in Thiruvananthapuram accepting MAT score in Kerala

Asian School of Business
Technocity, Pallipuram, Trivandrum
C H Mohd. Koya Memorial College For Advanced Studies
Metca Land,Palayamkunnu(P.O),Chavarcode,Chirayinkeezhu,Thiruvananthapuram
G Karunakaran Memorial Co-Operative College of Management and Technology
P B No: 5, Kakkode, Karakulam P O
Dc School of Management and Technology
Kinfra Film And Video Park Sainik School. (P.O) Kazhakuttam Thiruvananthapuram Pin: 695585 Kerala
Kerala Institute of Tourism and Travel Studies
Residency, Thycaud
Kerala Institue of Co-Operative Management
Nettukal Theri, Neyyardam, Trivandrum,Kerala
Mohandas College of Engineering and Technology
Anad Nedumangad, Thiruvananthapuram – 695544. Kerala State Ph: 0472-2814578/2802552/2813039 Mobile: 9847064246 Fax: 0472-2814575 E-Mail: Chairman@Mcetonline.Com Mail@Mcetonline.Com Website:Www.Mcetonline.Com
Conspi Academy of Management Studies (Cams)
Plankalamukku, Industrial Estate P.O, Pappanamcode,
Lourdes Matha College of Science and Technology
Kuttichal P O, Trivandrum Kerala Pin 695 574
Allama Iqbal Institute of Management
Iqbal Nagar, Daivapura P.O, Peringammala

MBA Colleges in Thrissur accepting MAT score in Kerala

Nehru College of Engineering and Research Centre
Pampady,Thiruvilwamala,Thrissur,Kerala
Nirmala College of Management Studies
Nutmug Gardens Kunnapilly P.O. Meloor Chalakudy Thrissur Dist Pin 680311 Kerala
Naipunnya Business School
Pongam Koratty East
Sahrdaya Institute of Management Studies
Kallettumkara P.O., Kallettumkara
Holy Grace Academy of Management Studies
Kuruvilassery Po 680735 Mala, Thrissur District Kerala State.
Elijah Institute of Management Studies
St.Mary'S Street,Ponganamkadu Kurichikkara P.O,Thrissur-680028
Given below is the list of Top colleges in Kerala providing admission in to their respective management course either MBA or PGDM to students through MAT exam after fulfilling the eligibility requirements.
MBA Colleges in Kerala have unique teaching pedagogy ,having faculty with rich industry and teaching experience. The MBA Colleges in Kerala have a wider industry interference ,imparting better industrial and practical knowledge in management students with Industrial visits, Summer training, live projects and finally providing multiple placements opportunities to students.
The participation of MBA Colleges Accepting MAT score in Kerala may vary from all the 4 mat exam being conducted in a year i.e Feb, May, Sept, Dec.