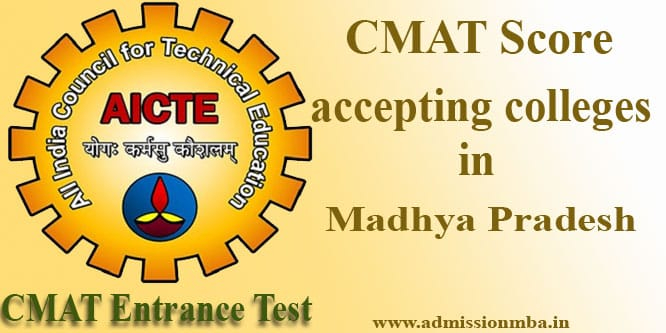 Top CMAT Colleges in Madhya Pradesh
There are many top most AICTE approved MBA colleges available in India which are accepting cmat score , object of AICTE approved collages is only to equipped to sanction the students through brilliance learning focus on contemporaneity, entrepreneurship and system of bench marked management.
The AICTE collages which accepts cmat score their mainly aim at formation an surroundings in where students take knowledge a process of empirical learning all through the exposure to a range of practical troubles of actual world and make use of occasion to apply learned skills in diverse business phases.
AICTE having four regional committees along with having branches in different cities (Mumbai, Chennai, Calcutta, Kanpur) these branches are approved by Regional Committee of corresponding and subsequently vetted by the committee.
CMAT is the test for getting admission in MBA or PGDM program in colleges which are AICTE approved and CMAT is one of the five tests for MBA and PGDM program in Top CMAT Colleges in Madhya Pradesh AICTE approved institutions are using CMAT and other mandatory tests like (MAT, SNAP, CAT, XAT) for Providing admission to students in there management programme in Top CMAT Colleges in Madhya Pradesh CMAT or Common Management Admission Test is a national level admission test for getting admission in management programs which are approved by AICTE.
List of MBA Colleges in Madhya Pradesh Admission Accepting CMAT entrance score
Name MBA Colleges in Madhya Pradesh
Admission Address

MBA Colleges in Alirajpur City in Madhya Pradesh Accepting CMAT entrance score

Sanjeev Agrawal Global Educational University
Katara Extension Sahar Bypass Road

MBA Colleges in Barwani City in Madhya Pradesh Accepting CMAT entrance score

Madhuban College of Management Barwani
Choti Kasrawad (Bypass Road),Ahead Sanwariya Temple,Barwani M.P.

MBA Colleges in Bhopal City in Madhya Pradesh Accepting CMAT entrance score

Abhilasha College of Management
Khasra Number 2/1/2. Ph. No. 32. Village – Chapri. Ratibad. Bhopal
Eurasian Institute of Management
Gram Rasuliya Sikandrabad Road Ratibad Bhopal
Shri Ram College
Khasra No 81/2/2/2 , 81/2/3/2 Thua Kheda Kolar Road
Millennium College of Management
Gram Goura,,Nathu Barkheda Road, Near Neelbad Chauraha,
Millennium Institute of Technology
Nathu Barkhera Road, Near Neelbad, Bhopal
Maharana Pratap College of Managment
Cha Khasra No. 88 / 2 / 2 / Kha Amar Pura Road Village Amla , Near Ratibad Bhopal Madhya Pradesh
Rkdf Institute of Business Management
Nh-12 Hoshangabad Road
Sam College of Engineering and Technology, Bhopal
Gram Adampur Chawani, Post – Kolua, Raisen Road, Bhopal M.P. Pin 462021
Technocrats Institute of Technology
In Front Of Hathaikheda Dam, Post Piplani, P.B. No. 24, Bhel

MBA Colleges in Bhopal City in MP Accepting CMAT entrance score

Rkdf College of Engineering
Nh- 12 Hoshangabad Road Behind Vrindavan Garden Jatkhedi, Bhopal
Technocrats Insttitute of Technology-Mba
Infront Of Hathaikheda Dam, Post Piplani, P.B. No-24, Bhel, Bhopal
All Saints' College of Engineering
New Pipalnair, Neargandhi Nagar-462031
Bhabha Institute of Management
Nh-12, Hosangabad Road, Jatkhedi, Bhopal-26
Sagar Institute of Research Technology and Science
Near Isro, Ayodhya Nagar, Bhopal.
Sagar Institute of Research & Technology- Excellence
Ayodhya By Pass Road
Lakshmi Narain College of Technology Excellence
Khajuri Khurd, Raisen Road, Bhopal
Rkdf College of Technology & Research
Near Rgpv Campus, Airport Bypass Road, Gondermau, Gandhinagar, Bhopal
Lakshmi Narain College of Technology
Kalchuri Nagar Raisen Road
Oriental College of Management, Bhopal
Thakral Nagar, Opp. Patel Nagar Raisen Road Bhopal

MBA Colleges in Bhopal City in MP Accepting CMAT entrance score

Rajeev Gandhi Management Institute
Vill. Salaiya, Via Danish Kunj
Rkdf Institute of Management
Nh-12 Hoshangabad Road
Academy of Managment
Amravad Khurd, Near Bda Colony, After Kalibadi, Awadhpuri,Piplani, Bhel
Career College of Management
Gram Gondermau, Near Sant Asaram Ashram, Bypass Road, Gandhi Nagar
Anand Institute of Management
Barkheda Nathu, Neelbad, Bhopal
Peoples Institute of Management and Research
Peoples Campus, Bhanpur, Bhopal
Manjula K Ponda College of Management
New Chouksey,Nagar Lambakheda Berasia Road Bhopal
Vidyasagar Institute of Management
Vallabh Nagar, Bhel, Bhopal
Bansal Institute of Research and Technology
Raisen Road, Kokta, Anandnagar, Bhopal
Sam College of Managment and Technology
Gram- Adampur Chhawni, Post- Kolua, Raisen Road, Bhopal (M.P.) Pin : 462021 Ph : 0755 – 4099800

MBA Colleges in Bhopal City in MP Accepting CMAT entrance score

Iasscom Fortune Institute of Technology
Gram Rasulia Gosai Ratibad Sikandarabad Road Bhopal
Patel Institute of Technology
Ratibad
Institute of Professional Education and Research (Iper)
Bhojpur Road, Misrod
Mayo College of Management
Plot No. – Sa, Sector – B, Indira Vihar Colony, Airport Road
Bhabha Management Research Institute
Nh-12, Hosangabad Road, Jatkhedi, Pin 462026
Bhabha Engineering Research Institute
Nh-12, Hoshangabad Road, Near Misrod, Vill-Jatkhedi,Bhopal
Maharishi Centre For Educational Excellence
Lambakheda, Berasia Road, Bhopal (Mp) – 462018
Indira Priyadarshini College of Management
Khanugaon, V.I.P. Road, Near Hotel Imperial Sabre
Laxmipati Institute Oe Science &Technology Bhopal
Opp. New Sos Village, Amjhara Road, Khajuri Kalan, Raisen Road, Bhopal
Institute of Professional Education and Research (Pgdm)
Bhojpur Road, Misrod

MBA Colleges in Bhopal City in MP Accepting CMAT entrance score

Vip College of Management Bhopal
Vip Campus, Sikandrabad, Ratibad, Bhopal
Surabhi College of Engineering and Technology
Sukhi Sewaniya,Village Gadmuda,Bhopal-Sanchi Road,
Rajeev Gandhi Proudyogiki Mahavidyalaya
Village Salaiya,Via Danish Kunj,Kolar Road
Sri Satya Sai College of Engineering
Near Rgpv Campus Airport By-Pass Road, Gondermau, Gandhinagar, Bhopal
Vedica Institute of Technology
Near Rgpv Campus, Airport Bypass, Gondermau, Gandhinagar, Bhopal
Corporate Institute of Management
Hataikheda Near Patel Nagar
School of Applied Management
School Of Applied Management Rgpv Airport Road Gandhinagar Bhopal
Radharaman Institute of Technology and Science
Bhadbhda Road, Fatehpur Dobra, Ratibad
Makhanlal Chaturvedi National University of Journalism and Communication
Makhanlal Chaturvedi National University Of Journalism And Communication 38-B, Press Complex, M.P. Nagar Zone-I, Bhopal-462011.
Swami Vivekanand College of Science and Technology Bhopal
Barkheri Kala Neelbad Road Po- Suraj Nagar Bhopal

MBA Colleges in Bhopal City in MP Accepting CMAT entrance score

Bansal Institute of Science and Technology
Raisen Road, Kokta Anandnagar, Bhopal
Vns Group of Institutions
Vns Campus, Vidya Vihar, Nathuberkheda, Neelbud
Sant Hirdaram Institute of Management For Women
Lake Road, Sant Hirdaram Nagar (Bairagarh)
Radharaman Engineering College
Fatehpur Dobra, Ratibad, Bhopal
Trinity Institute of Technology & Research
Hathai Kheda ,Kokta By Pass , Raisen Road ,Tehsil Huzur Bhopal
Crim,Utd,Barkatullah University,Bhopal
Crim,Utd,Barkatullah University,Bhopal Hoshangabad Road,Bhopal
Vidhik Institute of Management
Barkheda Nathu, Neelbad
Oriental College of Technology
Thakral Nagar,Raisen Road Bhopal
Jai Narain College of Technology
New Chouksey Nagar, Berasia Road,Bhopal
M.P. Institute of Fashion and Design
Bhesonda, Bhopal Berasia Main Road Dist-Bhopal
Akhil Bharti College of Management
Kharpa, Ratibad
Duke College of Management
Salaiya Via Danish Kunj, Kolar Road, Bhopal

MBA Colleges in Burhanpur City in Madhya Pradesh Accepting CMAT entrance score

Thakur Shivkumarsingh Memorial Management College
Navalnagar (Ziri) Burhanpur (M.P.) Pin – 450331

MBA Colleges in Damoh City in Madhya Pradesh Accepting CMAT entrance score

Ojaswini Institute of Management & Technology
Ojaswini Nagar, Vill. Hathna, Sagar Road, Damoh

MBA Colleges in Datia City in Madhya Pradesh Accepting CMAT entrance score

Shri Rawatpura Sarkar Institute of Management Science
N.H. 75,

MBA Colleges in Dewas City in Madhya Pradesh Accepting CMAT entrance score

Synergy Institute of Technology. Dewas
Maxi Road, Village Rajpura, Dewas (M.P.)
Prestige Institute of Management Dewas
Ram Bagh, Vikas Nagar, A.B. Road

MBA Colleges in Jhansi City in Madhya Pradesh Accepting CMAT entrance score

Itm University – Gwalior (School of Engineering & Technology)
Itm University Campus, Nh-75, Jhansi Road,
Madhav Institute of Technology & Science
P.O. Residency, Gola Ka Mandir
Institute of Technology & Management
Itm Universe Campus, Opp. Sithouli Railway Station, Nh-75, Jhansi Road,
Maharana Pratap College of Technology
Putlighar Road, Near Jiwaji University, Morar, Gwalior
Jain College
Shivpuri Link Road, Lashkar

MBA Colleges in Gwalior City in Madhya Pradesh Accepting CMAT entrance score

Ips College of Technology & Management
Bela Ki Bawadi Tiraha, Shivpuri Link Road, Gwalior- (M.P.) Pin Code: 474001
Vikrant Institute of Management
Chitora Road, Village Ratwai, Tehsil And District Gwalior Mp- 474006
Nagaji Institute of Technology & Management, Gwalior
Thakur Baba Campus, Jhansi Road, Sitholi, Gwalior (M.P.) -474001
Divine International Group of Institutions
Plot No. 13, Block No. 18, Educational Area, Special Area Development Authority (Sada), Gwalior West, Gwalior, M.P.
Bharatiya Vidya Mandir College of Management Education
Yamuna Nagar, Darpan Colony, Thatipur
Lakshmi Narain College of Management
Gram Rai,Chitora Road,Morar Cantt,Gwalior(M.P)
School of Studies In Commerce and Management , Jiwaji University,Gwalior,M.P.
Institute Of Commerce And Management Jiwaji University, City Centre,
Prestige Institute of Management and Research, Gwalior
Airport Road, Near Deendayal Nagar
Gicts College of Professional Education
Mahadji Nagar, Shivpuri Link Road, Lashkar, Gwalior (M.P)

MBA Colleges in Indore City in Madhya Pradesh Accepting CMAT entrance score

Sushila Devi Bansal College of Engineering
Umaria, Near Rau, Indore
Prestige Institute of Institute of Management and Research
2 Education And Health Sector, Scheme No 54, Indore, 452010
International Institute of Professional Studies
Devi Ahilya University Takshashila Campus Khandwa Road Indore
Maharaja Ranjit Singh Group of Institutions
Hemkunt Campus, Khandwa Road, Indore
Sanghvi Institute of Management and Science (Mca)
Pigdamber, Pithampur Bypass Road, Behind Iim-Rau
Modern Institute of Professional Studies
Gram Alwasa, Behind Revati Range, Sanwer Road, Indore
Mathuradevi Institute of Technology & Management
Garipipliya, Aath Meel, Nemawar Road, Indore
Shivajirao Kadam Institute of Technology and Management – Technical Campus
Ralamandal Near Tillore Khurd, Indore
Sri Aurobindo Institute of Technology, Indore
Indore-Ujjain Highway, Near Mr-10 Crossing, Gram Bhavarasla
Chameli Devi Group of Institutions
Gram Umri Kheda ,Near Toll Naka , Khandwa Road

MBA Colleges in Indore City in Madhya Pradesh Accepting CMAT entrance score

Govindram Seksaria Institute of Management & Research
Mr-10, Scheme No.54, Vijay Nagar
Ips Academy Institute of Business Management and Research Sanwer Campus
Sanwer Road Gram Badodia Khan, Indore Ujjain Road, Sanwer Mp
Acropolis Faculty of Management & Research
Manglia Sadak, Sanwer, Indore Bypass, Near Manglia Square, Indore
Medi-Caps University, Indore
A.B. Road, Pigdamber Rau, Indore
Sanghvi Institute of Management and Science (Mba)
Pigdamber, Pithampur Bypass Road, Behind Iim – Rau
Shri Atal Bihari Vajpayee Govt Arts & Commerce College Indore
Bhanwar Kua, A.B. Road Indore
Lakshmi Narain College of Technology and Science (Rit)
Village Reoti, Sanwer Road, Indore (M.P.)
Ch Institute of Management & Commerce
Baroli, Ujjain Road Indore (M.P.)
Medi-Caps University, Indore
A.B. Road, Pigdamber, Rau
Shri Vaishnav Institute of Management
Scheme No. 71,Gumasta Nagar,Indore(M.P)

MBA Colleges in Indore City in Madhya Pradesh Accepting CMAT entrance score

Lakshmi Narain College of Technology, Indore
Village Bhawrasala, Sanwer Road, Indore (M.P.)
Sushila Devi Bansal College of Technology
A. B. Road Umaria Near Rau Indore
Arihant Institute of Management and Technology
453, Khandwa Road, Opp. Radha Swami Satsang, Indore(M.P.) Pin Code : 452001 (M.P.)
Ips Academy, Institute of Business Management and Research, Indore, (M.P.)
Hukmakhedi Rajendra Nagar A B Road Indore
Bm College of Management & Research.
Village- Gokanya Po-Kasturbagram
Apex Institute of Management & Research
Gram Hasa Khedi , Indore
Astral Institute of Technology and Research
Kailod Kartal Bypass Road
Pioneer Institute of Professional Studies
Mahalaxmi Nagar, Opp.Bombay Hospital, Indore (Mp)-452010
Patel College of Management
Ralamandal
Vindhya Institute of Management & Research
Umrikheda, Khandwa, Road, Near Toll Naka, Indore.
Indore Institute of Management and Research
Opp. Iim, Pithampur Road Rau, Indore
Institute of Management Studies
Takshashila Campus, Khandwa Road Indore (Mp)
Shri Rgp Gujarati Professional Institute, Indore
Scheme No. 54. Near Bombay Hospital , A.B. Road , Indore 452010

MBA Colleges in Indore City in Madhya Pradesh Accepting CMAT entrance score

Medi Caps University Indore
A.B. Road, Pigdamber, Rau
Vikrant Institute of Technology & Management
Behind Veterinary Collage, Gram-Borkhedi, P.O.Harsola, Teh.-Mhow, Dist.Indore (M.P.)
Lnct (Bhopal) Indore Campus
Gram-Bhesalav,Rau,Pithampur Near Iim Infront Of Steel Tubes India,Indore
Svkm'S Nmims School of Business Management – Indore
Bada Bangarda Tehsil Hatod
Madhuban Institute of Professional Studies
Cat Rau Road,Rangwasa
Mathuradevi Institute of Management
Garipipliya, Aath Meel, Nemawar Road, Indore
Lal Bahadur Shastri Institute of Technology and Management
409/3, Indore- Ujjain State Highway, Po Dharampuri
Sanghvi Institute of Management and Science
Pigdamber, Pithampur Bypass Road, Behind Iim
Medi Caps University Indore
A.B. Road, Pigdamber Rau, Indore
Shree Institute of Progressive Studies
Village Jakhiya, Infornt Of Reoti Range
Idyllic Institute of Management
Gendalal Bam Parisar, Rau Pithampur Road, (Rau) Indore

MBA Colleges in Jabalpur City in Madhya Pradesh Accepting CMAT entrance score

Radiant Institute of Management
Near Kosamghat Barela Raod Jabalpur
Gyan Ganga College of Technology
P.O. Tilwara Ghat, Garha Near Shah Nala, Tripuri Ward,
S.G.B.M. Institute of Technology & Science
Village Bineki, Patan Road, Tehsil Patan, Jabalpur
Lakshmi Narain College of Technology
Gram Bheeta Bhedaghat Jabalpur
Oriental Institute of Science and Technology
Katni Bypass Road, Village Andhua, District- Jabalpur, (Mp)
University Institute of Management, R.D University, Jabalpur
Rani Durgavati University Campus , Pachpedi , Jabalpur M.P.
Takshshila Institute of Engineering & Technology, Jabalpur
Sharda Mandir Road, Sharda Chowk, Madan Mahal, Jabalpur (M.P.)
Shri Ram Institute of Technology (Mca)
Near Iti, Madhotal, Jabalpur, M.P. 482002
Laxmi Bai Sahuji Institute of Management
Benikheda Patan Road Jabalpur
Gyan Ganga Institute of Technology & Sciences
P.O: Tilwara Ghat, Garha, Near Shah Nala, Tripuri Ward

MBA Colleges in Jabalpur City in Madhya Pradesh Accepting CMAT entrance score

Hitkarni College of Engineering & Technology
Hitkarini Hills, Dumna Road
Shri Ram Institute of Management
Near Iti, Madhotal, Jabalpur-482002, M.P.
Shri Ram Institute of Sc & Technology
Near Iti, Madhotal, Jabalpur, M.P. 482002
Global Nature Care Sangathanâ??S Group of Institutions, Jabalpur (Mp)
Patan By-Pass Square, Gram-Raighawa, Jabalpur, Dist- Jabalpur(M.P.)
College of Materials Management
Ridge Road, Sita Pahari

MBA Colleges in Khandwa City in Madhya Pradesh Accepting CMAT entrance score

Sri Parashuram Institute of Technology and Research
Gram Dhanora(Jaswadi) Khandwa M.P
Dr. C.V. Raman University
Village:- Balkhadsura, Post:- Chhaigaon Makhan, Khandwa Mp

MBA Colleges in Khargone City in Madhya Pradesh Accepting CMAT entrance score

Sardar Patel Institute of Technology and Management
Choli Road Mandleshwar

MBA Colleges in Morena City in Madhya Pradesh Accepting CMAT entrance score

Shriram Institute of Information Technology
National Expressway A.B. Road, Banmore Morena (M.P.)

MBA Colleges in Neemuch City in Madhya Pradesh Accepting CMAT entrance score

Gyanodaya Institute of Management & Technology
Gyanodaya Institute Of Management & Technology, Gram- Kanawati Tehsil- Neemuch Dist- Neemuch (M.P.)
Radhadevi Ramchandra Mangal School of Management & Research
Bhatkheda Dist Neemuch M.P.
Rbs Institute of Education
Khasra No 264 Village Kacholi Mhow Neemuch Road

MBA Colleges in Raisen City in Madhya Pradesh Accepting CMAT entrance score

Girdhar Shiksha Evam Samaj Kalyan Samiti Group of Institutions
Railway Crossing Bamuliya Pawar Mandideep District : Raisen
Sam College of Management
Gram Agariya Chopda, Bhopal Road, Raisen (M.P.)
Vaishnavi Institute of Management
Village Mendua, Tehsil Gouharganj
Bhopal Institute of Technology and Management Mba
Bangarasia Chouraha, Bhojpur Road

MBA Colleges in Ratlam City in Madhya Pradesh Accepting CMAT entrance score

Shri Yogindra Sagar Institute of Technology & Science
Campus, Mhow – Neemuch Road, Dharad, Ratlam (M.P.) 457441
Royal Institute of Management and Advanced Studies
Behind Landmark Motors, Gram: Salakhedi & Kharakhedi, Dist. Ratlam

MBA Colleges in Rewa City in Madhya Pradesh Accepting CMAT entrance score

Department of Business Administration
Department Of Business Administration, Awadhesh Pratap Singh University
Rewa Institute of Technology, Rewa (M.P.)
Nh – 07, Allahabad Road, Ratahara, Rewa, (M. P.) India

MBA Colleges in Sagar City in Madhya Pradesh Accepting CMAT entrance score

Faculty of Management Studies
Faculty Of Management Studies Department Of Busienss Management Dr. Hari Singh Gour University Sagar (M.P.)
Shri Rama Krishna College Polytechnic and Management
Chandi Dai Road Village Karhi Pawai Panchayat Karhi Kothar Near Sun City Post Bagha Raghurajnagar Satna
Faculty of Rural Development and Business Administration,Mahatma Gandhi Chitrakoot University, Chitrakoot Satana M.P.
Mahatma Gandhi Chitrakoot University, Chitrakoot Satna Mp
Vindhya Institute of Management & Research
Karhi Road, Amoudha, Satna

MBA Colleges in Satna City in Madhya Pradesh Accepting CMAT entrance score

School of Computer Application,Sri Satya Sai University of Technology and Medical Sciences,(Sssutms)
Sh-18, Bhopal-Indore Road ,Opp.Oil Fed Plant ,Pachama,Sehore (M.P)
School of Management Studies, Sri Satya Sai University of Technology and Medical Sciences (Sssutms)
Sh-18 Bhopal- Indore Road, Pachama Sehore Madhya Pradesh. 466001

MBA Colleges in Sehore City in Madhya Pradesh Accepting CMAT entrance score

Mahakoshal College of Science
Lalmati Road Dungaria Chhapara

MBA Colleges in Shahdol City in Madhya Pradesh Accepting CMAT entrance score

Pandit S. N. Shukla University
Navalpur Campus, Shahdol

MBA Colleges in Ujjain City in Madhya Pradesh Accepting CMAT entrance score

Shri Guru Sandipani Institute of Management
Village Surasa Agar Road ,Ujjain
Mahakal Institute of Management.
Behind Datana Air Strip, Village Karchha.
Pt. Jawaharlal Nehru Institute of Business Management
Vikram Universityy Campus Dewas Road
Prashanti Institute of Management
Near Mahaveer Tapobhumi, Gram Gangedi, Indore Road
AICTE has decided to conduct CMAT in Foreign Countries as well for giving facilitate eligible NRIs and /PIOs on foreign nationals to appear in CMAT for those who are looking for admission in institutions in India following CMAT, For appear in CMAT exam aspirants should be graduate from any authorized university, CMAT is a computer based test, and aspirants decipher the questions on a computer and select an answer by clicking on the right option. CMAT exam is conducted two times a year, every aspirants is eligible to appear in both the exams and the enhanced of the two scores will be used for getting admission for each Educational year in Top CMAT Colleges in Madhya Pradesh. CMAT exam is conducting in month of February and September