MYRA Mysore in MYRA Programme Fees 2022
MYRA is proud to offer a world-class education at a well-reasoned price.
Our Governing Board, after careful consideration, has arrived at the following fee structure based on our
outstanding faculty line-up, stunningly beautiful campus, and cutting-edge global curriculum.'
MYRA Mysore in MYRA Programme Fees are focused on teaching the science of management and the art of leadership. Through access to stellar teaching faculty, research-based courses, and top-notch facilities, MYRA students are uniquely positioned to develop in-depth understandings of management fundamentals in the context of the local and global business landscapes.
MYRA offers two programs:
Post Graduate Diploma in Management (PGDM)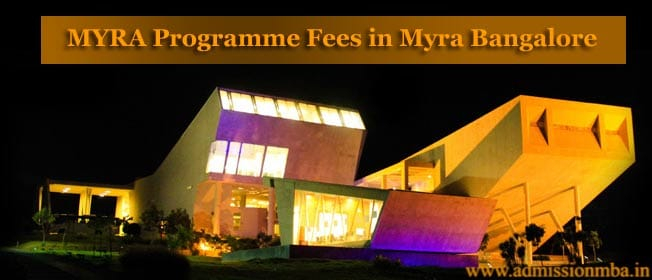 MYRA Programme Fees in Myra Mysore 2022
Read More : MBA Colleges in Bangalore, Admission, Fees and More
| Myra Fees | Amount (INR) | Payment Due Date |
| --- | --- | --- |
| Admission Fees | 50,000 | At the time of Admissions |
| Tution Fees (1st Installment) | 2,25,000 | June 15, 2022 |
| Tuition Fees (2nd Instalment) | 2,25,000 | October 15, 2022 |
| Tuition Fees (3rd Instalment) | 2,25,000 | February 15, 2023 |
| Tuition Fees (4th Instalment) | 2,25,000 | June 15, 2023 |
| Tuition Fees (5th Instalment) | 40,000 | October 15, 2023 |
MYRA Programme Fees at charges for Housing Couples Apartment Details at
Every apartment comes with a Television
Kitchenette equipped with Microwave oven, Refrigerator
Wi-fi
24 hr security
Power Backup
Car/Bike parking slots
The above at no extra cost At some extra cost (Monthly fees of Rs. 700)
* TV cable connection
Laundry
Daily housekeeping
MYRA Programme Fees Terms and conditions at Myra:
Demand Draft should be in favor of "MYRA School of Business" payable at Mysore.
Caution Deposit is refundable after completion of the course.
Hostel fees once paid is non refundable.
Rooms will be allotted on first come first serve basis.
Students can't change the rooms allotted to them or quit from the hostel in the middle of academic year.
Admission to campus accommodation / hostel is subject to compliance of disciplinary rules and regulations notified from time to time.