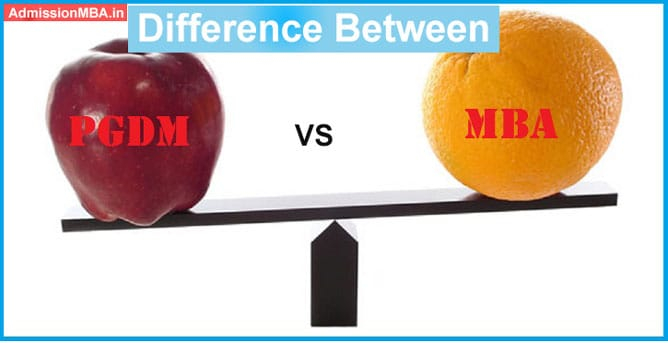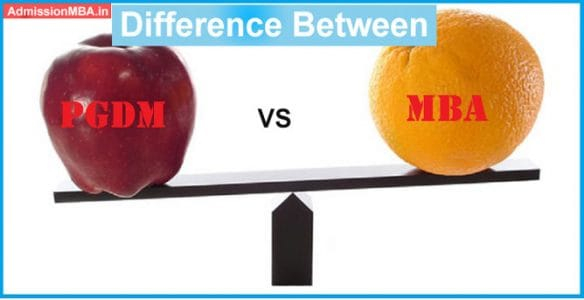 Difference MBA Vs PGDM
Masters of Business Administration a two year full time Management Programme. Therefore affiliated to a university of State/Central or Deemed University. Hence the university approved by UGC (University Grant Commission).So Between MBA and PGDM Difference are quickly Noticeable. Hence University approves a college fulfilling Desired Norms and grants the status of University in conclusion. Since MBA Course not a technical course therefore it does not Require to have AICTE approval.
The Programme a 2 year management programme approved by AICTE. AICTE Stands for All India Council for Technical Education. The technicality of the program lie in the Content and Deliveries of the Programme by the respective approved Institutes in Conclusion. Colleges Get an Autonomous Status. Hence Inclination of the MBA or PGDM course in making understand Corporate Culture. Needs of the Corporate world makes it a Practical Program as a result.
Difference with MBA & PGDM 2023
Both are Program the management program differ in the followings ways, So MBA and PGDM Difference are highlighted in the tabular form for Ease of Reading for Aspirants:
| | | |
| --- | --- | --- |
| Difference with | MBA | PGDM |
| PGDM Vs MBA: Approvals/ Recognization | MBA programme offered by the university and the university itself  recognized by UGC | PGDM offered by colleges duly recognized by AICTE. Hence course a technical course. |
| MBA Vs PGDM: Courses Syllabus/ Teachings | Since MBA a tradition course having the traditional Course structure. | PGDM programme structure designed by the colleges. Updates Keeping the corporate requirement in mind in Focus. |
| Award | Degree | Diploma |
| MBA and PGDM Difference: Teaching Method | MBA More emphasis laid on the course content. More on theoretical knowledge given to students (Except Autonomous Approved colleges – Universities). | PGDM, the programme an Autonomous in addition emphasis done on practical knowledge rather than theoretical knowledge. |
| MBA Vs PGDM: Entrance Exams Acceptance | MBA colleges follow university rules which are governed by the state government and they have state-level exams like MAH-CET, TAN-CET, MET-MP. And also self-examinations like KMAT, SNAP, TISS, NMAT, IRMA, IBSAT. | PGDM colleges can select from one or many of 6 approval exams: CAT, MAT, XAT, GMAT, CMAT, ATMA |
| PGDM Vs MBA: Teaching Skills | It helps developing Technical skills and Corporate Business Knowledge. | PGDM helps in preparing for a senior Management Job profile by making corporate understand needs. |
| Difference between MBA and PGDM: Course Flexibility | The programme once designed by the University has to be followed by the affiliated Colleges and the Course structure rarely changes | PGDM programme an Flexible and depending upon the Corporate market situation the Institute changes its Course Content. |
| MBA and PGDM Difference: Fees structure | MBA except few autonomous or Deemed Universities (Eg ICFAI , Symbiosis ) or Government universities the fees Minimum and Affordable. | Fees structure for the PGDM course much higher as the input cost are higher. |
| PGDM Vs MBA: Course Deliveries | Emphasis more on the Theoretical Part | Focus lied more on the Practicals than Theory. |
| Annual Exams Conducted by | By the affiliating Universities | By individual college/institute is again a Major MBA and PGDM Difference. |
| MBA Vs PGDM: Number of Institutes | More Than 10,000 MBA Colleges in India | Approx 500 Business Schools in India |
| PGDM Vs MBA Colleges Difference: Few Top Most Institutes | Government Affiliation universities like IPU, DU, MDU, AKTU, Anna University, Bangalore university etc. JBIMS Mumbai University, IIFT Delhi Deemed University, FMS Delhi University. | IIM, MDI, IMI, IMT, XLRI, TAPMI, SPJIMR, MDI, IIMB, ISB, GIM,… |
| MBA Vs PGDM: Course Duration | Two Years | One/ Two Years (Usually a 2 Years) |
| Difference between MBA and PGDM: Modes Available | Online, Distance, Regular, Executive, Part Time | Regular, Executives only. |
Most of all Difference Bewteen MBA and PGDM Covered.
Hence the Above table States the Exact and Unique MBA and PGDM Difference. The Search of Students Some times Does not Satisfy the Requirement. Therefore they Search for Some Expert Educational Counselor for Advice. Our Panel of Experts therefore provides Free MBA Counseling for the Conscious Aspirants who really want to make their career out of these 2 years full Time Courses. As the Eligibility for PGDM and MBA Are the Same.
SIMILARITIES IN MBA Vs PGDM
There is No difference in MBA Vs PGDM Eligibilty.
The prospective applicant must satisfy one of the following eligibility criteria for admissions to the MBA/PGDM programme.
A graduate degree under 10+2+3 or 10+2+4 pattern under any discipline, securing at least 50% marks in aggregate, from a recognized university.
An honors degree under 10+2+4 pattern from a recognized university under UGC Act with at least 50% marks in aggregate including languages
Candidates who have passed Bachelor/ Master degree through correspondence / Open University System from this university or from any other university,recognized by law, are exempted from 10+2 pattern. The duration of the degree programme must be 3 + 2 years.
The MBA admission criteria are based on the valid Entrance Exam score.
There is No Difference in Requirements  for MBA/PGDM Admissions. Therefore Same Documents are Required in Both.
Passport Size Photographs(White. Background) ✓ SSLC Marks Card/10th. ✓ PUC Marks Card /12th. ✓
Graduation/Degree Marks card. (all semesters) ✓ Provisional Degree Certificate. ✓ Caste Certificate. ✓
Parents Annual Income Certificate. (SC/ST/OBC/Others) ✓ Conduct Certificate. ✓ Migration certificate. ✓
Few Common Entrance Exams Required for MBA / PGDM admission. Either of the Entrance Exams are valid.
The main entrance examinations are, Common Admission Test (CAT), Common Entrance Test (CET), Common Management Admission Test (CMAT), Management Aptitude Test (MAT), Xavier Admission Test (XAT) and AIMS Test for Management Admissions (ATMA).
No Difference in Admission Process in MBA/PGDM
Group Discussion and Personal Interview or Written ability Test are some Common Processes. So, the Process of Admission Varies from Institute to Institutes.
Hence, Some Common Searches by Students for MBA Vs PGDM Differences are :
Is PGDM or MBA better ?
Can I do PGDM after MBA ?
Does IIM offer MBA or PGDM ?
Is Executive PGDM equivalent to MBA ?
Is it worth doing PGDM in Canada ?
Which is better PGDM or MBA Quora ?