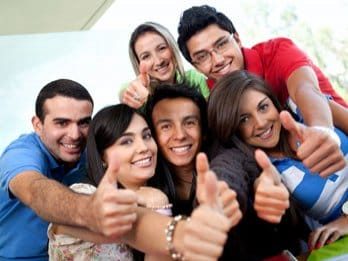 There are may CAT colleges India that uses CAT scores for shortlisting the students for admission in to their management program mes where IIM's have no role in selection of the candidates ,only the cat score are use for shortlisting the students in these cat colleges.
List of Course Post Graduate Programmes Admission through CAT Score.
Apart from IIMs, private Best B-schools among the Top MBA colleges who offer AICTE approve Post Graduate programmes. Many of them are preferred to IIMs as.
PGP (Post Graduate Program in Management)
PGP FABM (Food and Agribusiness Management
PGP-PGDM (PGD- in Management)
PGPEM (PGP in Enterprise Management)
PGPPM (PGP in Public Policy and Management)
EPGP (Executive Post Graduate Program in Management)
PGPSM (PGP in Sustainable Management)
PGPWE (PGP in Management for Working Executive)
PGPBM (PGP in Business Management)
FPM (Fellow Program in Management)
Some other prestigious management colleges in India. The IIM's conducting Common Admission Test are :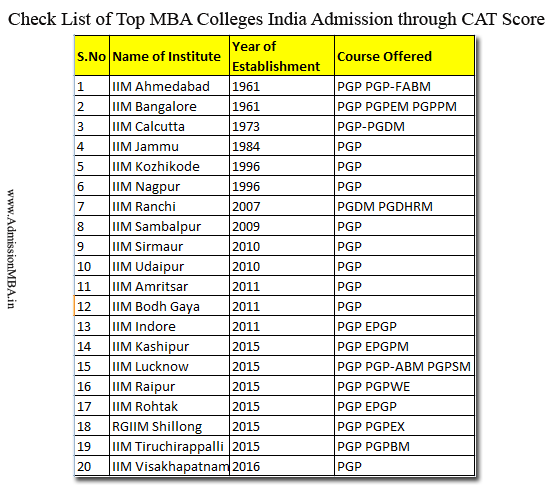 There are 20 IIM's and several other Non-IIM institutions which are known as CAT Colleges among students that uses Cat score for shortlisting students for their academic programme.
Check List of Top Colleges in India accepting CAT score for MBA Admission:
Check details Top Colleges in India Since Master's Program:
| | | | |
| --- | --- | --- | --- |
| S.No. | Top Colleges in India | Since | Master's Program |
| 1. | IIM Ahmedabad | 1961 | PGP PGP-FABM |
| 2. | IIM Bangalore | 1961 | PGP PGPEM PGPPM |
| 3. | IIM Calcutta | 1973 | PGP-PGDM |
| 4. | IIM Jammu | 1984 | PGP |
| 5. | IIM Kozhikode | 1996 | PGP |
| 6. | IIM Nagpur | 1996 | PGP |
| 7. | IIM Ranchi | 2007 | PGDM PGDHRM |
| 8. | IIM Sambalpur | 2009 | PGP |
| 9. | IIM Sirmaur | 2010 | PGP |
| 10. | IIM Udaipur | 2010 | PGP |
| 11. | IIM Amritsar | 2011 | PGP |
| 12. | IIM Bodh Gaya | 2011 | PGP |
| 13. | IIM Indore | 2011 | PGP EPGP |
| 14. | IIM Kashipur | 2015 | PGP EPGPM |
| 15. | IIM Lucknow | 2015 | PGP PGP-ABM PGPSM |
| 16. | IIM Raipur | 2015 | PGP PGPWE |
| 17. | IIM Rohtak | 2015 | PGP EPGP |
| 18. | RGIIM Shillong | 2015 | PGP PGPEX |
| 19. | IIM Tiruchirappalli | 2015 | PGP PGPBM |
| 20. | IIM Visakhapatnam | 2016 | PGP |
| 21. | IIM Mumbai | 2023 | MBA |
Top Colleges in India accepting CAT score for MBA Admission State Wise
CAT Participating Institutes 2021 – CAT 2021 will scores will be accepted by 20 IIMs and more than 93 B-Schools across India,
Name
Address
Phone
website

MBA Colleges accepting CAT in Andhra Pradesh

Institute for Financial Management & Research (IFMR University)
5655,Central Expressway, Sri City, Chittoor, Andhra Pradesh – 517646
9949701164
 www.ifmr.ac.in

MBA Colleges accepting CAT in Assam

Jawaharlal Nehru School of Management Studies
Department of Business Administration, Assam University, Silchar, Assam – 788011
 7002408399, 9401335493
 www.aus.ac.in

>MBA Colleges accepting CAT in Bihar

Chandragupt Institute of Management Patna (CIMP)
Mithapur Industrial Area Near Mithapur Bus Stand, Gate No. 1 Patna, Bihar-800001
 0612-2366015, 0612-2366021
 www.cimp.ac.in
Development Management Institute
Udyog Bhawan (Second Floor), East Gandhi Maidan, Patna, Bihar-800004
 0612-2675180, 0612-2675181
 www.dmi.ac.in

MBA Colleges accepting CAT in Chandigarh

Institute of Management
C/o DAV College Sector-10, Chandigarh, Chandigarh-160011
 0172-2744106
 www.iom.davchd.ac.in
PML SD Business School , Goswami Ganesh Dutta Sanatan Dharma College Society (GGDSD)
Sector 32, Chandigarh Chandigarh-160030
 0172 4021150, 9872653393
 www.pmlsdbs.com
University Business School, Chandigarh
Arts Block-3, Panjab University, Chandigarh,Chandigarh-160014
 0172-2534709, 0172-2534866
 www.puchd.ac.in

MBA Colleges accepting CAT in Delhi

Delhi Technological University
Shahbad Daulatpu Bawana Road, Delhi, Delhi-110042
 011-27871023
 www.dtu.ac.in
Department of Commerce, Delhi School of Economics, 
Department of Commerce, faculty of Commerce and Business, Delhi School of Economics University of Delhi, Delhi, Delhi-110007
 011-27667891
 www.commercedu.com
Faculty of Management Studies
Faculty of Management Studies, University of Delhi, Delhi, Delhi-110007
 011-27667877
 www.fms.edu
Vivekananda Institute of Professional Studies, Technical Campus
Delhi School of Business, AU Block, Outer Ring Road, Pitampura, Delhi, Delhi-110034
 011-27343406, 011-27343407 / 08
 www.dsb.edu.in

MBA Colleges accepting CAT in Goa

Goa Institute of Management
Sanquelim Campus, Poriem, Sattari, Panaji, Goa-403505
 0832-2366704
 www.gim.ac.in

MBA Colleges accepting CAT in Gujarat

Auro University
Earthspace,Hazira Road, Opp ONGC, Surat, Gujarat- 394510
 0261-4088100, 0261-4088109
 www.aurouniversity.edu.in
Institute of Management, Nirma University
Sarkhej Gandhi Nagar Highway, P.O. Chandlodia Via:Gota, Ahmedabad, Gujarat-382481
 079-71652604, 079-71652602
 www.nirmauni.ac.in/imnu
Institute of Rural Management Anand
Post Box No. 60 , Anand , Gujarat – 388001
 02692-260391, 02692-260181
 www.irma.ac.in
MICA
Shela Village, Sarkhej-Sanand Highway Telav-Ghuma Road, Ahmedabad, Gujarat-380058
 02717-308250, 9099127399
 www.mica.ac.in
School of Petroleum Management, PDPU
Raisan Village Gandhinagar, Gujarat-382007
 079-23275117
 www.spm.pdpu.ac.in

MBA Colleges accepting CAT in Haryana

Management Development Institute (MDI)
Mehrauli Gurgaon Road, PO Box No 60, Sukhrali, Mehrauli Gurgaon Road, Gurgaon, Haryana-122007
 0124-4560555, 0124-4560666
 www.mdi.ac.in

MBA Colleges accepting CAT in Jammu & Kashmir

The Business School (University of Jammu)
The Business School, University of Jammu, Jammu Tawi, Jammu & Kashmir-180006
 0191-2430133
 www.jammuuniversity.in

MBA Colleges accepting CAT in Karnataka

Alliance University
Chikkahagede Cross, Chandapura – Anekal Main Road, Anekal Bangalore, Karnataka-562106
080-30938001/2/3/4
 www.alliance.edu.in
GIBS Business School
#44/4/8/5, Mylasandra Road Off, Koppa – Begur Rd, next to Eternity Ecstasy, Akshayanagar, Bangalore, Karnataka-560076
8050300070
 www.gibsbschool.com
IFIM Business School
8P & 9P, KIADB Industrial Area, Electronic City Phase1, Bengaluru, Karnataka-560100
 080-41432800, 9910693017
 www.ifimbschool.com
Indian Institute of Science
C. V. Raman Road, Devasandra Layout, Bengaluru, Karnataka -560012
 080-22932444
 www.iisc.ac.in
Indus Business Academy(Arihant Education & Research Foundation)
IBA Campus, Survey No. 164 Lakshmipura, Thataguni Post, Kanakapura Main Road, Bengaluru, Karnataka-560062
 080-26083703, 080-26083704
 www.iba.ac.in
M S RAMAIAH INSTITUTE OF MANAGEMENT
Gate No. 7, General Science Building, C' Block, M.S.R.I.T. Post, Bengaluru, Karnataka-560054
 080-23608769
 www.msrim.in
National Institute of Technology Surathkal (Karnataka)
Srinivasa Nagar P.O, Mangaluru, Karnataka-575025
 0824-2474000
 www.nitk.ac.in
T. A. Pai Management Institute (TAPMI)
PB No. 9, Manipal, Manipal, Karnataka-576104
 0820-2701000, 0820-2701010 / 1070
 www.tapmi.edu.in
Welingkar Institute of Management Development & Research, Bangaluru
102/103, Electronic City Phase 1, Next to Telephone Exchange, Hosur Road, Bengalore,Karnataka -560100
 080-42678300, 080-42678342
 www.welingkar.org

MBA Colleges accepting CAT in Kerala

Rajagiri Business School
Rajagiri Valley, P.O. Kakkanad, Kochi, Kerala-682039
 0484-2660601
 www.rajagiribusinessschool.com

MBA Colleges accepting CAT in Madhya Pradesh

Indian Institute of Forest Management
P. B. No. 357, Nehru Nagar, Bhopal, Madhya Pradesh-462003
 0755-2763466, 0755-2775716
 www.iifm.ac.in
Jaipuria Institute of management Indore
Survey No. 298/2, Gram Panchayat-Todi, Village-Khankroad, The-Sanver, Indore, Madhya Pradesh-453771
 0731-3069300
 www.jaipuria.ac.in

MBA Colleges accepting CAT in Pune Maharashtra

Balaji Institute of Management and Human Resource Development (BIMHRD)
S. No. 55/2-7, Tathawade, Near Wakad, Off Pune – Mumbai Highway, Pune Pune, Maharashtra-411033
 020-30631490
 www.bimhrdpune.com
Balaji Institute of International Business (BIIB)
Survey No. 55/2-7, Tathawade, Near Wakad, Off Mumbai Bangalore By-pass Pune, Maharashtra-411033
 020-66741372, 020-66741380
 www.biibpune.com
Balaji Institute of Modern Management (BIMM)
SVY No. 55/2-7, Tathawade, Off Mumbai Bangalore By-pass Pune, Maharashtra-411033
 020-66741241, 020-66741243
 www.bimmpune.com
Balaji Institute of Telecom & Management (BITM)
Survey No. 55/2-7, Tathawade, Off Mumbai-Bangalore Bypass, Pune, Maharashtra-411033
 020-66741224, 020-66741271/72/73
 www.bitmpune.com
Flame School of Business (FLAME University)
Gat No. 1270, Taluka Mulshi, Village Vadzai, Pune, Maharashtra-412115
 020-67906291
 www.flame.edu.in
Institute For Technology And Management
Plot No. 25/26, Sector – 4, Institutional Area, Kharghar (E), Navi Mumbai, Maharashtra-410210
022-62267005, 022-33835518
 www.itm.edu
National Institute of Bank Management
NIBM Post Office, Kondhwe Khurd Pune, Maharashtra-411048
020-26716000
www.nibmindia.org
National Insurance Academy
25 Balewadi, Baner Road NIA PO Pune, Maharashtra-411045
 020-27204000
www.niapune.com
MIT World Peace University
S.No. 124,Paud Road, Kothrud, Pune, Maharashtra- 411038
9891770008, 020-71177104
http://mitwpu.edu.in

MBA Colleges accepting CAT in Mumbai Maharashtra

Institute For Technology And Management
Plot No. 25/26, Sector – 4, Institutional Area, Kharghar (E), Navi Mumbai, Maharashtra-410210
022-62267005, 022-33835518
 www.itm.edu
K J Somaiya Institute of Management Studies & Research
Somaiya Campus, Vidyanagar Vidyavihar (East) Mumbai, Maharashtra-400077
 022-67283000, 022-67283050
 simsr.somaiya.edu
N L Dalmia Institute of Management Studies & Research
Srishti, Sector-1, Mira Road East, Mumbai Maharashtra-401104
 022-42990033
 www.nldalmia.in
National Institute of Industrial Engineering
Vihar Lake Road, P.O. NITIE, Mumbai Maharashtra-400087
 022-28573371 , 022-28573378
 www.nitie.edu
National Institute of Securities Markets (NISM)
Plot No. IS 1 & IS 2, Patalganga Industrial Area, Village Mohopada (Wasambe), Rasayani, Taluka, Khalapur, Dadabhai Road, Andheri (West) Raigad, Maharashtra- 410222
 02192-668422
 www.nism.ac.in
National Institute of Industrial Engineering (NITIE)
Vihar Lake Road P.O. NITIE, Mumbai, Maharashtra- 400087
 022-28573371
 www.nitie.edu
S P Jain Institute of Management & Research
Bhavan's Campus, Munshi Nagar, Dadabhai Road, Andheri (West) Mumbai, Maharashtra-400058
 022-26230396, 022-26232401
 www.spjimr.org
Shailesh J. Mehta, School of Management (IIT Bombay)
BJMSOM, IIT Bombay,Powai Mumbai, Maharashtra -400076
 022-25768781
 www.som.iitb.ac.in
Welingkar Institute of Management Development & Research, Mumbai
Lakhamsi Napoo Road , Near RA Podar College Matunga (Central Rly) Mumbai, Maharashtra -400019
 022-24198300, 022-24198400
 www.welingkar.org

MBA Colleges accepting CAT in New Delhi

Apeejay School of Management
Sector – 8, Dwarka Institutional Area, Dwarka New Delhi, New Delhi-110077
 011-25363979, 011-25363980
 www.apeejay.edu/asm
Fore School of Management
Adhitam Kendra, B-18, Qutub Institutional Area New Delhi, New Delhi-110016
 011-41242405,011-41242425
 www.fsm.ac.in
Fortune Institute of International Business
lot No. 5, Rao Tula Ram Marg, Opp. R&R Army Hospital, Vasant Vihar New Delhi, New Delhi-110057
 011-47285000
 www.fiib.edu.in
G.G.S.Indraprastha University
Sec-16-C, Dwarka , New Delhi, New Delhi, New Delhi-110078
 011-25302160
 www.ipu.ac.in
International Management Institute
B-10, Qutab Institutional Area, Tara Crescent New Delhi, New Delhi-110016
 011-47194103, 011-47194176
 www.imi.edu
Lal Bahadur Shastri Institute of Management
Plot No-11/7, Sector – 11, Dwarka New Delhi, New Delhi-110075
 011-25307700
 www.lbsim.ac.in
TERI School of Advanced Studies
10 Institutional Area, Vasant Kunj New Delhi, New Delhi-110070
 011-71800222
 www.terisas.ac.in

MBA Colleges accepting CAT in Odisha

KIIT School of Management KIIT University
Krishna Campus-7, AT/PO KIIT Bhubaneswar, Odisha-751024
 7894460016, 0674-2725007
 www.ksom.ac.in
Xavier University Bhubaneswar
Xavier city Campus Plot No 12(A), Nijigada, Kurki Harirajpur,Odisha-752050
 0674-2377700
 www.xub.edu.in

MBA Colleges accepting CAT in Puducherry

Pondicherry University
Bharat Ratan Dr.B.R.Ambedkar Administrative Building, R.V. Nagar, Kalapet, Puducherry, Puducherry -605014
 0413-2655179
 www.pondiuni.edu.in

MBA Colleges accepting CAT in Punjab

LM Thapar School of Management
Village Behra, off Dera Bassi-Barwala Road, Derabassi Mohali, Punjab-140507
 01762-394500, 8288026130
 www.lmtsom.thapar.edu
University Business School – Ludhiana
Punjab University Regional Centre,Civil Lines, Ludhiana, Punjab-141001
 0161-2443830, 8283066776
 www.ubsl.puchd.ac.in

MBA Colleges accepting CAT in Rajasthan

APEX University
Jaipur, rajasthan Jaipur, Rajasthan-302020
 0141-6660999
 www.apexuniversity.co.in
Birla Institute of Technology & Science, Pilani
Vidya Vihar, BITS, Pilani, Rajasthan-333031
 01596-515294
 www.bitsadmission.com
IIHMR University
1,Prabhu Dayal Marg, Near Sangamer Airport, Jaipur, Rajasthan-302029
 0141-3924700, 0141-2791431
 www.iihmr.edu.in
Jaipuria Institute of Management (Jaipur)
1, Bambala Institutional Area, Pratap Nagar, Sanganer, Jaipur, Rajasthan-302033
 0141-4771300, 0141-4771318
 www.jaipuria.ac.in

MBA Colleges accepting CAT in Tamil Nadu

Bharathidasan Institute of Management (BIM)
MHD Campus, BHEL Complex, Tiruchirappalli, Tamil Nadu-620014
 0431-2521227, 0431-2520502/733/796
 www.bim.edu
Great Lakes Institute of Management Chennai
Dr. Bala V Balachandar Campus, East Coast Road, Manamai Village, Thirukazhukundram Taluk, Kancheepuram, Tamil Nadu-603102
044-30809000, 7358599107
 www.greatlakes.edu.in
Loyola Institute of Business Administration
LIBA, Loyola Campus, No. 1, Sterling Road, Nungambakkam, Chennai, Tamil Nadu-600034
 044-2817710
 www.liba.edu
National Institute of Technology
Tanjore Main Road, National Highway 67, Tiruchirappalli, Tamil Nadu-620015
 0431-2503700, 0431-2503701
 www.nitt.edu
Thiagarajar School of Management
Pamban Swamy Nagar, Madurai District, Thiruparankundram, Tamil Nadu-625015
 0452-2485013, 0452-248501
 www.tsm.ac.in

MBA Colleges accepting CAT in Telangana

Hyderabad Business School
GITAM University, Hyderabad Campus Rudraram, Patancheru Mandal, Medak Dist, Hyderabad, Telangana, 502329
 08455-221365, 08455-221361
 www.ghbs.in
Institute of Insurance and Risk Management (IIRM)
Financial District, Gachibowli, Hyderabad, Telangana-500032
 040-23000005
 www.iirmworld.org.in
Institute of Public Enterprise (IPE)
Survey No. 1266, Shamirpet (V & M), R. R. District Hyderabad, Telangana-500101
 040-23490900
 www.ipeindia.org
University of Hyderabad (School of Management Studies)
Central University P.O. Prof. C.R. Rao Road, Gachibowli, Hyderabad, Telangana-500046
 040-23135000
 www.uohyd.ac.in
Vignana Jyothi Institute of Management
Vignana Jyotji Nagar, Pragathi Nagar, Via Kukatpally Hyderabad, Telangana-500090
 040-23044901
 www.vjim.edu.in

MBA Colleges accepting CAT in Uttar Pradesh

Birla Institute of Management Technology
Plot No. 5, Knowledge Park II Greater Noida, Uttar Pradesh-201306
0120-6843000, 9899542446
 www.bimtech.ac.in
BENNETT University
Plot No 8-11, Tech Zone II, Greater Noida, Uttar Pradesh-201310
 0120-7199300
 www.benett.edu.in
Institute of Management Studies (BHU)
Institute of Management Studies, Banaras Hindu University, Varanasi, Uttar Pradesh-221005
 0542-2369332
 www.bhu.ac.in/fms
Institute of Management Technology (IMT)
Hapur Road, Raj Nagar, Post Box No. 137, Ghaziabad, Uttar Pradesh-201001
 0120-3002200
 www.imt.edu
Institute of Management Studies (Ghaziabad)
C-238, BSR Industrial Area, G.T.Road, Lal Quan, Ghaziabad, Uttar Pradesh-201009
 0120-4170623, 9711260677
 www.ims-ghaziabad.ac.in
Jaipuria Institute of Management (Lucknow)
Vineet Khand, Gomti Nagar Lucknow, Uttar Pradesh-226010
 0522-2394296, 0522-2394297
 www.jaipuria.ac.in
Jaipuria Institute of Management (Noida)
A-32 'A', Institutional Area, Sector-62, Gautam Budh Nagar, Noida, Uttar Pradesh-201309
0120-4638300, 0120-4638301 / 9810644756
 www.jaipuria.ac.in
Motilal Nehru National Institute of Technology
MNNIT Allahabad Campus, Teliarganj, prayagraj, Allahabad, Uttar Pradesh-211004
 0532-2271011
 www.mnnit.ac.in
NTPC School of Business
C/o. NTPC Ltd.,Power Management Institute, Plot No. 5-14, Sector – 16A, Noida, Uttar Pradesh-201301
 0120-2416803
 www.nsb.ac.in
University of Lucknow
University Road,Hasanganj, Lucknow, Uttar Pradesh -226007
 0522-2740246
 www.lkouniv.ac.in
Rajiv Gandhi Institute of Petroleum Technology
Department of Management Studies, Bahadurpur Mukhetia More, Post: Harbanshganj, Jais Amethi, Uttar Pradesh- 229304
5352704529
 www.rgipt.ac.in

MBA Colleges accepting CAT in Uttrakhand

Doon Business School
MI,122 ,Behind Pharma City, Selaqui, Dehradun, Uttrakhand – 248011,
 0135-2699166, 0135-2699085
 www.doonbusinessschool.com
College of Agri Business Management
G B Pant, University of Agri. & Tech. Pantnagar Udham Singh Nagar, Uttarakhand- 263145,
 05944-233884
 www.cabm.ac.in

MBA Colleges accepting CAT in West Bengal

Army Institute of Management
Judges Court Road, Opp Alipore Telephone Exchange, Kolkata, West Bengal-700027
 033-24794494, 033-24794495
 www.aim.ac.in
Eastern Institute of Integrated Learning in Management (EIILM)
6, Waterloo Street, 2nd Floor, Kolkata, West Bengal – 700069
 033-22100911, 033-22100912
 www.eiilm.co.in
Institute of Engineering and Management
120 SDF Buildings ,Saltlake Electronics Complex, Sector – V, Saltlake, Kolkata, West Bengal – 700091
 033-23572969, 23572059
 www.iemcal.com
International Management Institute (Alipore)
2/4C, Judges Court Road, Alipore, Kolkata, West Bengal-700027 
 033-66529616, 033-66529610
 www.imi-k.edu.in
Indian Institute of Social Welfare & Business Management (IISWBM)
3, Madan Mohan Sen Street, Management House, College Square West, Kolkata,West Bengal -700073
 033-22418694, 033-22418695
 www.iiswbm.edu
Management Development Institute, Murshidabad
Village Kulori, Post Uttarramana (Barala SO), P. S. Raghunathganj Murshidabad, West Bengal-742235
9674727164
 www.mdim.ac.in
List of MBA Colleges India Admission through CAT Score :