Address : Behind Railway Station, Rohtak Road, Sonipat, Haryana 131001
portal : himsonepat.org
Hindu Institute of Management
The Hindu Institute Management Sonipat is one of the 23 year oldest MBA Colleges in Northern India. by The Sonepat Hindu Educational and Charitable Society, Sonepat. The Institute has gained considerable recognition as a centre of excellence in the areas of Management.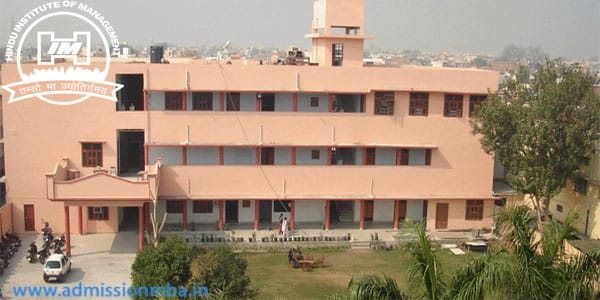 MBA is a two year full time degree program approved by AICTE and HIM is running this program under the affiliation of DCRUST, Murthal. The program offers dual specialization. The program aims to train the students to become excellent managers and high level decision makers with broad strategic vision.
MBA College Haryana 
Hindu Institute of Management
Establishment Year
 1994
Mobile No:
9811004275
Website
 himsonepat.org

Campus

 Sonipat / Haryana

HIM Sonipat Affiliation

Hindu Institute of Management Average Package

2.5 LPA

HIM Sonipat Course Offered

Duration

Semesters

Specialization

HR
Marketing
Finance
International Business

Number Seats

Hindu Institute of Management Fees 2022-23

Annual Tution Fees
43000
Development Fees
12000
Student Fund
1500
College Security
2000
Other Fees( I. Card, House Exam fees)
500
Accreditation Fees
1000
Registration Fees
1500
Examination Fees
3500
Development Fees
1000
Deenbandhu Chhotu Ram Fund
75
Migration Fees
1000
NSS Fund
100
Sports Fund
500
Youth Welfare Fund
250
Youth Red Cross Subscription
60
University Admission Exp.
200
Hindu Institute of Management Fees Grand Total
68185

HIM Sonipat Entrance Exam

Admission Eligibility for Admission

Graduate from any Stream.
Reservation of seats is strictly according to the Haryana State Government guidelines.
Management Quota/NRI 25% seats have been reserved as the management quota.
Admission to these seats will be made at the institute level based on merit.

Selection Process

Good communication skills
Selection through GD & Personal Interview at the Campus.
Hindu Institute of Management MAP in Location