RIMS College Bangalore 15, New BEL Rd, M.S Ramaiah Nagar,
Mathikere, New Bel Road Bangalore -560054
Karnataka, India
Website:-rimsbangalore.in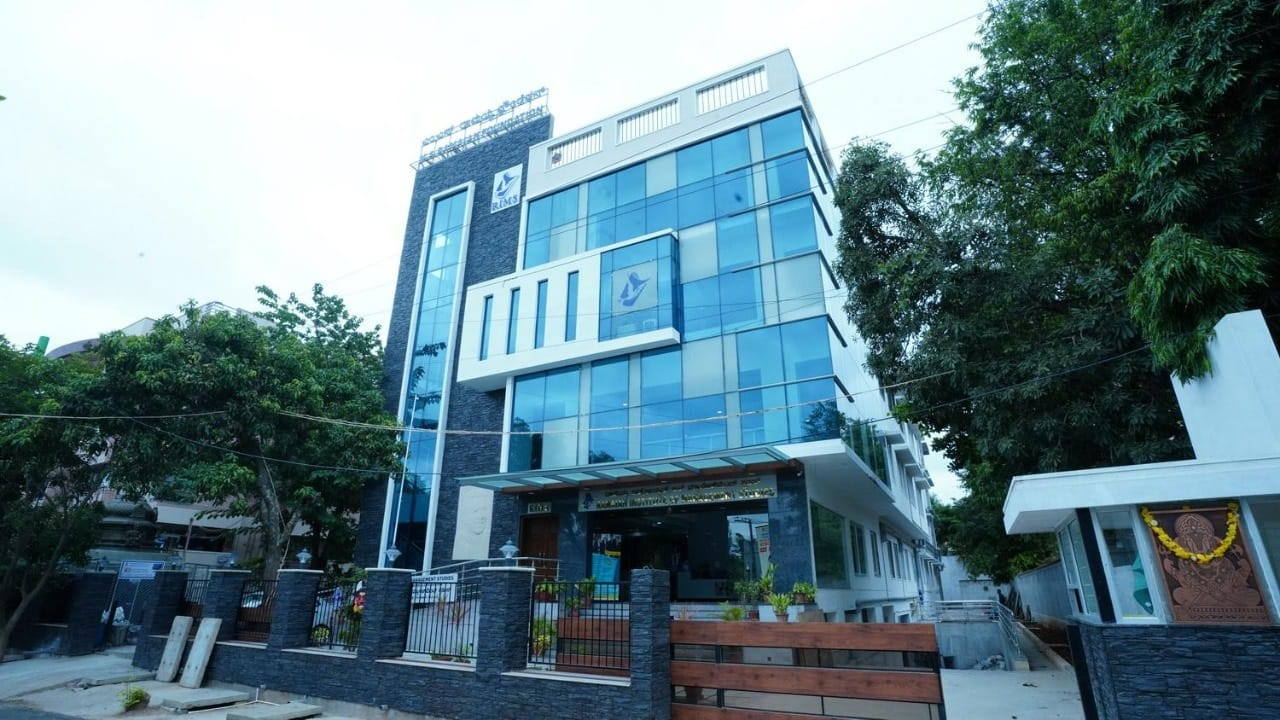 MBA Admission in RIMS Ramaiah Institute of Management Bangalore
Full form of RIMS
Ramaiah Institute of Management Studies
Ramaiah Institute of Management Science
Foundation
M. S. Ramaiah Foundation
Address
15, New BEL Rd, M.S Ramaiah Nagar, Mathikere, New Bel Road, Bengaluru-560054, Karnataka,India
RIMS Bangalore Establishment
2007
Courses
Master of Business administration
Other Program Available

BBA
B.Com
BCA
BA-LLB
B.Com- LLB
BBA-LLB

RIMS Bangalore nearest Metro Station
Rajajinagar metro station
PGDM Degree
2 Years Full Time / Regular.
Courses
PGDM
Post Graduate Programme in Management

RIMS Bangalore Fees Structure

RIMS Bangalore Fees Structure
Rs,7,78,000/-
Affiliation
Affiliated to University of Mysore and Annamalai University, AIMA, SBS and Nagasaki Wesleyan .
International Accreditation

Accreditation Council for Business Schools and Programs (ACBSP),
International Assembly for Collegiate Business Education (IACBE).

 RIMS Bangalore PGDM Admission  Open Now, Fill Form on Right to Apply Free PGDM Form

Ramaiah Institute of Management Studies Bangalore approvals
University Grant Commission
RIMS Bangalore recognition
 University programme

Ramaiah Institute of Management Studies Bangalore PGDM

Entrance Exams
CAT/ XAT/ CMAT/ MAT/ ATMA / KMAT / PGCET .
Admission Process
Cumulative performance in Entrance exam + Case analysis + personal interview .
Cut off
40 percentile in CAT /40 Percentile in Mat / 40 Percentile in CMAT / 40 Percentile in KMAT .
RIMS Bangalore fee structure
Rs Six lakhs Eithy eight Thousand only
Eligibility
*3-year Bachelor's degree or equivalent in any discipline recognized by the Association of Indian Universities/AICTE.*Candidates in the final year of a Bachelor's degree course or equivalent are also eligible to apply.

Ramaiah Institute of Management Studies hostel

RIMS Bangalore boys hostel
Out campus Available + 5 Star PG Accomodation
RIMS Bangalore  girls hostel
Out campus Available + 5 Star PG Accomodation

Ramaiah Institute of Management Studies Bangalore,  MS Ramaiah Nagar Mathikere Bangalore campus

RIMS Bangalore Campus Faculty
Dr. Y Rajaram
Prof. Arun Mudhol
Mr. Rejimon Thomas
Anil B Gowda
Mr. Sreerengan V.R
Dr. Radha R
Mr. S. Murali
Bharath K A
Mr. Lucas M
Dr. Swapna M
Dr. Jigna Mitul Zaveri
Barath Kumar Barathwaj
Prasad Linganna
Mr. Narasimha Prakash
S Saravana Kumar
Mr. Sudeep.B
Mr. Vinay S
Dr. U.N Lakshman
Mr. Balaji T V
Studies Teaching Pedagogy

Participant Centred learning,
Role plays
Management Games
Analysis and reporting
Presentations
Industrial visits
Community service
Industry Interaction.

RIMS Mathikere Bangalore
Most of all Class rooms with LCD projectors along with audio system, digitalized library, Medical Facility, Executive Fitness Programme, Amphitheatre, Multimedia Lab.
Institutes Case Studies used
Harvard Business School
Stanford Graduate School of Business
Richard Ivey School of Business
Society for Case Research
European Case Clearing House .
RIMS Bangalore Campus building
 Class room, digitalized library, Computer Labs, Faculty Chamber , Wifi Campus, Smart Class Rooms .

 RIMS Bangalore ranking

 BUSINESS TODAY Ranking of B-Schools – No. 33 in Learning Experience and No. 36 in Future Orientation.
BUSINESS INDIA Rating of A++.
Among the Top 400 Schools according to Social Sciences Research Network, USA.
CollegesMBA.in – A++.
MBACollegesIndia.in – Ranks at 46 th in India.

Awards

Highest STAR Award of the American Society for Quality, USA.
Award of Distinction of the American Society for Quality, USA.
Attendees' Choice Award for "Complex Project" and "Creative Solution" at the World Conference on Quality and Continuous Improvement .

 Ramaiah Institute of Management Studies average packages / RIMS Bangalore average package

Rims Bangalore average package
CTC – 5.5 Lacs p.a.
Rims Bangalore Highest package
CTC – 10 Lacs p.a.

(Minimum 200+ companies visit for Placements) RIMS Bangalore placements

KPMG.
TISMO.
ITC.
SIZZLE.
INDUSIND BANK.
DAEDALUS CONSULTING.
ANSRSOURCE(AUTHOR).
PARC.
JANA LAKSHMI FINANCIAL SERVICES.
ANZ.
ABSIndia.
Enaviya Technology.
Gomalon Technology(BookMySpa.com).
TATAMotors.
ICICI Prudential.
Redington.
INDUSIND BANK.
Exim Services.
Novatech Robo Pvt Ltd.
ICICI Securities.
XL Dynamics India Pvt. Ltd.
BajajAllianz .
Practo.
Madura Garments.
TATA Teleservices.
NAUKRI.COM(SouthIndia).
CareerNet Consulting.
Artechinfo.in.
Capgemini.
Puravankara.
Oracle.
PRIONE BUSINESS SERVICES PVT.LTD.
Edelweiss Broking Ltd.
DSV Air & Sea Pvt Ltd.
Decathlon.
Aakash Foundations.
BoseIndia.
Hindware(HSIL).
India Dental World.
Frontier Business Systems.
Oracle.
INDUSIND BANK.
SLK.
SPS Jobs.
BlueOcean.
Magnasoft.
Silverpeople.
Ocwen.
Weldcraft Pvt Ltd.
Prestige Group.
FinMitra Finance$Management Solutions.
Yodlee.
CareerNet Consulting.
Asterix.
SMERA.
Kotak.
Octane Solution Pvt. Ltd.
ZETA.
Datakue.
Indusind Bank(AM).
Maven Hasten.
Flourish Purefoods Pvt. Ltd.
Cropin.
Third Wave Rugged.
Mantri Developers Pvt Ltd.
91Streets Media Technologies Private Limited.
Oracle.
MTR.
ISS.
Dr.Lal Pathlabs LTD.
SISA.
HT Media (Shine.com).
Happiestminds.
Askme.com.
Wells Fargo .
Epathasala.
ABC Consulting.
Borderless Access.
Exide.
BluePi.
Religare Health Insurance.
IDG (International Data Group)
SLV Developers.
Intellipaat.
Time Inc. ,India(Operations).
Time Inc. ,India(Projects).
KPIT.
Zycus.
Bajaj Finance Limited.
BNP Paribas.
SRI Sankara TV.
KPMG for Finance, Tax Division.
Centrum(Marketing).
Eurocon.
Oracle (HR).
Tata Mc GrawHill-Publication-Karnataka Region (Sales & Marketing).
HP Care Point.
Saint Gobain's.
Magnasoft.
Fintellix Solutions.
E & Y.
Envision Financial Systems India Pvt.Ltd.
Karvy for Marketing.
ISS Facility Services( for Technical Services, Sales and SCM Profiles).
I.M.Solutions.
Grofers.
Flocareer.
Kadence International.
Allegis Group India (H.R).
Pinelabs.
Karvy (Equity Advisor).
Ninjacart (Procurement).
Ninjacart(Business Development).
Zeta.

RIMS Bangalore review

Existing Students/Students Studying
RIMS Bangalore is Good,Faculties are good,Teachings are Good ,Little Strict and Descent collge with good placement
Alumni`s
RIMS thanks !  for Making our Career. Eventually We realise that RIMS Bangalore  is best Business school in India.