Address: Sohna Road, Bhondsi,
Gurugram, Haryana 122102
Website : www.kiit.in
KIIT Gurgaon
Vidyapati Sansthan, a registered education society, was established in 1969, with an objective of imparting quality education, which transforms our new generation youth into meaningful citizens of the country. KIIT College is the latest in series of educational institutions run by the society, which was conceived with vision for quality education by eminent educationists, Sh. Baidev Raj Kamrah & Late Smt. Satya Kamrah, who are for long committed to excellence in education.
Kiit College of Engineering Gurgaon
Their strong determination, vision, will power, dedication, uprightness, inclination towards spiritualism and firmness against various odds, have brought the society to its present shape.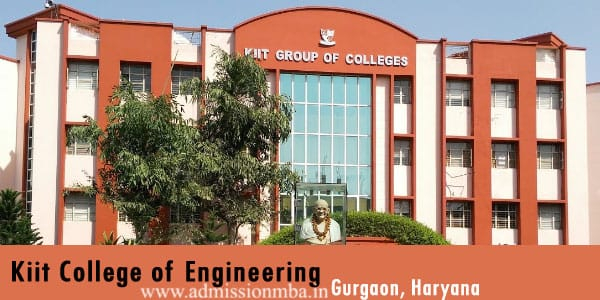 KIIT Gurgaon Vision
We aim to be one of the foremost and premier institutes of learning, research and development, which provides world class quality education and innovative opportunities to students to become successful professional, entrepreneurs and leaders.
KIIT College Mission
Excellence of Institutional Infrastructure for providing high quality academics, co-curricular and extra-curricula activities and faculty enrichment opportunities to enhance lifelong learning and holistic development. Establish an environment conducive for innovation research and entrepreneurship development for students and faculty both. Instill moral and ethical approach among students to live life with a good value system acceptable globally. Maintain a good student support system for their training and employment Create projects and partnerships with industry, government, R & D organizations for professional growth and societal benefits.
Kiit College of Engineering Course offer following 2 year full time graduate MBA programs.
Gurgaon College
Kiit College of Engineering Gurgaon
Establishment Year
1969
Phone
011-26344275 | 9811004275
Website

Campus

Gurugram (Gurgaon)

KIIT Gurgaon Affiliation

AICTE, Ministry of HRD, Govt. of India
MD University, Rohtak

Achievements | Rank

KIIT Gurgaon Course Offer

Duration

Semesters

KIIT MBA Specialization

Marketing
Human Resource
Finance
Information Technology

Number Seats

Fees Structure

State Fee Committee, Govt. of Haryana.

KIIT Entrance Exam

Eligibility

Bachelors degree or equivalent, with a minimum of 50% aggregate marks or equivalent in any discipline from a recognized university for admission to post-graduate programs.
Check Also in KIIT Gurgaon Entrance Exam Percentile

Selection Process

Good communication skills
Selection through GD & Personal Interview at the Campus.
Kiit Gurgaon MAP Location
Some Top MBA Colleges in Gurgaon