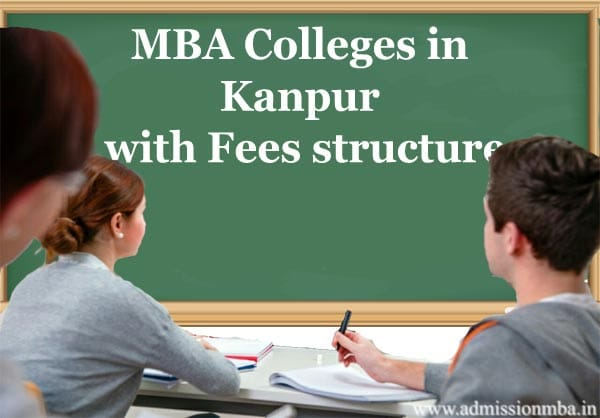 MBA Colleges in Kanpur with Fees structure
Therefore, as a result, so check Name of Colleges / University Kanpur Address Master's  Program Fees (Rs. INR Moreover).
Name of Colleges / University
Kanpur Address
Master's  program
Fees (Rs. INR Moreover)
Rama University
Rama City, Mandhana, Kanpur (U.P.) – 209 217
MBA
INR 2,00,000.
Chhatrapati Shahu Ji Maharaj University
Kalyanpur, Kanpur
MBA
INR 1,07,286.
Vision Institute of Management
Hathipur, Mahrajpur
MBA
as per AKTU norms
Seth Sriniwas Agarwal Institute of Management
Naramau, Kanpur

INR 1,70,000
INR 1,83,000.

Vidya Bhavan College For Engineering Technology
Rautapur, Chaubeypur, Kanpur
MBA
INR 1,75,000.
Jagran Institute of Management
Juhi Saket Nagar, Kanpur
PGDM
INR 2,20,000.
Institute of Productivity & Management
Kalyanpur, G.T. Road, Kanpur
PGDM
INR 3,00,000.
Step-Hbti
Hbti Campus Nawabganj
MBA
INR 2,17,480.
Banshi College of Management Studies
Mohmadpur Bithoor Kanpur
MBA

PGDM

INR 1,80,000.
INR 2,00,000.

Dr. Gaur Hari Singhania Institute Of Management and Research
Kamla Nagar, Narainpurwa, Kanpur,
PGDM

INR 6,30,000.
INR 2,00,000.
MBA Institute in Kanpur with Fees structure plays an Vital Role in an Aspirants Choice of MBA Institute Kanpur Selection.
As most of all the students Pre Decide MBA College as per their Budge.
Furthermore Very Rarely Students opts for Top MBA Colleges with out Deciding the MBA Fees Budget.
Complete list of most sought after and accepted top MBA colleges in Kanpur along with fee structure will help students to take MBA admission in Kanpur.
Hence the exclusive list of top b-schools in Kanpur with fees structure is an initiative by admissionmba.in to help students in conclusion.
Top Colleges Kanpur Fees
Top MBA Institute fees in Kanpur Includes all the examination fees and Tuition Fees also. Therefore all the Top MBA Colleges in Kanpur have Different Course offering with Different Fees Structure.
No such MBA Colleges in Kanpur either have the same Course offering or the same fees structure. In addition MBA College fees in Kanpur also includes.
Laptop
Books
Study Material
Foreign Tours
Also all including Colleges / University Kanpur Master's  program Fees.
Societies & Club Activates
Examination Fees
Alumni Membership Fees
other Charges all inclusive.
There are many reasons to more fees Budget details. Above all, it keeps you healthy education life.
How To paid Master's  program Fees in Kanpur Colleges / University
You can also pay your MBA college fees in Kanpur by Cheque/DD/RTGS/Paytm.
Most notable Top MBA College Kanpur Fees can be paid in installments also.
Some colleges have either annual fee payment schemes and even semester wise fee payment schemes.
Also students get complete details of MBA colleges Kanpur fee structure prescribed in offer letter or admit card they received.
Best Colleges in Kanpur along with scholarships fees.
The Best colleges in Kanpur along with scholarships fees also offer the highest number of scholarships.
Academic
Need Base or Moreover
Call on 011-41444275 9811004275 for scholarships (

Don't Time Waste Needed Students Call and What's APP

)
The scholarships are provide to students to nature students talent and appreciate the past academic record. And also remove Hindrance of fees for studying to the needy Students. In Few Colleges Scholarships are Even Provided to Reserved Category Students Also Where in The State Government Funds Their Education.