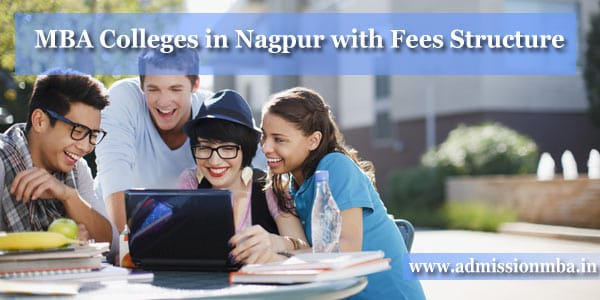 Details of MBA Colleges in Nagpur Fee Structure
Check list of MBA Colleges in Nagpur with Fee Structure
| | | |
| --- | --- | --- |
| MBA Colleges Nagpur | Location in Nagpur | MBA Fees Structure for 2 years (INR Rs) |
| Central Institute of Business Management Research and Development (CIBMRD Nagpur) | Pawanbhumi | 2.26 Lakh |
| Datta Meghe Institute of Management Studies(DMIMS) | Pratap Nagar | 3.25 Lakh |
| Department of Business Management – Nagpur University | Tilak Nagar, Gokulpeth | 47.42 K |
| Dhanwate National College | Congress Nagar | 19.69 K |
| G H Raisoni Institute of Information Technology (GHRIIT) | Hingna Road | 3.38 Lakh |
| Green Heaven Institute of Management and Research (GHIMR) | Village Rui | 1.82 Lakh |
| G H Raisoni Institute of Management and Research (GHRIMRN) | Chicholi | 1.80 Lakh |
| G H Raisoni School of Business Management (GHRSBMN) | Madhav Nagri | 2.16 Lakh |
| G.H. Raisoni College of Engineering (GHRCE) | Digdoh Hills | 2.56 Lakh |
| GuruNanak Institute of Engineering and Technology (GNIET) | Dahegaon | 1.80 Lakh |
| Indian Institute of Management Nagpur (IIM Nagpur) | Ambazari | 18.00 Lakh |
| Institute of Management Technology (IMT Nagpur) | Dorli | 12.12 Lakh |
| JD College of Engineering and Management (JDCEM) | Kalmeshwar Road | 1.97 Lakh |
| Jhulelal Institute of Technology (JIT Nagpur) | Lonara | 1.29 Lakh |
| Kamla Nehru Mahavidyalaya (KNM) | Sakkardara Square | 1.42 Lakh |
| KDK College of Engineering (KDKCE) | Nandanvan | 1.27 Lakh |
| Octave Business School | Village Rui | 3.98 Lakh |
| Orange School of Business | Chandrakiran Nagar | 9.00 Lakh |
| Priyadarshini Lokmanya Tilak Institute of Management Studies and Research (PLTIMSR) | Hingna Road | 1.65 Lakh |
| Rashtrasant Tukadoji Maharaj Nagpur University (RTMNU) | | 0.477 Lakh |
| Shantiniketan Business School (SBS) | Kamptee Road | 1.50 Lakh |
| Shri Ramdeobaba College of Engineering and Management(SRCEM) | Katol Road | 2.31 Lakh |
| Smt. Radhikatai Pandav College of Engineering (SRPCE) | Umrer Road | 2.06 Lakh |
| TIMESPRO | Sadar Bazar | 1.70 Lakh |
| Tirpude Institute of Management Education (TIME Nagpur) | Civil Lines, Sadar | 2.32 Lakh |
| Wainganga College of Engineering and Management(WCEM) | Dongargaon | 1.60 Lakh |
MBA Colleges in Nagpur with Fees Structure
MBA College fees in Nagpur plays an Vital Role in an Aspirants Choice of MBA College Nagpur Selection. As most of all the students Pre Decide MBA College as per their Budge. Furthermore Very Rarely Students Opt for Top MBA Colleges with out Deciding the MBA Colleges Nagpur Fees Budget. Hence then only apply for Direct Admission in MBA. The Complete List of the Most Demanded and Approved Top mba colleges in Nagpur with Fees structure will help students to Take MBA admission in Nagpur. Hence the exclusive list of top mba colleges in Nagpur with fees structure is an initiative by admissionmba.in to help students in conclusion.
Top MBA College fees in Nagpur Includes all the examination fees and Tuition Fees also. Therefore all the Top MBA Colleges in Nagpur have Different Course offering with Different Fees Structure. No such MBA Colleges in Nagpur either have the same Course offering or the same fees structure. In addition MBA College fees in Nagpur also includes Laptop, Books, Study Material, Foreign Tours. Also all Societies & Club Activates, Examination Fees, Alumni Membership Fees and other Charges all inclusive. Hence The Students Can Pay their MBA College fees in Nagpur either by Cheque/DD/RTGS/Paytm also. Most noteworthy Top MBA Colleges in Nagpur Fees can be paid in Installments also.
MBA College fees in Nagpur and Scholarships
Scholarships are also provided by Most of all in Best MBA Colleges in Nagpur fees. The Scholarships are Mostly of two Types (1) Academic and (2) Need Base. The scholarships are provide to students to nature students talent and appreciate the past academic record. And also remove Hindrance of fees for studying to the needy Students. In Few Colleges Scholarships are Even Provided to Reserved Category Students Also Where in The State Government Funds Their Education.
MBA Colleges in Nagpur Fees Updated