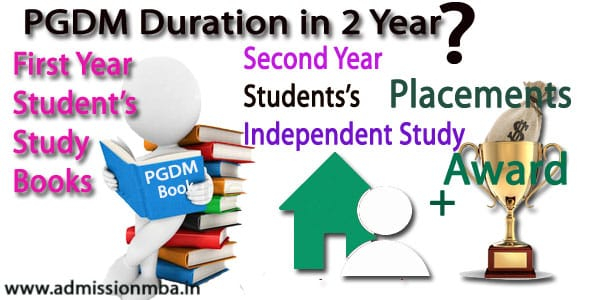 PGDM Duration
Post Graduate Diploma in management two-year, full-time program. During the two years. 2 Year Post Graduate Diploma in Management (PGDM) will be have an annual structure, with each academic year divided into three parts – trimesters; over two academic years, there will be a total of six trimesters. The program would comprise 1050 hours of class room contact, and would assume that each course, generally of thirty classroom hours, would involve a total of in- and outside-classroom work of around 100 hours.
PGDM Duration First Year :
PGDM course for each of the compulsory courses. And at this time many of the many special electives present are popular. Course contents for the compulsory courses have been indicat fully. PGDM elective courses being large and various, differentiating programs, Colleges / B Schools/ Institutions, indicative se of course contents and objectives should be ready by the Committee.
PGDM Duration Second Year :
Institutions following guideline for developing their own electives. Institutions should modify the suggested PGDM courses. Add to the list of electives for purposes of differentiating its offering as relevant to sectors of interest and relevance. Institutions who currently offer PGDM Course in particular  sector  such as Retailing, HR, etc. to provide relevant content and create their unique identity through these electives.
Second year PGDM Course Independent Study
Guidelines for Course of Independent Study (CIS) Second year PGDM students may opt for a CIS equivalent to one course. CIS comprises of an investigation, together with the written report and interpretation thereof, of a subject accepted and approved by a member of the faculty. It can be either theoretical or empirical exercise, or a combination of both.