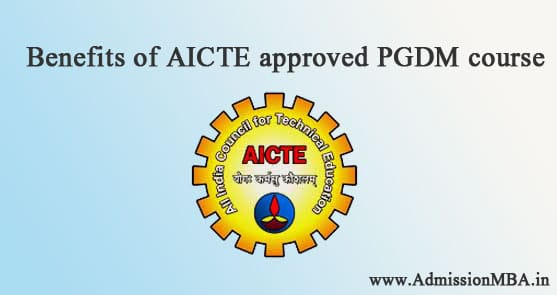 The All India Council for Technical Education (AICTE) is the legal body and a national-level council for technical education. AICTE comes under Department of Govt. of India.
Department of Higher Education
Ministry of Human Resource Development
Act of Parliament in the year Which Year ?
Was first established in November 1945 as a consultative body and later was granted statutory status by an Act of Parliament in 1987.
t is AICTE's responsibility of AICTE to Develop and develop a proper plan of technical education and management education system in India. Students always want to get their management degree from an AICTE approved PGDM Colleges/institute.
AICTE is unconditioned with the legal body for planning, formulation and maintenance of norms and standards. As per the AICTE ACT no. 60 2004.
AICTE is responsible for quality assurance through:
School accreditation
Monitoring and evaluation
Funding in priority areas
Ensuring coordinated as well as integrated development and management of technical education in the country.
The AICTE consist of following Bureaus :
e-Governance (e-Gov.) Bureau
University (UB) Bureau
Approval (AB) Bureau
Institutional and Faculty Development (RIFD) Bureau
Planning and Co-ordination (PC) Bureau and Academic (Acad) Bureau
Administration (Admin) Bureau
Finance (Fin) Bureau and Research.
Apart from this, there are 10 Board of Studies dealing with
Technical
Vocational
Undergraduate Engineering
Postgraduate Engineering
Research
Architecture
Town and Country Planning
Pharmacy
Management
Applied arts
Crafts
Hotel management
Catering technology education.
At PGDM Colleges/Institute , the PGDM program is tailor made for the students. Many Colleges/Institute offer Single and dual specialization in
Colleges/Institute has consistently stood amongst the best institutes and program specific rankings, which reinforces our position as the best B-School in India IMI, FMS, IIM, XLRI, IIFT, MDI, ISB, SP Jain more like for PGDM course.
Why choose AICTE approved PGDM program?
Rankings are bas on ranking records, industry interface, admission process, and strength of the curriculum, a method of training / teaching, faculty, research and infrastructure.
AICTE Approve College/Institute provide best infrastructures which includes a
library
Computer lab
e-journals
Wi-Fi
Auditorium
Seminar Halls
The requirement of the industry for highly train professionals is the , cause why students seek to pursue AICTE approved PGDM program.
PGDM program focuses on experiential Educate which goes a long way in transforming students into industry-ready candidates.
Below mentioned statements will help you to understand why to select AICTE approved PGDM program:
If the PGDM program is not approved by AICTE then the students will not be considered for government jobs. It also illegal to pursue the PGDM course from non-recognize AICTE colleges. The student might even be decline a private job, even if they have secur extremely good grades and had a supersonic performance throughout the academic year. PGDM Institute approved by AICTE is given higher preference than other people. The PDGM course offer at College/Institute is AICTE approved.
Also in the same class as that offers by the leading B-Schools such as IIM's, XLRI and MDI. Therefore it is important to have AICTE approved PGDM program certificate.
In the current scenario, the goal of students is to be kept in a well-known company. Except, many students aspire to go overseas for work or higher studies. The degree is recognize to be valid only if the college is AICTE approved  If not, you are not eligible for an overseas job or Career in education. A student who completes PGDM course at AICTE-approved college also gets an opportunity to go abroad for his job.
A student pursuing a PGDM course will be gaining knowledge regarding building soft skills and the program is more industry-orient. An Devoid institute does not have to follow university standards. These institutions are free to change their curriculum and change the business environment according to industry standards. The course students prepare you for a senior level position in a company. various skills development in students ensures horizontal and perpendicular career move. AICTE deals with technical education as per the AICTE Act, the surveys can be conduct in various fields of technical education at all levels.