About DBE DU MBA Admission: In 1973, under the prestigious University of Delhi, Business Economics Department, Delhi led the Masters Program in Business Economics, which combines the fundamental principles of economic analysis with the practical aspects of the business world.
DBE DU MBA Admission Eligibility, Application Form, Admission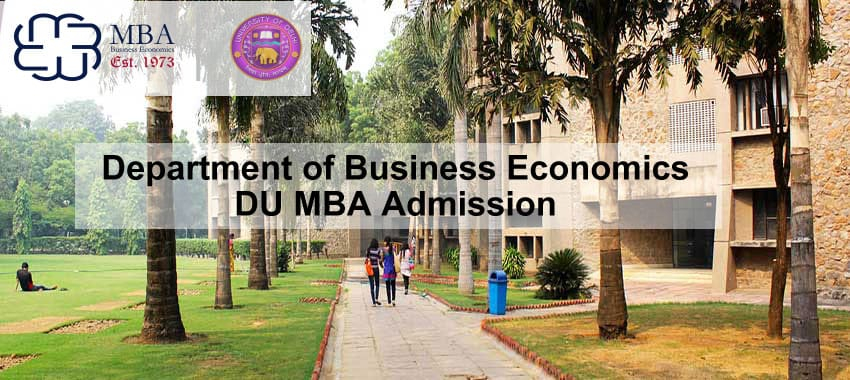 With the changing business environment, the department has reinforced itself several times by updating its structure and syllabus. In 2015, the Department honored the industry with its new, strong and comprehensive curriculum structure – MBA (Business Economics) has replace its previous offer, MBE. A new curriculum has been developed with the aim of equipping students with the academic knowledge and efficient application of this knowledge through appropriate means.
The department attracts bright and talent minds in its educational programs from all over the country, including PhD in various business and economic research areas, as well as major programs, MBA (BE).
DBE DU MBA (BE) Advantage
DBE DU flagship course offers significant advantages to our students and among a myriad of reasons, a few have been outlined below:
Course Structure
MBA (Business Economics) a specialize course. The department builds a base in Business Analytics and offers a dual specialization in Finance, Marketing, Analytics (Advanced) and Economic Research. Today, every industry performs in a highly competitive global environment, and under such circumstances their requirements are of highly skill and specialized professionals. This course gives an edge to the students and presents an opportunity to be a frontrunner in their chosen fields.
Return on Investment
The department comes under the top institutes in the country in terms of ROI due to its minimal fees and accomplished placements.
Education Standards
The department has a long list of regular & guest faculties' who specialize in various fields of interest. We are proud to say that we have a 100% PhD faculty having in-depth knowledge of their subjects.
Student Bodies
The second command of control in the department are the student bodies. Starting from the admission procedure to the final placements, all the activities & events are organized and executed by the student bodies under the guidance of the faculties. Thus imparting the high end learning, qualities of leadership & managerial skills to the students.
Infrastructure
The department comes under the Delhi University brand name & situated in the heart of the lush green & vast South Campus. The environment here remains very calm & motivates students to be focused on their studies and also indulge in their overall personality development.
DBE DU MBA Admission 2024 Procedure
The DBE DU MBA Admission 2024 comprises of the following procedure:
Short-listing on the basis of candidates Blow
Weightage GD/PI
Short-listing for final selection
CAT percentile
75%
60%
Marks in Class-X
10%
5%
Marks (best of four) in Class-XII
7.50%
5%
Marks in Mathematics/Business Mathematics in Class-XII
2.50%
–
Candidates with the above mention Graduate Degrees

B. Com. (Hons.)
B. A. (Hons.) (Economics)
B. A. (Hons.) (Business Economics)
BBE
BBS/BMS
BFIA/BBA (FIA)

5%
2.50%
Marks in Group Discussion
–
7.50%
Marks in Personal Interview
–
20%
Please note, while academic background given weightage as indicate above, there no separate weightage for work experience etc.
Approx. the number of students call in each category about 3 times the total number of seats in each category:
| General | 41 |
| --- | --- |
| Sc | 12 |
| ST | 6 |
| CW | 4 |
| PH | 2 |
| OBC | 23 |
DBE DU MBA Fees Structure
The following DBE DU MBA fees structure applicable for candidates seeking new admission during the academic year 2020-22
| | | |
| --- | --- | --- |
| Application fee | Annual fee | Hostel accommodation |
| Rs. 1,100 (Rs.600 for SC/ST/PC candidates) | Rs.12376.00 (with additional Rs.50/- as enrolment fees for non – DU students) | Yes |
(Geetanjali for Women and Aravali and Saramati for Men), after completing admission formalities. Forms / Information etc. regarding available at the respective hostels.
Downloads and Some Important Links
Admissions :
Announcement of the Admission-2023

Admission – List – 2023
Waiting – List – 2023