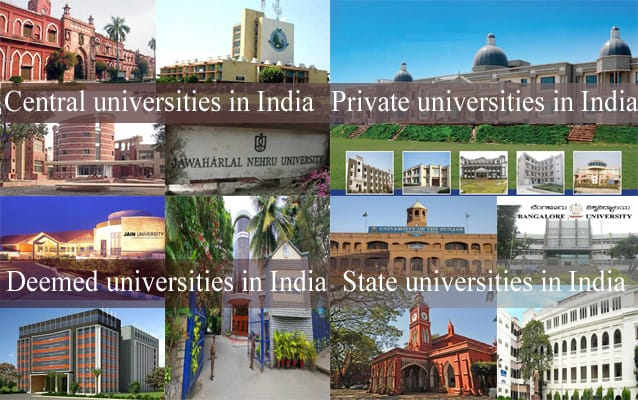 The types of universities in India:
Discover the top Universities in India by the 2022 University India.
Central universities, or Union universities
are establish by an Act of Parliament and are under the purview of the Department of Higher Education in the Union Human Resource Development Ministry. As of 12 December 2018, The list of central universities published by the UGC includes 49 central universities.
State universities
Each state and territory of India run by the state government and usually establish by a Local Legislative Assembly Act. As of 6 October 2017, the UGC lists 367 state universities, the earliest establishment date list by the UGC being 1857, share by the University of Mumbai, Madras University and the University of Calcutta. Most state universities are affiliation universities with many affiliation colleges (often location in smaller cities) that usually offer a range of undergraduate courses, but may also offer postgraduate courses. More establish colleges may also offer PhD programs in some departments with the approval of the affiliation university.
Deemed university
"Deemed to be University" is a state of autonomy grant by the Department of Higher Education on the advice of the UGC, under Section 3 of the UGC Act. As of 6 October 2017, the UGC lists 123 deemed universities. According to this list, the first institute to be given university status was the Indian Institute of Science, which was grant this status on 12 May 1958. In many cases, several institutions have been includ in the same list by the UGC. For example, the list of Homi Bhabha National Institute includes the Institute of Mathematical Sciences, Indira Gandhi Center for Atomic Research and other institutions.
Private universities
are approval by the UGC. They can grant degrees but they are not allowed to have off-campus affiliated colleges. As of 6 October 2017, the UGC list of private universities lists 282 universities.
The List of Types of universities in India
Types of universities in India both private and public universities. Public universities are support by the Government of India and the state:
Central universities in India
Deemed universities in India
Private universities in India
State universities in India