Address: Plot 1, Yamuna Expy, Sector 17A, Uttar Pradesh 203201
Contact .-: 9250376104 | 9811004275
Website-: www.niu.edu.in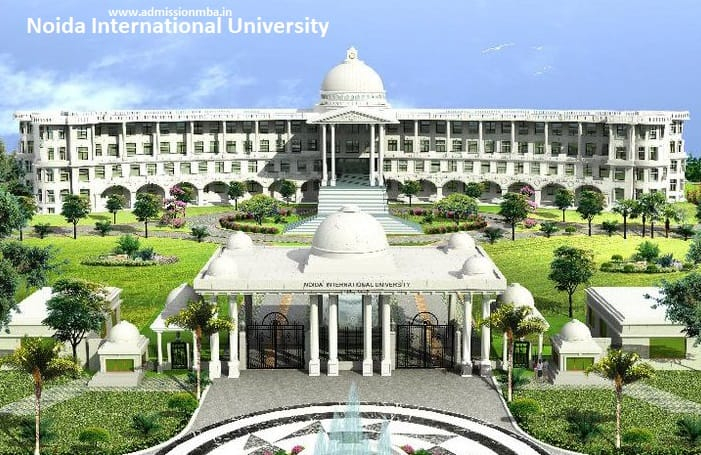 Noida International University
Vision
Mission
Date of Establishment
To be a global Centre of learning, Innovation, Professionalism and Academic Excellence Tempered with values and Ethics

To create a vibrant environment conducive to passionate learning and original thinking.
Interaction with academia and industry to promote quality research and pathbreaking innovations.
To nurture world class human resources in all domain for positive and meaningful services to the nation and society.

2011
NIU Courses Offered & MBA Specialization
NIU Courses Offered like BCom (Honours), BBA, MBA (Dual Specilization), MBA, MBA- ELITE, MCom & Ph.D.
Recognitions and Approvals

NIU Courses Offered
MBA Specialization

NCTE
UGC
Association of Indian Universities
National Medical Commission
Indian Association of Physiotherapists
Indian Nursing Council

BCom (Honours)
BBA
MBA (Dual Specilization)
MBA
MBA- ELITE
MCom
Ph.D

Marketing
Finance
Human Resources
hospital and Health Management
Information Technology
Production and Operations
Agribusiness
Business Analytics
International Business
Digital Marketing
Noida International University Fees Structure 2023-24
Noida International University
Fees Structure
Fee Non-Sponsored
Fee Sponsored

BCom (Honours) –  (3 Years)
BBA           – (3 Years)
MBA- ELITE – (2 Years)
MBA – (2 Years)
MBA (Dual Specilization)
MCom – (2 Years)
Ph.D – (3 years)

Rs.40,000/-
Rs.45,000/-
Rs.1,33,750/-
Rs.95,000/-
RS.80,000/-
Rs.30,000/-
Rs.50,000/-

Rs.52,000/-
Rs.65,000/-
–N/A….
Rs.1,05,000/-
Rs.90,000/-
Rs.39,000/-
Rs.65,000/-

NIU Hostel Fees
Double Seater
Triple Seater
Hostel Security amount INR 10,000 (Refundable)
Hostel fees to be paid yearly

AC- Rs.1,40,000/-
Non AC – Rs.1,15,000/-

AC- Rs.1,20,000/-
Non AC – Rs.1,05,000/-
Noida International University Admission 2023
deadline to apply is 30 April 2023. Application forms for NIU programs are available in various courses for streams such as management & engineering
Eligibility
Documents required
Application Shortlisting

A graduate degree under 10+2+3 or 10+2+4 pattern under any discipline, securing at least 50% marks in aggregate, from a recognized university.

An honors degree under 10+2+4 pattern from a recognized university under UGC Act with at least 50% marks in aggregate including languages.

Candidates who have passed Bachelor/ Master degree through correspondence / Open University System from this university or from any other university recognized by law, are exempted from 10+2 pattern. The duration of the degree programme must be 3 + 2 years.

10th and 12th Marks sheets.
Graduation Marks sheets (All the Semesters / Years)
Transfer Certificate (TC).
Migration Certificate.
Provisional Degree Certificate (PDC).
Entrance Exam Score card.
Caste Certificate / Income Certificate (If claiming any exemption)
4 Passport Size photographs.

Applicant's academic record.
work experience.
scores in Management Test.
Performance in Admission Procedure.

NIU Cut off
Admission Procedure
NIU Entrance Exam
50 Percentile in Entrance Exams
Aptitude Test + Group Discussion + Personal Interview + Written Test
valid score in PGCET (MBA) / CAT / MAT / XAT / ATMA or any national admission test
Admission Confirmation
Seats (Intake)
Scholarships
Admissions would be final only after the payment of requisite fee along with security deposit (as mentioned in the admission offer letter)
120
Yes Available
Rankings
Collaborations
Refund Policy
Ranked 7th in Architecture Colleges in North Zone by India Today

Sonargaon University, Bangladesh, Dhaka
Central College, Canada
Capecoast University, Ghana
Western Delta University, Nigeria
Universitas-Sultan-Ageng-Tirtayasa
Fort Hays State University, USA
University of International Business,Kazakhstan
Missouri State University

Fee refund policy is as per the guidelines laid down by the AICTE.
Noida International University NIU Average & Highest Package, No of Companies
NIU average salary package offered ranges between 4.85 LPA – 5.50 LPA. Infrastructure: NIU university provides a hostel facility. university good facilities.
NIU Average Package
Highest Package
No of Companies
INR.4.85 LPA
INR. 12.00 LPA
150+
Internship & Training
Placements Profiles
Recruiters

Efficax Engineers Private Limited
Style Dot Me
Lions workforce solution Pvt. Ltd
Reliance Education
Fit india trust
HCL
Airtel / Idea / Jio

Sales & Marketing, Finance, Human Resources
Paytm, HDFC Bank, Max Healthcare, Just Dial, Finoit, Flipkart,idp, KPG, Infosys, jio etc