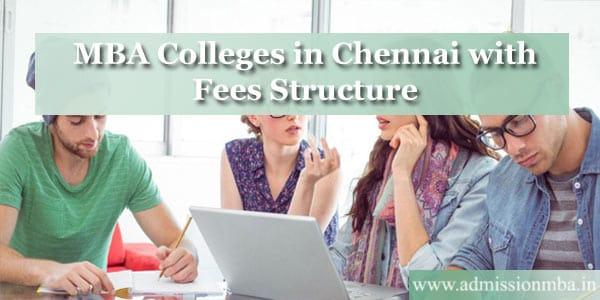 MBA Colleges in Chennai with Fees Structure
| | | |
| --- | --- | --- |
| 97 Colleges for MBA in Chennai | Location | MBA Fees Structure |
| Academy of Maritime Education and Training (AMET) | kanathur | 5.78 Lakh |
| AAM Business School | T nagar | 2.14 Lakh |
| Asan Institute of Management | Medavakkam | 1.60 Lakh |
| Anand Institute of Higher Technology (AIHT) | Kelambakkam | 1.0 Lakh |
| Amity Global Business School (AGBS Chennai) | Gopalapuram | 6.60 Lakh |
| Alpha College of Engineering, Chennai | Poonamallee | 1 Lakh. |
| Apollo Institute of Hospital Management and Allied Sciences | Ayanambakkam | 3.20 Lakh |
| Apollo Engineering College | Poonamallee | 70 k |
| Aarupadai Veedu Institute of Technology  (AVIT), Faculty of Management Studies | Kancheepuram | 1.60 Lakh |
| Anna University, Department of Management Studies (DOMS) | Guindy | 1.94 Lakh |
| Bharath Institute of Higher Education and Research (BIHER) | Agharam Road Selaiyur | 2.0 Lakh |
| Bharathidasan Institute of Management (BIM) | Tiruchirappalli | 14.79 Lakh. |
| B.S. Abdur Rahman Crescent Institute of Science and Technology | Vandalur | 1.13 lakh |
| | Vandalur | 1.12 Lakh |
| CDE, Anna University, Chennai | Guindy | 0.82 Lakh |
| College of Engineering Guindy (CEG) | Guindy | 1.02 lakh |
| Chennai Business School | RA Puram | 6.0 Lakh |
| DMI College of Engineering | Palanchur – Nazarethpet Post | 1.62 Lakh |
| D B Jain Institute of Management | Thoraipakkam | 1.20 Lakh |
| Dhaanish Ahmed College of Engineering | Padappai | 0.50 Lakh. |
| Dhanalakshmi College of Engineering | Dr. V. P. R Nagar | 0.50 Lakh |
| Dhanalakshmi Srinivasan College of Engineering and Technology | Mallapuram | 0.70 Lakh |
| Ethiraj College for Women (Ethiraj) | Egmore | 2.36 Lakh |
| Eva Stalin Business School | Tambaram West | 3.00 Lakh |
| Easwari Engineering College | Ramapuram | 0.70 Lakh |
| Gojan School of Business and Technology | Redhills | 1.54 Lakh |
| Great Lakes Institute of Management (GLIM ) | Kancheepuram | 13.10 Lakh |
| GKM College of Engineering and Technology | Perungalathur | 0.82 Lakh. |
| Hallmark Business School (HBS Tiruchirappalli) | Tiruchirappalli | 1.6 Lakh |
| Hindustan University, Department of Management Studies | Kelambakkam | 2.00 Lakh |
| Indian Maritime University (IMU Chennai) | Uthandi | 4.6 Lakh |
| Institute For Financial Management & Research (IFMR) | Nungambakkam | 12.0 Lakh |
| Indian Institute of Logistics | SICCI Building | 3.3 Lakh |
| IIKM Business School | Nungambakkam | 4.85 Lakh |
| Indian School of Science and Management | Perungudi | 3.0 Lakh |
| | Old Mahabalipuram Road | 8.95 Lakh |
| IMMRI Business School | Thambu Chetty Street | 4.0 Lakh |
| Jaya Engineering College | Thiruninravur | 0.82 Lakh |
| Jaya College of Engineering and Technology | Poonamallee | 0.90 Lakh. |
| Jeppiaar Engineering College | Jeppiaar Nagar | 0.70 Lakh |
| jerusalem college of engineering | Narayanpuram | 0.70 Lakh |
| Loyola Institute of Business Administration (LIBA) | Nungambakkam | 12.60 Lakh |
| Natesan Institute of Cooperative Management, Chennai | Anna Nagar | 1.37 Lakh |
| National College of Aviation | Egmore | 2.00 Lakh |
| National Institute of Management Studies | Karapakkam | 1.36 Lakh |
| Madha Engineering College | Kundrathur | 1.0 Lakh |
| My India Business School (MIBS) | Tambaram Sanatorium | 3.0 Lakh |
| MEASI Institute of Management, Chennai | Royapettah | 4.50 Lakh |
| Misrimal Navajee Munoth Jain Engineering College | Thorapakkam | 0.70 Lakh. |
| Mohamed Sathak College of Arts and Science (MSCAS) | Sholinganallur | 0.06 Lakh |
| Madras Institute of Fashion Technology (MFT) |  Vadapalani | 3 lakh |
| M.O.P Vaishnav College For Women | Nungambakkam Road | 1.75 Lakh |
| Madras Institute of Hotel Management and Catering Technology | Kattupakkam | 2.5 lakh |
| Meenakshi College of Engineering | KK Nagar | 1.2 Lakh |
| Park Global School of Business Excellence (PGSE) | Govindavadi | 3.60 Lakh |
| Panimalar Engineering College | Poonamallee | 0.72 Lakh |
| Rajalakshmi School of Business (RSB Chennai) | Kuthambakkam Post | 6.0 Lakh |
| Rajalakshmi Engineering College (REC Thandalam) | Thandalam | 1.25 Lakh. |
| Remo International College of Aviation | Guindy | 2.60 Lakh |
| S.A. Engineering College (SAEC) | Thiruverkadu | 1.50 Lakh |
| Sathyabama Institute of Science and Technology | Jeppiaar Nagar | 2.20 Lakh |
| Sree Sastha Institute of Engineering and Technology | Chembarambakkam | 2.0 Lakh |
| Sri Chandrasekharendra Saraswathi Viswa Mahavidyalaya (SCSVMV) | Kanchipuram | 2.045 Lakh |
| SKR Engineering College | Poonamallee | 0.60 Lakh |
| School of Management, DG Vaishnav College | Arumbakkam | 1.30 Lakh |
| Sri Ramachandra Institute of Higher Education and Research (SRIHER). | Porur | 3.0 Lakh. |
| Sri Ramanujar Engineering College (SREC). | Kolapakkam | 1.20 Lakh |
| SRM School of Management (SRM University Kattankulathur) | Kattankulathur | 6.10 Lakh |
| UFly International | Anna Nagar West | 4.0 Lakh |
| Sri Sai Ram Institute of Management Studies | West Tambaram | 3.0 Lakh |
| SRM School of Management (SRM University Ramapuram) | Ramapuram | 5.10 Lakh |
| SRM School of Management (SRM University Vadapalani). | Vadapalani | 4.10 Lakh |
| St. Britto's College | Adambakkam | 3.75 Lakh |
| SSN School of Management (SSN SOM Chennai) | Old Mahabalipuram Road | 5.0 Lakh |
| Saveetha School of Management, Saveetha University | Poonamallee High Road | 3.0 Lakh |
| St. Joseph's College of Engineering | Semmancheri | 0.72 Lakh |
| Tamil Nadu Open University, Chennai | West Saidapet | 0.2 Lakh |
| Tagore Engineering College | Rathinamangalam | 1.0 Lakh |
| Tamil Nadu Veterinary and Animal Sciences University, Chennai | Madhavaram Milk Colony Road | 0.50 Lakh |
| The School of Business Logistics (TSBL). | Mylapore | 3.50 Lakh |
| Tamil Nadu Physical Education and Sports University (TSPESU) | Melakottaiyur | 0.513 Lakh |
| Thiagarajar School of Management (TSM Madurai). | Thiruparankundram | 6.9 Lakh. |
| University of Madras, Chennai | Chepauk | 0.47 Lakh |
| Xavier Institute of Management and Entrepreneurship (XIME Chennai) | Avadi, | 7.50 Lakh |
| Vels Institute of Science, Technology & Advanced Studies, Vels University | Pallavaram | 3.39 Lakh |
| Vel Tech Dr. RR and Dr. SR Technical University | Avadi | 1.86 Lakh |
| M.O.P. Vaishnav College for Women (MOP Chennai) | Thousand Lights | 1.76 Lakh |
| VIT Business School, Chennai | Rajan Nagar | 5.98 Lakh |
| Vel Tech High Tech Dr.Rangarajan Dr.Sakunthala Engineering College | Avadi | 1.2 Lakh |
| Velammal Engineering College | Surappattu | 1.30 Lakh. |
| Versatile Business School | Egmore | 2.0 Lakh. |
MBA Colleges in Chennai with Fees Structure
MBA College fees in Chennai plays an Vital Role in an Aspirants Choice of MBA College Chennai Selection. As most of all the students Pre Decide MBA College as per their Budge. Furthermore Very Rarely Students Opt for Top MBA Colleges with out Deciding the MBA Colleges Chennai Fees Budget. The Complete List of the Most Demanded and Approved Top mba colleges in Chennai with Fees structure will help students to Take Direct MBA admission in Chennai. Hence the exclusive list of top mba colleges in Chennai with fees structure is an initiative by admissionmba.in to help students in conclusion.
MBA Colleges Chennai Fees
Top MBA College fees in Chennai Includes all the examination fees and Tuition Fees also. Therefore all the Top MBA Colleges in Chennai have Different Course offering with Different Fees Structure. No such MBA Colleges in Chennai either have the same Course offering or the same fees structure. In addition MBA College fees in Chennai also includes Laptop, Books, Study Material, Foreign Tours. Also all Societies & Club Activates, Examination Fees, Alumni Membership Fees and other Charges all inclusive. Hence The Students Can Pay their MBA College fees in Chennai either by Cheque/DD/RTGS/Paytm also. Most noteworthy Top MBA Colleges Chennai Fees can be paid in Installments also. Few of the college have either yearly fees payment plans and even semester wise fees payment plans. Also the students Get Complete Details of mba Colleges Chennai Fees structure prescribed in the offer letter or the admission letter they receive.
MBA College fees in Chennai and Scholarships
Scholarships are also provided by Most of all in Best MBA Colleges Chennai fees. The Scholarships are Mostly of two Types (1) Academic and (2) Need Base. The scholarships are provide to students to nature students talent and appreciate the past academic record. And also remove Hindrance of fees for studying to the needy Students. In Few Colleges Scholarships are Even Provided to Reserved Category Students Also Where in The State Government Funds Their Education.