College Address: Amhera Adipur village,
Mawana Road, Meerut, Uttar Pradesh 250001
Official Website : SSCE
Phone : 011-26344275 | 9811004275
Sri Sai College Of Education
SSCE Meerut
Shri Sai College of Education Strongly Believes that true education teaches you the valuable virtues of self-knowledge, self-control and self-confidence. An educational institution poised for achieving excellence should have three basic components: well qualified faculty, students eager to learn and latest infrastructure and instructional facilities. Shri Sai College of Education Possesses all these three in gradients.
SSCE Meerut Placements
Shri Sai College of Education is a fast growing institute of technical and professional education and craning. we at Shri Sai College of Education are committed to provide an excellent education atmosphere for preparing competent professionals with positive attitude. we also try to inculcate human value in our students so that they not only become a competent professional but also a good human being.
SSCE Meerut Placements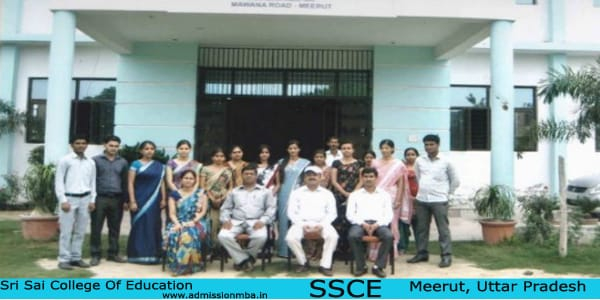 Name of MBA College
Sri Sai College Of Education Meerut
Year of Establishment
2009
Phone No
9811004275, 9250376104
Website

SSCE

Approvals & Affiliations
AICTE ,MTU Noida
Course Offered
MBA
MBA Course Duration
2 years
MBA Semesters
4 semesters
Specialization offered
Humuan Resource Management
Banking Finance And Insurance Services
International Business
Marketing Management
Health Care Management

Number of seats

MBA-180
Fees Structure
MBA-
Entrance Exams Required
CMAT/ CAT/MAT/KMAT/ATMA
Eligibility
Admission to MBA course shall be open for the students who have are Graduate in any stream from a recognized University with Minimum 50% Marks .
Necessary Documents
A)Entrance score card (KMAT/CMAT/MAT/PGCET/CAT) Original + 4 copies
B)TC/College leaving certificate
C)Application Form
D)Migration certificate (If studied in Non-Karnataka States)
E)10th & 12th Marks Sheet Certificate
F)Graduation Degree Marks Sheets ( 3 / 4 / 5 Years)
G)Caste & Income Certificate (If claiming under SC /ST / I / II / III Categories)
H)Degree Certificate / PDC
I)4 Photos (Stamp Size)
J)Blood Group Report
Attendance Requirements
A student shall be considered to have satisfied the attendance requirement if he/she has attended not less than 85% of the classes in each subject of that semester (Theory, Seminars, Industrial Training and Dissertation work) actually conducted up to the end of the Semester.A student,shall not be eligible to appear for the Examination of the Semester and shall be required to repeat that Semester along with regular students later.
Eligibility for Passing
The student shall obtain a minimum of 50% of marks in the University examination and a minimum of 50% of marks in aggregate including the Internal Assessment marks for pass in each of the theory subject
Major Recruiters
Jaro Education Limited
9-6 consultants Johnson & Johnson
Acculogix JP Morgan
ACS Jubilant Motors
ADECCO JWT
Adithya Birla Minacs Kaleidoscope
Aditya Birla Kanvya Group of Company
Aditya Birla Financial services Kilmist Infotech Pvt Ltd
Agrotech Foods Ltd KKM SOFT (P) Ltd.
Air one Security P Ltd Klio-Tech (P) Ltd
AJAX Placements Services Korcomptenz Consultancy Private Limited
Alibaba Le Royal Pune
Allegis Group Pvt Ltd LIC India
alofthotels LifeCell International Private Limited
SSCE Meerut Placements