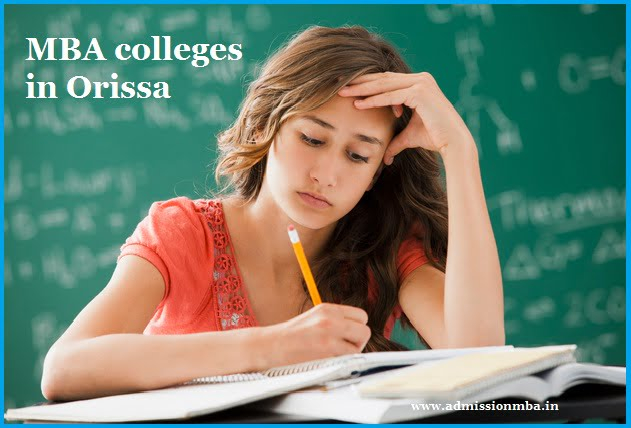 List of MBA Colleges in Orissa
Masters of Business Administration is a two year full time Management Programme which is affiliated to a university of of State/Central or Deemed University.The university is thus approved by UGC (University Grant Commission) which approves a college fulfilling Desired Norms and grants the status of University.
Since MBA programme is not a technical course so it does not need to have AICTE approval in any of the MBA colleges in Orissa and MAT Score accepting Colleges.
College Name
Address

MBA Colleges in Balasore, Orissa

Modern Engineering & Management Studies
Banaparia, Kuruda, Balasore Orissa. Pin Code : 756056
Rj School of Management Studies
Rj Vidya Vihar,Tigiria, Tentulipura, Po : Punjibag, Via : Sunhat, Dist : Balasore, Pin : 756002
Academy of Business Administration
Corporate Office S1/25, Industrial Estate,Balasore-756001 Campus : Harida, Kuruda, Balasore -756056

MBA College in Bhadrak, Orissa

Bhadrak Institute of Engineering and Technology
At/Po-Barapadadist-Bhadrak Orissa, 756113

MBA College Bhubaneswar, Orissa

Gandhi Institute of Technology and Management (Gitam)
Saraswati Vihar, At- Gramadiha, P.O- Gangapada, Via- Janala, Bhubaneswar, Dist- Khorda, State- Orissa, Pin- 752054
Srusti Academy of Management
Plot No: 38/1 Chandaka Industrial Estate, Near Infocity Po: Patia, Bhubaneswar Dist: Khurda
Indus College of Engineering
Barakuda Height Bhubaneswar Pin-752050
Nalanda Institute of Technology
Bhudhist Villa, Nebad Bhuasani Temple Square, Similipatna, Chandaka, Bhubanesawr, Orissa.
United School of Business Management
Plot No. 37/A Chandaka I.E Patia Bhubaneswar

MBA College Bhubaneswar, Orissa

Trident Academy of Creative Technology
F2/B, Chandaka Industrial Estate, Infront Of Infocity, Chandrasekharpur, Bhubaneswar, Pin-751024
Biju Patnaik Institute of Information Technology and Management Studies
Plot No. -F/4, Chandaka Ind. Estate, Opp. Of Infocity, Patia, Bhubaneswar-751024
Niis Institute of Business Administration
Sarada Vihar Madanpur Bhubaneswar Dist: Khurda Pin: 752054
Global Institute of Management
At:-Hanspal Po:-Naharkanta Bhubaneswar Pin-752101 Orissa
Pj College of Management & Technology
Swatik Nagar, Kesora, Bhubaneswar, Orissa
Madhusudan Institute of Cooperative Management, Bhubaneswar
Unit – 8, Bhubaneswar – 751012
Krupajal Management Studies
Puba Sasana, Kausalya Ganga,
Gurukrupa College of Management
Plot No-1742, Sub Plot- 03, At- Kalarahanga, Po-Kiit Square, Ps-Infocity, Patia, Bhubaneswar, Khordha ,Odisha ,Pin- 751024.
Konark Institute of Science and Technology
Po. Box No. 21, Technopark, Jatni, Bhubaneswar.
Ganesh Institute of Management Studies
Bidya Nagar, Jagannath Prasad, Andharua, Bhubaneswar
Swmi Vivekananda Institute 0f Management
At Baniataangi , Post:Bazapur,, Bhubaneswar-752055, Khorda
Suddhananda School of Management and Computer Science
Nachhipur, Bhatapatna, Bhubaneswar, Khurda, Orissa
Saraswat Institute of Management
Keranda, Bajpur, Bhubaneswar – 752060
Bhubaneswar Institute 0f Management & Information Technology
Prasnagarbha, Plot No.-S-3/68,69 & 83, Sector-A, Zone-B, Mancheswar Industrial Estate, Bhubaneswar – 751010, Dist-Khurda, Orissa
Modern Institute of Technology and Management
At-Bhagabatipur Bhubaneswar, Po- Kantabada,Via – Janla, Dist-Khurda,Orissa 752054

MBA College in Cuttack, Orissa

Ajay Binay Institute of Technology , Cuttack
Sector-I,Cda , Cuttack-753014
Dhaneswar Rath Institute of Engineering and Management Studies (Driems) Mba
At- Kairapari, Po- Kotsahi (Tangi), Dist- Cuttack
Sri Sri University – Faculty of Management Studies
Ward No 1, Bidyadharpur, P.S. Godi Sahi
Institute of Professional Studies & Research
Ipsar House, Sec-6, Cda, Cuttack-753014 Orissa
Institute of Management and Information Technology
Scb Medical Campus Bose Campus Cuttack Orissa India Pin 753007

MBA College in Dhenkanal, Orissa

Dhenkanal Autonomous College
At/Po-Dhenkanal Dhenkanal Odisha

MBA College in Ganjam, Orissa

Kalam Institute of Technology
Govinda Vihar, Govinda Pur,Po: Laxmipur, Berhampur, Dist: Ganjam
S.M.Institute of Technoloy,P.G.Centre For Management Studies
Brundaban Bihar, Ankushpur Berhampur Ganjam Orissa Pin Code-761100
National Institute of Science & Technology
Palur Hills Berhampur, Orissa – 761008
Vignan Institute of Tech. and Management
Bhairavi Vihar, Haradanga Village, Po: Mantridi, Via: Golanthara, Berhampur, Ganjam District, Orissa Pin: 761008
Disha College of Management and Technology
Biswanathpur Road, Near Bhairabi Temple,Po-Mantridi, Via Golanthara,
Gandhi Global Business Studies
At/Po-Golanthara,Tahasil- Konisi, Berhampur

MBA College in Khordha, Orissa

Aryan School of Business Management
At-Barakuda, Po- Panchagaon, Dist Khordha
Zenith School of Management
At-Pitapalli,Po-Jatani,Dist-Khordha,752050
Regional College of Management Autonomous
Chakadola Vihar, Chandrasekharpur,
Centurion Institute of Technology
Ramchandrapur Jatni Khurda Orissa
Oxford College of Management
At-Ramchandrapur, Po-Bhatapatna, Ps-Balianta,
College of It & Management Education
Plot Not.4, Zone-B, Sector-A, , Mancheswar Industrial Estate
Rajdhani College of Engineering and Managment
Plot No. -18, Sector-A, Zone-B, Mancheswar Industrial Estate
Capital Institute 0f Management and Science
1309, Padhansahi Square
Templecity Institute of Tech. & Engineering ( Tite), Bhubaneswar
Plot No. F/12, Iid Centre Knowledge Campus, Barunei, Khurda, Orissa
Koustuv Business School
Plot No-1(C),Sector-B Cni Complex Patia

MBA College in Khordha, Orissa

Radhakrishna Institute of Technology and Engineering (Rite)
Plot No. -1, Khurda Industrial Estate, District: Khurda, Under Bhubaneswar Development Authority, Bhuaneswar
Gurukula Institute of Tech nology
Jamujhari, Chhatabar
Academy of Management & Information Technology
67, Iid Center,
Gandhi Business School
At-Badaraghunathpur, Po-Madanpur,Dist-Khurda,Odisha,752054
Astha School of Management
261,Atala,Balianta Bhubaneswar, Dist-Khurda Orissa Pin-752101
Centre For Management Studies, Orissa Engineering College
Nabajyoti Vihar, Nijigarh Kurki, P.O. – Harirajpur, Jatni
Institute of Business Management
Prachi Vihar, Anantapur, Phulnakhara, Khurda
Asian School of Management
At- Bantala, Po – Muktapur
Capital Business School
Plot No 1293, Mahatapalla, Po-Bajapur
Maharaja Business School
Gamai, Po-Gangapada, Via- Janla

MBA Colleges in Mayurbhanj, Orissa

Maharaja Purna Chandra (Autonomous)College
At-Takhatpur,P.O.-Baripada

MBA Colleges in Puri, Orissa

Brm Institute of Management and Information Technology
 Puba Sasan, Koushlya Ganga, Bhubaneswar
Scs College (Autonomous) Puri,Govt
At/Po-Puri Puri Dist-Puri Odisha

MBA Colleges in Rayagada, Orissa

Gandhi Institute of Advanced Computer and Research
Prajukti Vihar Aurobindo Marg
Gayatri Institute of Computer and Management Studies (Gicms)
Gyan Vihar At : Regeda Po: Gunupur Dist: Rayagada (Odisha) Pin – 765022

MBA Colleges in Rourkela, Orissa

Rourkela Institute of Management Studies
Institutional Area Gopabandhu Nagar Chhend Rourkela-769015
Dr. Ambedkar Memorial Institute of Information Technology & Management Science
Jagda, Rourkela-769042 Dist-Sundargarh Orissa
Iipm School of Management
At/Po: Kansbahal Near Rourkela Dist. Sundargarh Orissa Pin-770034
The Core idea of Management Studies in Orissa is to involve like minded people to get trained for Management Roles in Once life and Corporate for having a Career Growth, Better Position, Better Salary involving people to business side rather than the technical side. MBA provides the necessary inputs to help run a business enterprise better and to tackle the vagaries of the corporate world
Specializations in Best MBA Colleges Orissa, India
Marketing
Human Resources
Finance
International Business
Retail Management
Operational Management
Information Technology
Best MBA Colleges Orissa, India or have criteria for MBA  admission where MBA entrance exams plays a vital role in nurturing the career, where in the MBA entrance exams in Orissa are a must for MBA admission. Best MBA Colleges Orissa, India offering MBA admission either affiliate themselves to a common national level entrance test or take their own aptitude test to select candidates.
MBA Entrance Exam for admission in Orissa
CAT (Common Admission Test)
MAT (Management Aptitude Test)
CMAT (Common management Admission Test)
ATMA (Aims Test for Management Admission)
Teaching Pedagogy and Interface being followed by are:-
Industry visits
Live projects
Extensive use of Case studies
Industry interface for six months
Management Fest
Workshops and Seminars
Field Practicum
Minimum eligibility criteria for Admission in Best MBA Colleges Orissa, India
Management Studies in Orissa for admission at least a 3-year Bachelor's degree or equivalent in any discipline recognized by the Association of Orissan Universities/AICTE as eligible for Post Graduate Studies or possess an equivalent qualification recognized by the Ministry of HRD, Govt. of Orissa. Candidates in the final year of a Bachelor's degree course or equivalent are also eligible to apply. The candidate must hold a Bachelor's degree with minimum 50% marks in aggregate of all the subjects from any of the Universities recognized by thy AIU/UGC or AICTE failing which the provisional admission will be cancelled.