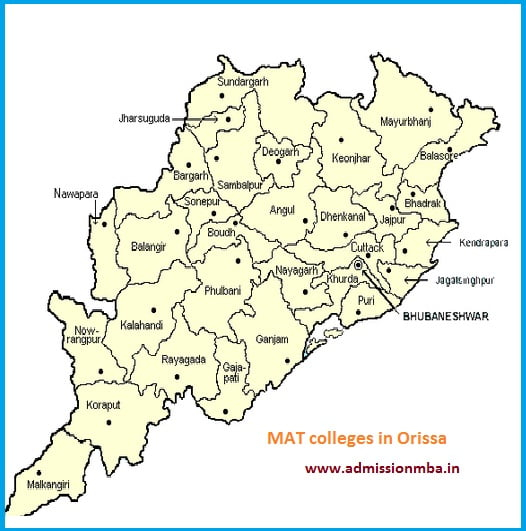 MAT score in Odisha are among the most demanded, searched and preferred colleges for students from Different part of the country to study Management Education either MBA or PGDM.
Management Aptitude Test (MAT) conducted by All India Management Association (AIMA) which is a apex body of professional management with active support of the Government of India is the national wide exam being accepted by over thousand of colleges in India and by many colleges in Odisha, for Providing admission in management education MBA or PGDM. Since MAT exam is held for getting admission in Management Colleges in Odisha also known among students as MAT Colleges in Odisha for the purpose of Post Graduate admission.
List of Top Colleges in Odisha accepting MAT :
MBA Colleges in Odisha
Admission Address

MBA Colleges in Cuttack accepting MAT score

Sri Sri University – Faculty of Management Studies
Ward No 1, Bidyadharpur, P.S. Godi Sahi
Ajay Binay Institute of Technology , Cuttack
Sector-I,Cda , Cuttack-753014

MBA Colleges in Ganjam accepting MAT score

Presidency College Berhampur
Sihala Road, Konisi, Golanthara-Po Berhampur, Ganjam, Orissa Pin-761008 Ph-0680-2637200/300, Fax-0680-2637301 E-Mail- Presidencymail@Gmail.Com

MBA Colleges in Khordha accepting MAT score

Innovation – The Business School
At: Tarakai Po: Muktapur Dist: Khurda
Rajdhani College of Engineering and Managment
Plot No. -18, Sector-A, Zone-B, Mancheswar Industrial Estate
Astral Institute of Management Studies
At-Sishu Vihar,P.O-Kiit,Infocity Road,Patia
Krupajal Business School
Puba Sasana, Kausalya Ganga.

MBA Colleges in Khordha accepting MAT score

Capital Institute of Management and Science
1309, Padhansahi Square
Kalinga Institue of Industrial Technology
At/Po Patia
Sophitorium Management College
At: Baniatangi, Po: Bajapur, Dist: Khordha, Odisha-752060
Mahendra Institute of Management and Technical Studies
At: Pitapalli, Post: Kumarbasta, Khurda
Koustuv Business School
Plot No-1(C),Sector-B Cni Complex Patia

MBA Colleges in Khordha accepting MAT score

Affinity Business School
At/Po-Baratota, Via-Jatni, Dist- Khurda, Pin-752050, State-Orissa
Gandhi Institute For Education & Technology
At : Baniatangi Po : Bajpur Dist : Khurda Orissa Pin : 752060
Regional College of Management Autonomous
Chakadola Vihar, Chandrasekharpur,
Gandhi Business School
At-Badaraghunathpur, Po-Madanpur,Dist-Khurda,Odisha,752054
Aryan School of Business Management
At-Barakuda, Po- Panchagaon, Dist Khordha

MBA Colleges in Mayurbhanj accepting MAT score

Maharaja Purna Chandra (Autonomous)College
At-Takhatpur,P.O.-Baripada

MBA Colleges in Rayagada accepting MAT score

Giet University
At : Gobriguda , Po : Kharling , Taluk : Gunupur
MBA Colleges in Bhubaneswar accepting MAT score

Asian School of Business Management
Shiskha Vihar, Bhola, Chandaka, Bhubaneswar – 754012
Bhavan'S Centre For Communication and Management
Plot No -9, Kharvelanagar Bhubaneswar Pin – 751001 Orissa
Biju Patnaik Institute of Information Technology and Management Studies
Plot No. -F/4, Chandaka Ind. Estate, Opp. of Infocity, Patia, Bhubaneswar-751024
Brm International Institute of Management
Pandara, Rasulgarh, Bhubaneswar – 751010
Institute of Management & Information Science
Swagat Vihar, Bankuala, Bhubaneswar Vivekananda Marg, Bhubaneswar
Institute of Science and Information Technology Isit
Prasnagarbha, Plot No. S-3/68,69 & 83, Sector-'A', Zone-'B' Mancheswar Industrial Estate, Bhubaneswar – 751010, Orissa.
International Management Institute, Bhubaneswar
Idco Plot No. 1 Village Gothapatna P.O Malipada
Interscience Institute of Management & Technology,Bhubaneswar
At/ P.O. Kantabada, Via-Janla, Dist- Khurda 752024
Siksha 'O' Anusandhan
Khandagiri, Bhubaneswar
Given below is the list of Top colleges in Odisha providing admission in to their respective management course either MBA or PGDM to students through MAT exam after fulfilling the eligibility requirements.
MBA Colleges in Odisha have unique teaching pedagogy ,having faculty with rich industry and teaching experience. The MBA Colleges in Odisha have a wider industry interference ,imparting better industrial and practical knowledge in management students with Industrial visits, Summer training, live projects and finally providing multiple placements opportunities to students.
The participation of MBA Colleges Accepting MAT score in Odisha may vary from all the 4 mat exam being conducted in a year i.e Feb, May, Sept, Dec.