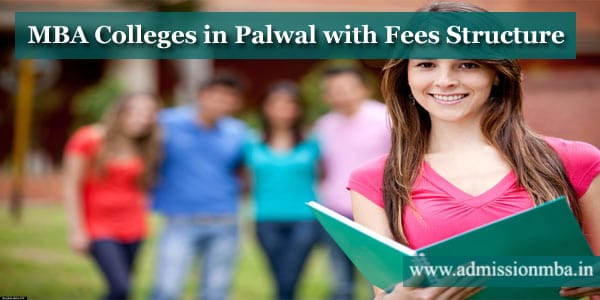 MBA Fees in Palwal MBA Colleges
S.No
MBA College in Palwal, Haryana
MBA Course and Fees total
( INR Rs. )
1
Rattan Institute of Technology & Management
MBA: Rs. 1.30 lakh
2
Ramanujan College of Management
MBA: Rs. 2.84 lakh
3
Advanced College of Technology & Management
MBA: Rs. 1.13 lakh
4
Applied College of Management & Engineering
MBA: Rs. 1.40 lakh
5
Delhi College of Technology & Management
MBA: Rs. 1.92 lakh
6
NGF College of Engineering & Tech
MBA: Rs. 3.12 lakh
7
Satya College of Engineering & Technology
MBA: Rs. 1.02 lakh
8
Shri Ram College of Engineering & Management
MBA: Rs. 1.30 lakh
9
Maa Omwati Institute of Mgmt & Tech.
MBA: Rs. 1.59 lakh
10
Srinagar School of Management & Tech
MBA: Rs. 1.38 lakh
MBA Colleges in Palwal with Fees Structure
MBA College fees in Palwal plays an Vital Role in an Aspirants Choice of MBA College Palwal Selection. As most of all the students Pre Decide MBA College as per their Budget. Further more Very Rarely Students Opt for Top MBA Colleges without Deciding the MBA Colleges Palwal Fees Budget. The Complete List of the Most Demanded and Approved Top MBA colleges in Palwal with Fees structure will help students to Take MBA admission in Palwal. Hence the exclusive list of top mba colleges in Palwal with fees structure is an initiative by admissionmba.in to help students in conclusion.
MBA Colleges Palwal Fees
Top MBA College fees in Palwal Includes all the examination fees and Tuition Fees also. Therefore all the Top MBA Colleges in Palwal have Different Course offering with Different Fees Structure. No such MBA Colleges in Palwal either have the same Course offering or the same fees structure. In addition MBA College fees in Palwal also includes Laptop, Books, Study Material, Foreign Tours. Also all Societies & Club Activites, Examination Fees, Alumni Membership Fees and other Charges all inclusive. Hence The Students Can Pay their MBA College fees in Palwal either by Cheque/DD/RTGS/Paytm also. Most noteworthy Top MBA Colleges Palwal Fees can be paid in Installments also. Few of the college have either yearly fees payment plans or even semester wise fees payment plans. Also the students Get Complete Details of MBA Colleges Palwal Fees structure prescribed in the offer letter or the admission letter they receive.
MBA College fees in Palwal And Scholarships
Scholarships are also provided by Most of all in Best MBA Colleges Palwal fees. The Scholarships are Mostly of two Types (1) Academic and (2) Need Base provided after Successful Admission in MBA without Entrance Exam or With Entrance. The scholarships are provide to students to nurture students talent and appreciate the past academic record. and also remove Hindrance of fees for studying to the needy Students.
MBA Colleges Palwal with Low Fees
MBA Colleges Palwal Fees