Aicar business school
Address-: Damat, Neral, Karjat (Taluka),
Raigad (Dist.), Maharashtra – 410 101, India
Admission Help Line – 95400x1x58, 92xx376104
Website-: www.aicar.net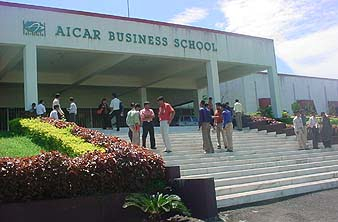 Asian Institute of Communication and Research , AICAR Business School was set up eleven years ago by a group of eminent corporate citizens, who had dedicated themselves to establish a world class, residential center of learning that would establish unparalleled standards of management and communication practice.
Aicar Mumbai
The Mission
It's quite simply to "develop and create world class quality leaders and communicators capable of providing leadership in all spheres of commerce and service in any part of the world".
Leadership is a function of what we communicate to ourselves and others. It is ultimately related to one's world view – one's beliefs and the way one looks at things.
Our Brand Ambassador
It all begins with purpose.
Richard Bach, the author of "Jonathan Livingston Seagull " says it all.
We seek to 'lend wings' to our students – help them discover and awaken their native intelligence and nurture them so they can fly. The Gull is our mascot.
Aicar Mumbai Pedagogy
Our philosophy of "learning-by-doing" is built on a single premise: Learning becomes real when it opens the mind and enables it to question. That is when Learning becomes transformative. This belief has led us to evolve a pedagogy that seeks to not only develop skills and clarity of concepts but also work on students' perspectives and their belief systems. The learning process at ABS Mumbai includes academic sessions in various domains; Integrated learning which weaves various disciplines to develop a holistic perspective; experiential sessions and practices to develop personal mastery and action learning, including both live projects and leadership practice through student quality circles.
Aicar Business School Admission
MBA College Pune
Aicar business school
Location
Pune
Date of Establishment
2002
Affiliation
Approved by AICTE
Courses Offered
POST GRADUATE DIPLOMA IN MANAGEMENT
MBA Entrance Exam
CAT /MAT /XAT / CMAT / GMAT

Aicar Fees Structure

Rs 6,00,000/- for 2 years
Eligibility Requirements
Bachelor's Degree or equivalent (10 + 2 + 3) in any discipline with minimum of 50% aggregate marks from a recognized Indian or foreign university.
College Admission Procedure

Previous academic performance +
Entrance Exam Score +
Group Discussion +
Personal Interview.

Aicar Fees Structure and  Scholarships

Yes,Available.

Documents required

A Xerox of Graduation Examination marksheet (1st & 2nd year markcard for 3 year degree holders and 1st, 2nd & 3rd year marksheets for 4 year degree holders, in case applying for Final Examinations)
A Photocopy of Class 10th,12th Certificate
Colored photographs (4 passport size).

Seats  (Intake)
180.(Intake).
Ranking
Na
GD/PI Cities
New Delhi, Bhubaneswar, Kolkata, Jaipur, Guwahati, Ranchi, Jamshedpur, Patna, Kanpur, Allahabad, Lucknow, Chandigarh.