Address: 60, 50 (B,C), Behind Batra Hospital,
Tughlakabad Institutional Area,
New Delhi, DL 110062
Admission Helpline  – 9250376104 , 9811004275
website :-www.ndimdelhi.org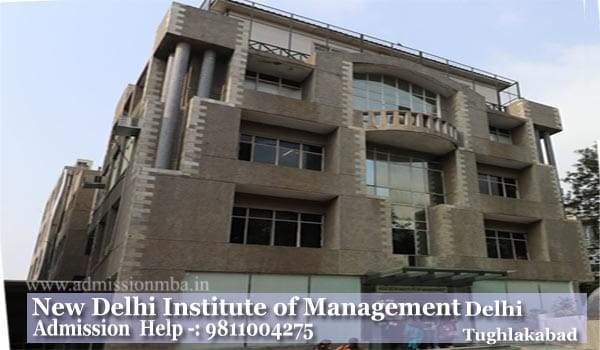 New Delhi Institute of Management –NDIM Delhi
Hence Students are taught by the competent and committed faculty well experienced to teach these subjects. Therefore the course delivered through a slew of modern teaching techniques such as
Case Study Method
Lecture Method
Seminars
Field Visits
Group Projects
Role-Playing
Experiential Learning
Simulated Exercises
Hence gives the students an opportunity to learn by doing and personal involvement in conclusion .
MBA Colleges Delhi
New Delhi Institute of Management
Location
Tughlakabad New Delhi
Date of Establishment
1996
NDIM Delhi Affiliation

AICTE
Ministry of Human Resource Development –
Government of India
AIU Recognized (Association of Indian Universities)

 Course
Post Graduation Diploma in Management
Courses Offered

PGDM-Mkt (Marketing)
PGDM Finance
PGDM-Part Time

Specializations

Marketing
Finance
Production & Operations Management
Human Resource Development
SCM
Information Technology
Business Analyst
Digital Marketing
Media Management
International Business

 Entrance Exam
CAT / MAT/ XAT/ ATMA/ GMAT/ CMAT

NDIM Fee Structure

Details for New Delhi Institute Management, NDIM Fee Structure 2023.

Course fees at NDIM, Tughlakabad, Delhi Fees Structure is INR 10.60 lakh 2 year. Education loan facility is easily available.

As approved by Fee Regulating Authority, AICTE NDIM, Tughlakabad, Delhi Fees.

Eligibility Criteria
NDIM Delhi Eligibility Criteria for Admission :

A Bachelor's Degree (10+2+3 or 4) in any discipline with a minimum of 50% marks in aggregate or equivalent grades
Candidate with business experience will be given additional weight-age in the selection process
Candidates appearing in the Final year exams can also apply
Admission Helpline for Call : 9811004275

total Intake

PGDM ( Intake 300)
PGDM-Marketing ( Intake 60)
PGDM-Finance ( Intake 60)

Fees Inclusion

Tuition & Examination Fees
Book Bank
Domestic Industrial Tours
Library Charges
Alumni Fees
Training and Placement Cell fees

Admission Procedure
NDIM Final selection will be based on the performance in Entrance Score and subsequent Group Discussion and Personal Interview
Cut off
MAT (SEPT & DEC & FEB)-500 Composite Score
CAT 50 Percentile

NDIM Tughlakabad Ranking

Ranked as 25th Best MBA School of India by Business Standard, 2017.
Price water house Coopers and URS have declared Delhi among "THE WORLD'S GREATEST BRANDS 2015-16- INDIA" under the Education category as a part of Services Industry
MBA is internationally accredited by the international rating body, ASIC (UK), with "Premier College Status", a rare international recognition.
Ranked amongst the 12th Best Private B-school in India -Business Standard Survey'16
 7th Best B-school and 3rd Best Private B-school in the North
Ranked as 25th Best B School India Business Standard- AIMA ,2016.
Best B-school in India and Life Time Achievement by Centre for Education Growth & Research(CEGR) 2015 & 2014.
Ranked as the 12th Best  B-school India – AIMA-Business Standard, 2015.
3rd Private B-school in entire North India by AIMA- Business Standard, 2015.
WCRC Leaders-Asia & KPMG ranked amongst the Fastest Growing Busines schools of Asia – Januay 2014.
 15th B-School & Top 7 Private B-Schools & 3rd Private Institute in Delhi, NCR all over India – Business World June 2013
Rated amongst Top 8 Private B-Schools in India – AIMA IMRB May 2013
Top 4 Private B-Schools in Delhi/NCR – Business India December 2012
Ranked 19th B-school & NDIM Tughlakabad placements rated 17th all over India – Business World 2012
 A++ 2007, 08, 10 and higher than A++ in 2009 & 2011 by – Business India 2011
Business India Magazine rated our average student.

GD/PI Cities
 (Tughlakabad Campus) Delhi, Chandigarh , Kolkata, Jodhpur, Lucknow, Ranchi & Many more
NDIM Delhi MBA Average Package & Placement
Average Package
5.0-8.0 LPA
Highest Package
Rs 18-32.5 LPA
Selection Criteria for student's Entrance Exam CAT :
Sno.
NDIM Tughlakabad Eligibility Criteria For CAT Students
Weight age
(i)
Score in Graduation (qualifying examination)
40%
(ii)
Aptitude Test (CAT)
40%
(iii)
Group Discussion
10%
(iv)
Personal Interview
10%
 Then Admission granted by Committee .
Selection NDIM Delhi Eligibility Criteria for student's other Entrance Exam :-
Sno.
Selection Weight age
(i)
Score in Graduation
45%
(ii)
Aptitude Test
35%
(iii)
GD
10%
(iv)
Personal Interview
10%
Based on Subject knowledge and Personality Test by a committee headed by the Chairman.
NDIM Tughlakabad Nearest Metro Station :- Saket and Tughlakabad Metro Station, New Delhi