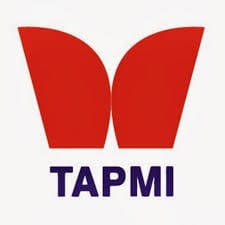 TA Pai Management Institute
Badagabettu Road, Manipal,
Karnataka 576104
India
Webiste:- www.tapmi.edu.in
TAPMI Manipal
MBA College Name
TA Pai Management Institute
Founder
Late Shri Tonse Ananth Pai (T.A. Pai)
Location
Manipal
Date of Establishment
1980
Mission
"To excel in post-graduate management education, research and practice"
Values
Holistic concern for ethics, environment and society.

Excellence.
Innovation.
Commitment.
Student-centric.
Trust.

TAPMI Affiliation

AICTE,NBA Accreditation the Association of Indian Universities (AIU).
Association to Advance Collegiate Schools of Business (AACSB).
CRISIL has awarded "A***" B-school grading.

Course Offered
Post Graduate Diploma in Management (PGDM)
Core programs
PGDM(General), Banking & Financial Services, Healthcare, Human Resources.
Duration
 2 Years
Mode
6 trimester
Name of Director
Professor Madhu Veeraraghavan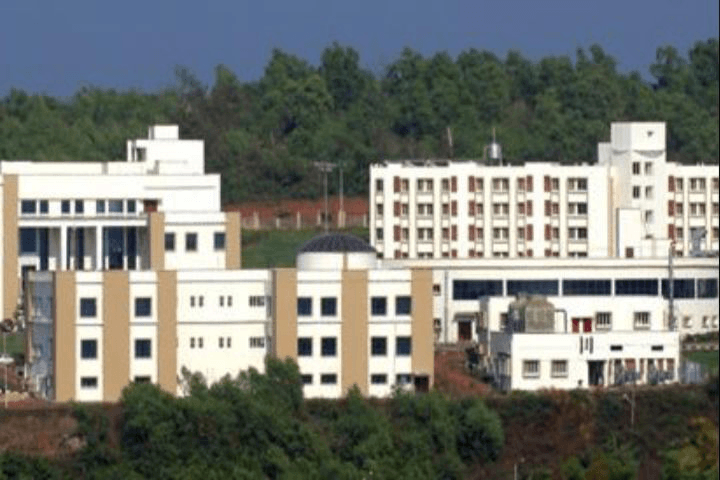 Tapmi Manipal Fees and PGDM Courses Advantages

General

         BFSI

Healthcare

 Human Resources.

Advantage

5000+ successful alumni across the world with more than 1/5th currently leading at CXO levels.
Young Leader Program focused on developing leadership abilities through Paid Executive Internship with CXOs in term VI
Global Exposure
Personalized attention for capability and development through FAS, CAS and LADC
Unbroken 100% Tapmi Manipal Placements record for the last 30+ years.

Scholarships to pursue CFA and FRM
CFA C-BOK and FRM certified curriculum
Training with SBI – Staff Training College, Hyderabad and BSE Training Institute, BSE, Mumbai to hone industry relevant skills
Real time course integration of Finance Lab – powered by 16 Bloomberg and 7 Reuters terminals
Experiential Learning focus through SMIC (student managed investment course) and Samnidhy (student management mutual fund) designed around  Finance Lab
Accredited by AACSB and AMBA
100% Placement from the first batch.
Master thesis course which provides the student an opportunity to acquire first-hand experience in applied research in Finance under the supervision of an experience faculty.

Courses attuned to the needs of the market with strong emphasis on business aspects of healthcare.
Collaborative learning with Manipal Healthcare Eco-system
Internship with top companies in the healthcare sector
A strong alumni base in the healthcare sector
100% Placement record with an average salary of 9 Lakhs per annum (year 2015)

Curriculum designed in collaboration with SHRM
Scholarships to all students to pursue SHRM-CP, a globally recognized certification exam
Hands-on training in Leadership via Leadership Assessment and Development Centre (LADC)
Workshops and certifications in Competency Mapping, Total Rewards Management, Emotional Intelligence, Organizational Development techniques (OD) and others
Flexible summer internships of around 3.5 months in HR profiles.
Accredited by AACSB and AMBA
Analytics based and evidence based HRM
Strong industrial relations and negotiation skills.
Immersive projects in the social sector to develop empathy and social responsibility

Tapmi Manipal Fees.

Domestic – INR 16 lakh (for two years); Tapmi Manipal Fees NRI – USD 36000 (for two years)

Hostel fees: INR 1.65 lakhs per year  for Tapmi Manipal Fees

Mess Facility from multiple vendors available at students' own cost.

Tapmi Manipal Fees is same for all programs.

Seat (Intake).

Indian Domiciled 285, NRI 15, COGW-15, PIO-Foreign National 15.
60
35
35
TAPMI Manipal Advantage

50 Scholarships worth Rs.2.9 crore for meritorious students.
Consistently ranked in the top-20 B-Schools.
International Double Crown Accreditation with AACSB and AMBA reflecting quality.
CISCO enabled State-of-Art Infrastructure established in a 42 acre campus.
Emphasis on Experiential learning via BrandScan, SMIC, SEVA, Samnidhy and Omega.
Tapmi Manipal Placements 100% placement record.
Strong Alumni base of 5000+ Alumni with more than 1/ 5th currently also leading at CXO levels.
TAPMI Finance Lab – Largest Lab powered by 16 Bloomberg and 7 Reuters terminals.
Personalised attention for capability assesment and development through FAS, CAS and LADC.
Application Oriented Faculty with strong academic grounding and research focus.

PGDM Specialization

General Management
Finance
Human Resource
Operations
Marketing
Information Technology
Analytics Management

TAPMI Manipal Cutoff and Admission

Entrance Exam
CAT/ XAT/ GMAT scores

TAPMI Manipal Cutoff

TAPMI Manipal Cutoff (minimum)
CAT 2018 – 85 percentile
XAT 2019 – 85 percentile
TAPMI Manipal Cutoff GMAT – 650
Graduation – 60 percent
XII – 60 percent
X – 60 percent
Eligibility
A Graduate Degree (10+2+3 or 10+2+4) in any discipline, recognised by the AIU as eligible for Post-Graduation, with not less than 50% overall aggregate marks. This applies to also those with professional qualifications like Chartered Accountancy, Cost Accounting and Company Secretary. Candidates appearing for Final Year Degree examination may also apply.

TAPMI Manipal Admission Procedure

Previous academic performance + Entrance Exam Score + Statement of Purpose + Written Ability Test (WAT) + Group Discussion + Personal Interview.

College Scholarships

Yes, Available

Documents required
a.   Matriculation Marks Card

b.   Pre University Marks Card

c.   All Degree Marks Cards

d.   Degree Certificate issued by the University or Provisional Degree Certificate issued by the college.

e.   Entrance Exam score card (MAT / CAT / XAT / KMAT etc)

f.   Six latest passport size colour photographs apart from the one which is pasted on the Application Form.

TA Pai Management Institute Manipal Ranking

CSR-GHRDC (Nov 2018 Issue).

5 among Private Supreme B-Schools
9 in Faculty, Publication, Research, Consultancy, MDP & Other Programmes (Government & Private).
7 in Placement (Domestic & International), USP, Social Responsibility, Networking & Industry Interface (Government & Private).
1 among Private B-Schools in Karnataka.

Outlook (Sept 26, 2018 Issue)

16 Overall Rank
9 among Private B-schools
1 among B-Schools in South-Zone (Government & Private)
The Week – Hansa Research (Oct 29, 2018 Issue)
23 Overall Rank
9 among Private B-Schools (All India)
4 among MBA Schools in South Zone(Government & Private)
1 among Private Business-Schools in South Zone

T.I.M.E. B-School Categorization of 

TAPMI is listed under 'A' category

GD/PI Cities

Mumbai, New Delhi, Kolkata, Hyderabad, Bengaluru, Chennai and Manipal.

International Collaborations

Macquarie University, Sydney.
Rennes School of Business, ECS Rennes, France.
Emporia State University,
University of Dubai,
Colorado State University USA,
Gabelli School of Business Fordham University,
School of Business and Economics,
Loughborough University – UK
Montpellier Business School France

TA Pai Management Institute Manipal Campus

Wi Fi enabled campus
44.11-acres residential green campus in Manipal
Cafeteria
yes
Computer Lab
yes
Auditorium
yes
Mini Auditorium
yes
Seminar Hall
yes
Technology enabled Classrooms
yes
Hostel Accommodation
yes
Library
yes
Alma Connect
yes
Scholarship Available
yes

TAPMI Manipal Average Package and Placements

International Package
INR 23.8 lakh by TAPMI Manipal Placements

TAPMI Manipal Average Package

INR 10.60 lakh per annum  is TAPMI Manipal Average Package

TAPMI Manipal Placements Highest package
INR 19.40 lakh

Tapmi Manipal Placements

(Few Recruiters)

361 degree Minds
Accenture Solutions Pvt Ltd
Aditya Birla Management
Corporation (Grasim
Industries)
Aditya Birla Sunlife
Aequs
Amazon
Amul (GCMMF)
ARC Skills
Archon consulting
Asian Heart Institute
Aspire Systems
Ather Energy
Bajaj Allianz
Britannia
Business Services
Byjus (Think & Learn Pvt
Ltd)
Capgemini
Cargill
CCD
Citi Bank
Citi Corp
CMS Infosystems Limited
Cognizant
Columbia Asia Hospitals Pvt
Ltd.
Convert Cart
Danske IT
and Mant More..