Address-: Plot No. (2, B-3, SIPCOT Industrial Growth Centre, Oragadam Industrial Corridor, Alagoor, Tamil Nadu 602105
XIME Chennai  Admission Helpline: 9811004275 , 9250376104 Website : xime.org
XIME Chennai is strategically situated at SIPCOT (State Industries Promotion Corporation of Tamil Nadu) Industrial Area in Oragadam near to Chennai which is the largest industrial and commercial centre in South India and a major cultural, economic and education centre. The City is known as "Detroit of India" for its automobile industry.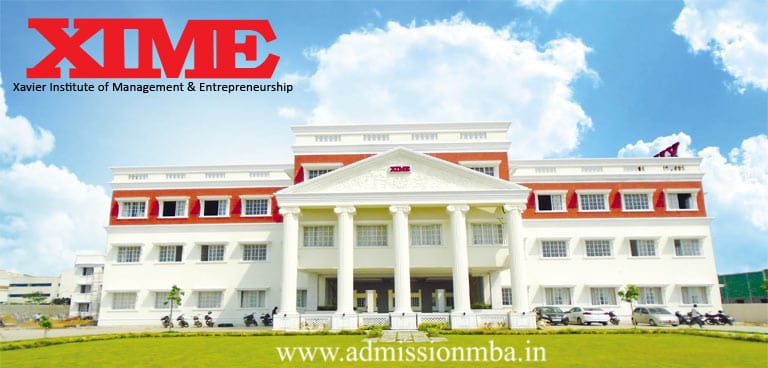 Xavier Institute Management Entrepreneurship chennai enters Tamil Nadu with two decades of high quality professional experience in Bangalore and a strong brand image. It will be modelled on the basic tenets of XIME Bangalore and XIME Kochi, covering the following activities:
AICTE approved PGDM programme with a high global orientation.
Entrepreneurship Development Programmes.
Management & Leadership Development Programmes.
Research & Consultancy
Xavier Institute of Management and Entrepreneurship XIME Chennai
MBA College Tamil Nadu
Xavier Institute of Management and Entrepreneurship
Campus
Chennai
Date of Establishment
2017
Affiliation
AICTE, Ministry of HRD, and Government of India
Courses Offered
PGDM
Specializations

Finance
Marketing
IT & Analytics
Human Resource
General
Production & Operation

Entrance Exam

XAT
CAT
CMAT
MAT – May, September,  December, February.
ATMA – All tests
GMAT –  2019 and 2020

Score in the Common Admission Test Weightage – 35%

 XIME Chennai Fees structure

Details for XIME Fees 2021.
 Cut off
 CAT | MAT – 60 Percentile in Entrance Score

 XIME Chennai Fees Inclusions

Admission & Tuition Fees,
Library,
Computer Centre,
Establishment,
Text Books,
Programme Materials,
Examinations Fee,
Diploma,
Co-curricular Activities and
Alumni Association Membership.
 International study tour additionally Rs.1,50,000/-.

 Teaching Pedagogy

1. Contemporary Curriculum – Curriculum is reviewed and updated every two years in consultation with Industry leaders, alumni, students and faculty.
2. Enables in developing a global outlook and promotes spirit of Entrepreneurship.
3. Inculcates human values and societal orientation.
4. Develop soft skills like leadership, Interpersonal skills and written and oral communication skills.
5. Compulsory exposure to a foreign language (among German, French, Spanish, and Chinese).
6. 'On the Job' training through corporate internship and Live Projects.

XIME Chennai Admission Eligibility

Candidates applying for XIME Chennai Post Graduate Diploma in Management (PGDM) are required to have a Bachelor's Degree in any discipline from a recognized university with a minimum aggregate of 50% marks for all subjects taken together (45% for SC/ST candidates).
Candidates who are appearing for their final year examination and are awaiting their results may also apply.
They should have maintained an average of 50% marks in the degree course until then. They should be completing all their degree examinations before June 09, of the Same Year. Such candidates are required to produce proof of passing the degree examination with the minimum required marks of 50%, latest by September 10, of the Same Academic Year .
Applicants who have un-cleared backlog papers in graduation, are not eligible to apply.

Selection Criteria

Previous academic performance – 20%
Score in the Entrance Test score – 35%
Group discussion/interview – 35%
Weight-age for participation in Sports, Extra-Curricular activities, Academic diversity and Gender diversity – 10%

XIME Chennai Fees Structure Scholarships

 Yes, Available

XIME Chennai Admission Documents required

A Photocopy of Entrance score card.
A Xerox of Graduation Examination mark-sheet (1st & 2nd year mark sheet for 3 year degree holders and 1st, 2nd & 3rd year mark-sheets for 4 year degree holders, in case applying for Final Examinations).
A Photocopy of Class 10th /12th Certificate
Colored photographs (4 passport size).

Seats  (Intake)

PGDM – 120

XIME Chennai Admission GD/PI Cities

Greater Noida campus, New Delhi, Bhubaneswar, Kolkata, Jaipur, Guwahati, Ranchi, Jamshedpur, Patna, Kanpur, Allahabad, Lucknow, Chandigarh, Chennai, Kochi, Bangalore.
International Collaborations

GDUFS – Guangdong University of Foreign Studies, Guangzhou , China
Shanghai University of International Business and Economics, China
Novancia Business School, Paris, France
Audencia Business School, France
Institut D' Administration Des Enterprises De Paris Sorbonne Graduate Business School, France
Nagoya University of Commerce and Business, Japan
Yonsei University, Korea
The InstitutoTechnologico Autonomo de Mexico, ITAM, Mexico City, Mexico
Avans Hogeschool University of Applied Sciences, Netherlands
Kozminski University, Poland
RANEPA, Moscow Russia
SUM – State University of Management, Moscow, Russia
Houston Baptist University, Houston, Texas, USA
National University, CA, USA
Redlands University, LA, USA

 XIME Chennai Placement

 Highest Placement
 11 lakhs
XIME Chennai Placement

Average Package

 5.5 lakhs

XIME Chennai Placement

(Few Recruiters)

Allstate
Ashok Leyland
BNP Paribas
Café Coffeeday
Cognizant
Continental
Dell
Deloitte
Feedback Consultants
Future Pacing, Pune
Gati
Godrej
Great Place to work
Handiman
ICICI Prudential
IKYA Global
L&T Finance
M Supply
Maveric Systems
MuSigma, Bangalore
Oracle Technologies
Peak Alpha
Prop Tiger
Samsung
South Indian Bank
Subex
TATA Elxsi
Tech Mahindra
X Changing Solutions
Yodlee Infotech
Zee TV
Zomato
Accenture
Amazon
Blue Ocean Ventures
Blue Star
Bosch
DRG
E&Y
Emids
HSBC
Infosys
KPMG
NTT Data
Ruchi Soya
SBI