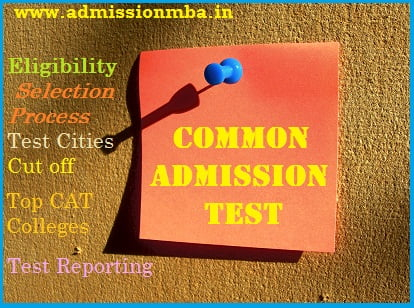 Common Admission Test , is  a national level entrance exam conducted by Indian Institutes of Management (IIMs) a computer based examination for admission to the Post-graduate and Fellow Programs in management courses in 20 IIM's And some other prestigious management colleges in India. The IIM's Bangalore conducting  Common Admission Test 2022 are :
CAT 2022 visit its official website :-www.iimcat.ac.in
CAT Score for IIM's India
Calcutta
Ahmedabad
Bangalore
Lucknow
Kozhikode
Indore
Shillong
Rohtak
Ranchi
Raipur
Trichy
Kashipur
Udaipur
Nagpur
Visakhapatnam
Bodh Gaya
Amritsar
Sambalpur
Sirmaur
Jammu
CAT Common Admission Test  Eligibility
The CAT score is used separately by each institute along with other parameters i.e. academic performance, work experience , group discussion, written assessment and interview performance etc. to select candidates.  The weight age assigned to CAT score may differ for each institute. Candidates are advised to read the weight age, process and breakup for each institute on its respective website , CAT 2021 is a computer based exam therefore it will be conducted on Dec-2022.
For fulfilling the cat eligibility, The candidate must hold a Bachelor's Degree either 3 year or 4 year of any background. Like (Btech, B.E, B Pharma, BBA, BCA, Bsc etc ) with at least 50% marks or equivalent CGPA [45% in case of the candidates belonging to Scheduled Caste (SC), Scheduled Tribe (ST) and Differently Abled (DA).
Common Admission Test  Selection Process/admission Procedure
CAT admission process is for the most prestigious institutions in India IIM`s that conduct computer based CAT entrance examination for  its 13 top most b-schools in India. The admission Process for its management programme is been followed by the shortlisting of candidates upon the cat score by the individual institution of IIM'S.Later processes Include the following :
WrittenAbility Test (WAT)
Group Discussions (GD)
Personal Interviews (PI)
The main emphasis is given on the score of the latest CAT examination held.In the selection process of IIM'S the past performance of the candidate is also taken into consideration like academic performance,academic cutoffs, relevant work experience and other similar inputs. The ranking of candidates at various level of admission is again an important part of the CAT admission process and may vary across IIMs. The criteria for short-listing students  varies from IIM to IIM.
The CAT admission process does have other important procedure for a candidate who is been short-listed for interviews by any IIM.
Documentary Requirement for CAT admission processes are :
The shortlisted candidate have all academic records attested as well as original mark sheets at the time of interview to prove his/her eligibility, which are to be submitted at the time of joining the respective college.
The students from SC, ST, NC-OBC and DA shouldcarry their original caste/class and/or disability certificate along with their academic attested and original records.
The Cat admission process for graduating students appearing for the final bachelor's degree or equivalent qualification examination must show an original certificate from the Principal/Registrar/Director of the university/institution certifying that the candidate has obtained 50% marks or equivalent (45% in case of the candidates belonging to SC, ST, and DA category)
The students must carry the attested copy of original mark sheets.Students who are in the final year of graduation and if selected from the cat admission process for iims than they are granted provisional admission and upon the submission of the final year mark sheets their admission is considered as confirmed and upon the non fulfillment of the admission requirement the admission of such students stands cancel.
Top MBA Colleges in India accepting CAT Score