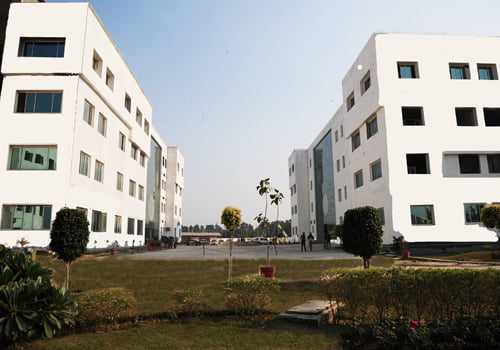 BMCTM BM Group of Technology and Managment
Address-: Hari Nagar (Dumha), Farukhnagar, Gurgaon-122506
BMCTM Gurugram Contact.-: 9811004275  , 9250376104
website-: www.bmctm.com
BMCTM  BM Group of Institutions is manag by Mata Kaushalya Devi Charitable Trust, Gurgaon under the encouraging patronage of prominent educationists of Gurgaon region of Haryana. The Mata Kaushalya Devi Charitable Trust aims at providing quality education at affordable fee along with preparing the young minds to face the competitive world on all fronts.
The lush green campus, spread over 13 acres, is situate near Farukh Nagar. The campus offers a host of hi-tech ultra modern facilities to ensure well planned education to its students.
MCTM BM Group of Technology and Managment Gurgaon aims at building human minds. The group is determined to prepare a team of young scholars who are enthusiastic enough to rise to the need of the hour and resolved to fight the evils of the society. The curriculum frame for imparting education inculcates the ideas of humanism, modesty, morality and spiritual values. We try to revitalize the spirit of patriotism which has receive a set back in recent times by inspiring the students to follow the great legacy of our rich cultural heritage.
BMCTM BM Group of Technology and Managment
BMCTM  MBA
An MBA programme has become the preferr choice for most of the students graduating from various streams because of its demand and acceptance in corporate houses and consulting firms, placement offers, attractive compensation packages and long term career growth that is possible because of a repute MBA qualification. This programme not only aims at providing knowledge and skills in different functional areas of management, but also provides inputs necessary for the overall personality development of the student. The MBA Management Practices programme further allows students to specialize in
Sales & Marketing
Human Resources
Information Technology
Finance
BMCTM  Features of the degree
Focus on actual business management problems through business tracks comprising of intensive capsules and case-studies on different business & management domains.
Intensive learning methodology comprising of activity base learning, case-studies, seminars, workshops, knowledge labs, games & events.
Exposure to real world business challenges and opportunities through six months of mentored industry experience programme with leading corporate houses.
BMCTM Gurgaon MBA
BMCTM BM Group of Technology and Managment is offering Master Business Administration and Bachelor of Business Administration. These courses are career orient courses. In the view of rapid changing world of business, well qualifie  personnel are vital part to keep up to the pace. As a modern business world has grown more complex and competitive, business administration has developed into a separate discipline of multiple dimensions.
Today MBA/BBA is the first choice of the students and we will open the floodgates of opportunities for position of power and prestige in Corporate Business Administration and Management.
The full time MBA/BBA (Masters of Business Administration) program is focused on Management Systems and is design to be complet in two years. Apart from the specialized compulsory course in the focus area, the students have choice for functional area specialization in Finance, Marketing, International business and Human resource.
Duration Semester Seats – : 2 Years 4 Semesters 120
BMCTM Gurgaon Program Highlights:
100% Placement assistance for all MBA/BBA students.
Special Personality Development Program with optional foreign language skills.
Industry Oriented Program Structure with Case Studies, Role Play & Regular Industry Visits.
Visiting Faculty from Companies like – Maruti, AAI, World Bank, BHEL etc.
Expert lectures from institutes – IIT Delhi, IIMs, IIFT Delhi, FMS Delhi University etc.
Secure & Separate hostel facility for boys & girls.
18 Acres lush green Hi-Tech Campus with State-of-the Art Infrastructure.
Bank Loan & Placement Assistance for all students.
Transport Facility from Major parts of Delhi & NCR.
Wi-Fi campus
BMCTM BM Group of Technology and Managment Gurgaon Specializations
Finance
MBA in Finance does not lead only to investment banks and securities firms. It offers numerous possibilities in the corporate world too. Finance Managers can become Accounting Managers who prepare finance reports for the company, or Financial Analysts who focus on developing financial strategies and go about money management for the company.
Finance MBA coursework can provide a solid background for the prestigious CPA (Certified Public Accountant) exam or the equally venerated CFA (Chartered Financial Analyst) exam. Those who do MBA in Finance can go on to become:
Cash Managers
Credit Managers
Risk and Insurance Managers
Management Consultants
Investment Banking Associates and later Investment
MBA – IT
The MBA IT Program of BMCTM BM Group of Technology and Managment focuses on knowledge and skills require by management professionals who plan to work for Indian and multinational corporations. It provides the students with a general management perspective and introduces them to the latest concepts and practices related to functional areas of management. The substantive exposure to Indian and international management practices with a strong case-study orientation is a unique feature of the MBA Program. In addition, the MBA Program is structured in a flexible manner so that working executives can pursue this program without disturbing their careers.
MBA (International Business)
The world is no longer mapped on the business blueprint with demarcated boundaries, rather today; it is regarded as a boundary-less global economic village. There are no barriers to trade from one country to another. Within the countries, there are innumerable industries that lay the foundation for the country's growth and development. Globalization, internet and hyper competition are dramatically reshaping markets and changing the way business is done. Customer needs, values, ethics and norms have undergone drastic changes. Today, customers want endless options and alternatives. The market has shifted its axis from 'Seller Market' to a 'Buyer Market'. International marketers have to; therefore, make strong efforts to enter new markets to sell their products and services whilst keeping the growing competition at bay.
Growing liberalization, globalization and privatization in developing economies like India have created situations where international managers have to look for new innovations and creative strategies in order to meet the competitive threats positively and effectively and carve a niche for oneself. The full-time regular Master of Business Administration in International Business Program offered by BMGI is an opportunity to achieve the aforementioned challenges and reap the opportunities. Here, a plethora of activities like international platforms for industry interaction, meetings with corporate honchos, CEO's, top management of MNC's etc., aggressive placements in the top corporate houses of India and abroad, renowned faculty & academia, world-class infrastructure, 100% online teaching pedagogy etc.
Marketing
The single most popular specializations amongst MBA graduates in India, Marketing is a hard-core front-end job and is meant for leaders. MBA Marketing is very dynamic and competitive. You need excellent communication skills.  Resource mobilization skills and an undying zeal to excel to make it to the top-level positions in the field of sales and marketing.
If you have an outgoing and spontaneous personality, can influence people with your words and actions, and live in the moment, marketing management might be your cup of tea.
MBA in Marketing can lead you to fat pay packages as
Brand Manager
Project Manager
Sales Manager
Marketing Manager
Market Research Analyst
Area/Regional Manager
even to the position of Chief Marketing Officer (CMO)
A large chunk of CEO positions in top multinational companies are dominated by people from the Marketing background. For best results, join top B-schools that offer you an exposure to international markets and global marketing techniques.
Human Resources (HR)
Human Resources or HR is one of the trickiest jobs in the corporate world. From Recruitment and Selection of personnel to deciding Compensation to Employee Training and Development to
Job Analysis and Performance Appraisals
HR manager is the ringmaster in the business jungle.
Besides, those who choose MBA in HR. Can also develop themselves as Industrial Relations Manager. Developing cross-cultural working environment in multinational and global companies.  which are highly specialized jobs.