MAT Result May 2023 Details Management Aptitude Test a standard test. Being since 1988 to facilitate Business Schools to screen candidates for admission to MBA and PGDM programs.
MAT May Result – 2023
A result is the final consequence of a sequence of actions or events expressed qualitatively or quantitatively.
About the MAT and business responsibility Check here. to focus more on education, the Center for management education n (CME), the education wing of AIMA. today AIMA-CME the largest business school in the autonomous sector in the country in terms of student enrollments.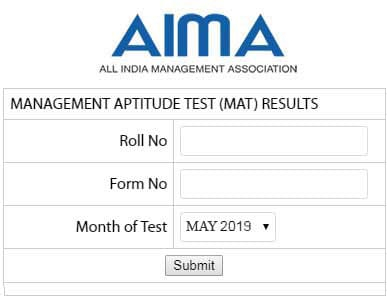 Details Management Aptitude Test Result
Check All India Management Association is the national apex body of the management profession in India. It grants license to pursue management profession in India. It has a membership base of over 38000 members and close to 6000 corporate /institutional members, through its 67 Local Management Associations. Result on AIMA click on
Management Aptitude Test (MAT) is a standardised test being administered since 1988 to facilitate Business Schools (B-Schools) to screen candidates
The MAT exam is an easy exam when compared to CAT. The questions in the MAT exam are of easy to moderate difficulty level. Common Admission Test: CAT exam is considered one of the toughest MBA exams. The question paper is usually moderate to high difficulty level.
Result SMS as : MATS FORMNO DOB (ddmmyy) to 54242
Example: MATS 200391 030985 to 54242 It is applicable to All Phone Network
Top MBA Colleges India
https://www.admissionmba.in/mba-admission-exam/mat
https://www.admissionmba.in/mba-admission-exam/cat