Addres : #B-11, Marketing Tower,
Qutab Institutional Area, New Delhi, Delhi 110016
Offical Website : fostiima.org/
IMM FOSTIIMA Business School
Merger of two great institutions the IMM FOSTIIMA , leads to a convergence of strengths, of initiative and resolve to enhance Quality Management Education Standards and Service Levels to obtain very superior learning outcomes.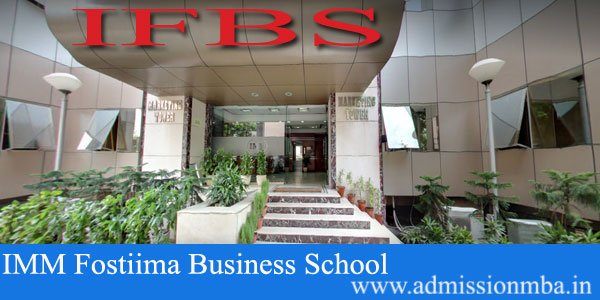 IFBS Business school
owes its existence and inspiration to IIM, Ahmedabad! Their standards have become our guiding philosophies. The adventure commenced in 2007 and has never paused for a dramatic decade. Students model themselves on alumni now placed in prestigious positions.
IMM and FOSTIIMA Delhi legacies have combined
Established by the Late Dr.Jagjit Singh, IMM (Institute of Marketing Management) hosts exceptional educational infrastructure at a prime location. We work at a touching distance from IIFT, IMI, FORE. Right next door lie the IIT Delhi and Jawahar Lal University Campus. FOSTIIMA Delhi assures of superior intellectual achievements, among the Best management colleges.
Delhi MBA College
IMM Fostiima Business School
Establishment Year in
1996
Contact No
011-26344275 | 9811004275
Website
ifbs.org.in

Affiliation

Approved by AICTE

Course Offered

PGDM

Duration

2 years

Semesters

4 semesters

IFBS Delhi Specialization offered

Marketing
Finance
HR
International Business
Operations Management
Supply Chain Management
Retail Management
IT

Number of seats
Total Intake: 120 Seats

IFBS Delhi Fees Structure

Rs. 8,50,000/-for 2 years

Entrance Exam

Scholarships Educational Trips

Scholarships of up to Rs. 50,000/- are available for Exceptionally Meritorious Students.
Included in the Course Curriculum is a program of TEAM BUILDING & EDUCATIONAL CAMP at an exotic location in India.
International Exposure & Educational Program with students and faculty of a University in the FAR EAST is also a part of Course Curriculum. All students are advised to obtain their Passports, if they do not hold one already.

Eligibility

IFBS MBA MBA ADMISSIONS

A complete application needs to include:

The Application Form, duly filled in capitals.
Photocopies of transcripts (Certificates & Mark Sheets that reflect graduations and school levels).
One self- attested passport size photograph pasted at the designated spot on the form along with two extra photographs.
Photocopies of the Entrance Exam Score Sheets.

Attendance Requirements

Absence of a student in a course is more than 20% but is equal to or less than 30%, some level of penalty has to be imposed like lowering of one full grade point that secured by the concerned student in that course.Hence Suggested that absence of more than 30% may not be allowed in any given course, and that institution may by default award a grade of "Fail", in that course.

Admission Cut-off Points

Admissions to the IFBS Delhi MBA two-year full-time PGDM Program that commences in the month of June every year are carried out through a structured process. The institution considers several factors:

The applicant's academic performance during the graduation and at school
The Entrance exams Score
Performances in the Group Discussions and Personal Interviews

The short-listing and selection criteria represent a weighted average of the applicant's overall performance. Cut-off levels to qualify for admission calls would probably be above 50% marks in graduation and a CAT or XAT score above the 60th percentile.

Major Recruiters

ICICI Bank
Kotak Mahindra Bank
Reliance Jio
Moglix
AXIS Bank
IFBS Delhi MAP Location