Finance provides students with multiple opportunities in the business industry. Students will learn how to analyze corporate reports, estimate economic trends, also take actions to optimize stock value, choose investment portfolios, and balance both profitability and risk in this course. Therefore the Student uniquely qualified to handle portfolio management and risk assessment at the organizations. In a firm, the job duties might range from reviewing accounting files to organizing company acquisitions.
MBA in Finance in India
An Masters of Business Administration in Finance provides excellent career options in practically in every industry and business area. Such as advertising, public relations, information technology, education, and real estate, among others a few. No firm can run without a finance section, which intact is an excellent prospects for MBA graduates. Because of the tremendous exposure and demand, most students wanting a career in finance choose to study in metropolitan areas such as Mumbai, Pune, Delhi-NCR, Hyderabad, Bangalore etc.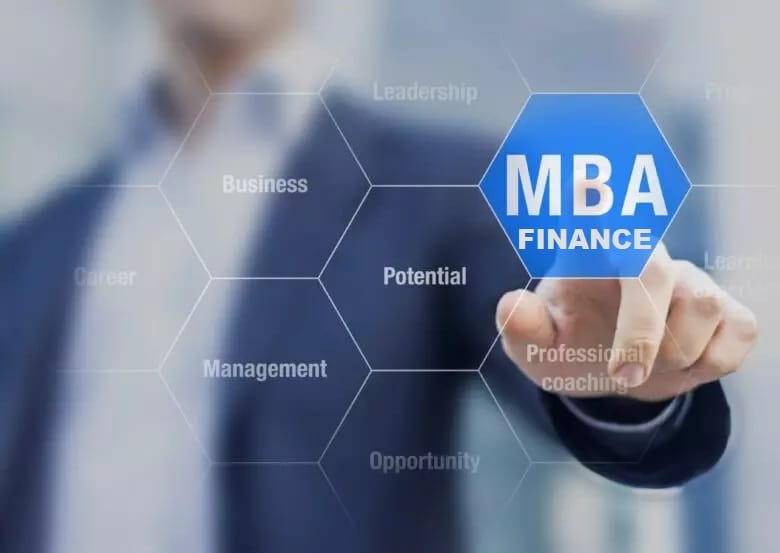 Scope in MBA Finance
An MBA in Finance is a specialized master's degree program that focuses on financial management, investment analysis, and also financial markets. Therefore it equips students with the knowledge and skills necessary for careers in various financial sectors, including banking, investment management, corporate finance, and also financial consulting.
1.Diverse Career Opportunities:
Corporate Finance: Finance managers are needed in every industry to manage finances, investments, and also budgets.
Investment Banking: Managing capital, providing financial consultancy, and facilitating mergers and also acquisitions.
Financial Consulting: Offering financial advice and expertise to clients, often in consulting firms.
Asset Management: Managing clients' investments, including stocks, bonds, and also real estate.
Risk Management: Assessing and also mitigating financial risks in various sectors.
Financial Analysis: Analyzing financial data, trends, and market conditions to guide business decisions.
2.Banking and Financial Institutions:
India has a vast network of banks and financial institutions. MBA graduates often find opportunities in public and private sector banks, insurance companies, and also other financial organizations.
3.Growing Fintech Industry:
The rise of fintech companies in India has created new avenues for finance professionals. Fintech firms are disrupting traditional financial services, basically leading to increased demand for individuals with expertise in both finance and technology.
4.Entrepreneurship Opportunities:
With the government's initiatives like Startup India, aspiring entrepreneurs in the finance sector can establish their own fintech startups or financial consultancy firms.
5.Regulatory Changes and Compliance:
Ongoing regulatory changes in the financial sector require professionals who understand and can navigate these complexities. Therefore, the Compliance officers and regulatory analysts are in demand.
6.Globalization and International Finance:
India's integration into the global economy has increased the demand for finance professionals who understand international finance, foreign exchange markets, and also global investment strategies.
7.Government Initiatives:
Government initiatives like Make in India and Smart Cities Project require financial experts for financial planning, budgeting, and implementation, also creating job opportunities in the public sector.
8.Salary and Career Growth:
Finance professionals, especially those with MBAs, often start with competitive Average package and hence, have significant potential for career growth based on performance and expertise.
9.Professional Development:
Continued education and certifications like CFA (Chartered Financial Analyst) or FRM (Financial Risk Manager) can further enhance career prospects and also open doors to specialized roles.
10.Networking and Internships:
Actively participating in networking events, internships, and industry interactions during the MBA program can significantly enhance job prospects. Hence, Building a professional network is crucial for career growth.
11.Skill Set in Demand:
Skills such as financial analysis, risk management, investment banking, and financial modeling are highly valued. Additionally, soft skills such as leadership, communication, and problem-solving, which are honed during MBA programs, are crucial for career advancement.
It's Most important to research specific business schools and their placements, industry connections, and alumni networks when considering an MBA in Finance in India. Additionally, staying updated with recent developments in the financial sector and networking with professionals in the field can provide valuable insights and job leads.
Available Modes to Study MBA Finance
There are several modes to Study MBA for an Aspiring Candidate. The Following are the Types of MBA in Finance Options Available.
Full-Time MBA
Features: Full-time MBA programs are intensive and immersive, hence providing a comprehensive curriculum. Students attend classes on campus, participate in group projects, and often have access to internships also. This mode is suitable for individuals looking for a traditional MBA experience basically without the constraints of a job.
Eligibility: 50% marks in graduation basically from Recognize University along with valid Entrance Exam.
Duration: 2 Years.
Fee Structure: Rs 2.0 Lacs – 18 Lacs.
Part-Time MBA
Features: Part-time MBA programs are for working professionals. Classes are often scheduled during the evenings or on weekends, allowing students to continue working while pursuing their Masters degree. This mode is ideal for those who want to balance work, life, and education as a result.
Eligibility: Basically a Graduate along with Minimum 2-3 years work experience.
Duration: 2-3 Years.
Fee Structure: Rs 2.5 Lacs – 8 Lacs.
Executive MBA (EMBA)
Features: EMBA programs are tailored particularly for experienced professionals, usually with a minimum number of years of work experience (varies by program). Classes are usually on weekends or in intensive modules, allowing executives to continue their careers while enhancing their leadership and managerial skills. EMBA programs often emphasize real-world applications and case studies.
Eligibility: Graduate with Basically Minimum 2-3 years work experience.
Duration: 1-2 Years.
Fee Structure: Rs 3.5 Lacs – 10 Lacs.
Distance Learning MBA
Features: Distance learning MBA programs are basically off campus Studies. Hence provide course materials to students, who study independently. All Communication with instructors and peers is primarily through mail, email, or online forums. Additionally Examinations are conducted at designated centers. Therefore, this mode is suitable for individuals who require complete flexibility and cannot attend regular classes.
Eligibility: Basically a Graduate from any Discipline from an UGC Approved University.
Duration: 2-3 Years.
Fee Structure: Rs 1.0 Lacs – 3.0 Lacs
Dual MBA Programs
Features: Dual MBA programs allow students to earn two degrees simultaneously, often in collaboration with international universities. Having Credit transfer facility in 2nd year in choice of University Abroad. Also in different disciplines such as MBA/MS or MBA/MPH or PGDM/MBA. Hence these programs are more specialized and can provide a broader skill set along with Practical Exposure.
Eligibility: 50% marks in graduation basically from a Recognize University along with valid Entrance Exam.
Duration: 2 Years.
Fee Structure: Rs 10. Lacs – 30 Lacs.
Features: Online MBA programs are entirely taught over the internet. However, students can access lectures, assignments, and resources remotely, allowing for a flexible study schedule. This mode is suitable for individuals who require the flexibility to study from anywhere, often while working full-time or managing other commitments.
Eligibility: Graduate basically from Any Recognize University.
Duration: Minimum 2 years, Maximum 4 years from the date of registration.
Fee Structure: Rs 1.0 Lacs – 2.5 Lacs
Accelerated MBA
Features: Accelerated MBA programs are also known as fast-track or one-year MBA programs. Moreover these programs are highly intensive, condensing the traditional two-year curriculum into a shorter timeframe. Hence. These programs are demanding and require full-time commitment, making them suitable for individuals who want to complete their MBA quickly. Also the students in accelerated MBA programs typically take a heavier course load each semester and may have limited breaks between terms.
Eligibility: Basically a Graduate along with Minimum 2-3 years work experience
Duration: 1 year.
Fee Structure: Rs 2.0 Lacs – 8 Lacs.
Eligibility for Admission
The following are the basic eligibility criteria for Securing admissions to the MBA Finance course are:
Educational Qualifications:
Bachelor's Degree: Applicant require to have a bachelor's degree in any discipline from a recognize university or college from Either India or Abroad.
Minimum Percentage: Many institutions require a minimum of 50 percentage or grade point average (GPA)equivalent in the undergraduate degree. Therefore the specific percentage or GPA requirement varies among institutions along with other Cut off Parameters.
Entrance Exams:
CAT/MAT/XAT/CMAT/ATMA/CUET: Most MBA programs in India require candidates to Either take one of the national-level management entrance exams or State level Entrance, National levels such as CAT (Common Admission Test), MAT (Management Aptitude Test), XAT (Xavier Aptitude Test), or CMAT (Common Management Admission Test). State level such as PGCET, MHCET, IPCET. Hence, different institutions may accept different exams, Also most of all Colleges have different Cutoff for Admission in MBA Finance.
Minimum Percentile/Score: Basically the Institutions usually have a minimum percentile or score Cut off requirement in these entrance exams for candidates to be eligible for admission. Also the minimum percentile/score varies by institution and can be different for each category of students also (General, SC/ST/OBC, etc.).
Work Experience (Varies):
Some MBA programs may require work experience: While many MBA programs accept fresh graduates, some institutes, especially for executive MBA programs, Therefore require a minimum number of years of work experience, often ranging from 1 to 5 years.
Reservation Criteria:
Indian institutions follow the government's reservation policy, which includes quotas for different Category Students. Such as Schedule-Castes (SC/ST), Other Backward-Classes (OBC), Economically Weaker Sections (EWS), and also other categories. Although Candidates belonging to these categories Usually have specific relaxations in eligibility criteria also. Minimum 5% Relaxation in Graduation percentage and varied Entrance Exam Cutoff are usually Given depending upon the Institute.
Personal Interview and Group Discussion:
Most of all institutions conduct stringent personal interviews and/or group discussions as part of the selection process. Therefore, the performance in these sessions is often considered while making final admission decisions by the Institute Admission Panel.
Statement of Purpose (SOP) or Essays:
SOP or Essays: Many a Times Applicants are often require to write a Statement of Purpose (SOP) or essays. Hence Explaining their motivation for pursuing an MBA, career goals, and why they are interested in the specific MBA program they are applying to.
List of Top MBA Colleges in India for MBA Finance
Bharat, is home to several prestigious MBA colleges that offer specialize programs in Finance. However, the ranking of these colleges can vary on different surveys and criteria. so it's always a good idea to research and consider multiple sources before making a decision. Following are some of the top MBA colleges in India known for their Finance programs:
Indian Institute of Management Ahmedabad (IIMA) – Ahmedabad
Indian Institute of Management Bangalore (IIMB) – Bangalore
XLRI – Xavier School of Management – Jamshedpur
Indian School of Business (ISB) – Hyderabad and Mohali
Indian Institute of Management Lucknow (IIML) – Lucknow
Management Development Institute (MDI) – Gurgaon
Indian Institute of Management Mumbai (IIMB)- Mumbai
Xavier Institute of Management Bhubaneswar (XIMB) – Bhubaneswar
Shailesh J. Mehta School of Management (SJMSOM), IIT Bombay – Mumbai
Tata Institute of Social Sciences (TISS) – Mumbai
International Management Institute (IMI) – Delhi
Narsee Monjee Institute of Management Studies (NMIMS) – Mumbai
Institute of Management Technology (IMT) – Ghaziabad
Entrance Exam for MBA in Finance
Accordingly India, several national and state-level MBA entrance exams are conducted for admission to MBA programs, including for MBA in Finance. Therefore these exams are widely accepted by various business schools across the country (India). Following are some of the prominent Mandatory MBA entrance exams in India:
National Level MBA Entrance Exams:
Common Admission Test (CAT):

Conducted by: Indian Institutes of Management (IIMs).
CAT is basically one of the most popular and competitive MBA entrance exams in India, accepted by numerous top-tier business schools.

Management Aptitude Test (MAT):

Conducted basically by: All India Management Association (AIMA).
MAT is conducted four times a year and is also accepted by a wide range of management institutes across India.

Xavier Aptitude Test (XAT):

Conducted by: XLRI Xavier School of Management, Jamshedpur.
XAT is also accepted by more than 150 B-schools in India and is known for its rigorous examination pattern.

Common Management Admission Test (CMAT):

Conducted basically by: National Testing Agency (NTA).
CMAT is accepted specifically by AICTE-approved institutions and universities across India. Whereas, MBA institutes of national importance in India does not accept CMAT Scores.

Graduate Management Admission Test (GMAT)

Conducted basically by: Graduate Management Aptitude Council (GMAC).
In India, more than 400+ business schools offering MBA/PGDM accept GMAT results. Subsequently, these include the Most prominent B Schools like the Indian School of Business, IIM Ahmedabad, IIM Bangalore, IIM Calcutta, and the Institute of Management Technology (IMT), among others.

Common University Entrance Test (CUET)

Conducted basically by: National Testing Agency (NTA).
The CUET exam scores are accepted by around 197 CUET PG participating universities for admission to different postgraduate programs including MBA.

Narsee Monjee Management Aptitude Test (NMAT)

Conducted basically by: Graduate Management Aptitude Council (GMAC).
NMAT exam results are accepted by some of the leading MBA universities for flagship and specialized programs because it is an independent and reputable exam.
State-Level MBA Entrance Exams:
MAH CET (Maharashtra Common Entrance Test):

Conducted basically by: State Common Entrance Test Cell, Maharashtra.
MAH CET is the entrance exam for various management institutes in Maharashtra.

TANCET (Tamil Nadu Common Entrance Test):

Conducted basically by: Anna University, Tamil Nadu.
TANCET is accepted by several colleges in Tamil Nadu for their MBA programs.

APICET (Andhra Pradesh Integrated Common Entrance Test):

Conducted basically by: Sri Krishnadevaraya University, Anantapur, on behalf of Andhra Pradesh State Council of Higher Education (APSCHE).
APICET is for admission into MBA programs in Andhra Pradesh.

KMAT (Karnataka Management Aptitude Test):

Conducted basically by: Karnataka Private Post Graduate Colleges Association (KPPGCA)
KMAT is accepted by more than 169 B-schools across Karnataka.

OJEE MBA (Odisha Joint Entrance Examination for MBA):

Conducted basically by: Odisha State Government.
OJEE MBA is the entrance exam for MBA programs in Odisha.

UPSEE MBA (Uttar Pradesh State Entrance Examination for MBA):

Conducted basically by: Dr. A.P.J. Abdul Kalam Technical University, Uttar Pradesh
UPSEE MBA is for admission to MBA programs in colleges affiliated with AKTU, Lucknow.
Job Profiles in MBA in Finance in India
The field of finance offers a wide array of job profiles across various sectors in India, including banking, corporate finance, investment banking, insurance, financial consulting, and more. Following are some common job profiles in the finance sector in India:
1. Financial Analyst:
Financial analysts assess financial data, trends, and market conditions to guide businesses in their financial decisions. They analyze company financial statements, industry trends, and also economic factors to provide investment recommendations.
2. Investment Banker:
Investment bankers assist companies and governments in raising capital by issuing stocks or bonds. They also provide financial advisory services for mergers, acquisitions, and other financial transactions.
3. Corporate Finance Manager:
Corporate finance managers are responsible for managing a company's financial activities. This includes financial planning, budgeting, forecasting, and overseeing investments. Therefore they work closely with top management to make strategic financial decisions.
4. Risk Manager:
Risk managers identify and assess potential financial risks for a company. They develop strategies to mitigate these risks, ensuring the organization's financial stability. Risk managers are crucial in sectors like banking, insurance, and also investment firms.
5. Accountant:
Accountants are responsible for financial record-keeping, including preparing financial statements, maintaining financial records, and ensuring compliance with tax regulations. They work in various industries and can also specialize in areas like auditing or forensic accounting.
6. Financial Consultant:
Financial consultants offer expert advice to individuals and businesses on matters related to investments, insurance, taxes, retirement planning, and estate planning. Hence, they help clients make informed financial decisions based on their goals and risk tolerance.
7. Actuary:
Actuaries analyze financial risks using mathematics, statistics, and financial theory. They primarily work in insurance companies, pension funds, or government agencies, predicting future events and their financial implications to design policies and strategies.
8. Credit Analyst:
Credit analysts evaluate the creditworthiness of individuals or businesses applying for loans. They assess financial data, analyze credit risks, and make recommendations regarding loan approvals, interest rates, and credit limits.
9. Financial Planner:
Financial planners work with individuals and families to create comprehensive financial plans. They assess clients' financial goals and help them with investment strategies, retirement planning, tax planning, and wealth management.
10. Treasury Manager:
Treasury managers oversee a company's financial activities, managing cash flow, investments, and also financial risks. They play a vital role in liquidity management, ensuring the company has enough funds to meet its obligations.
11. Equity Research Analyst:
Equity research analysts specialize in analyzing stocks and providing investment recommendations to institutional investors, retail investors, and also fund managers. They study companies' financial statements, industry trends, and market conditions to make stock recommendations.
12. Derivatives Analyst:
Derivatives analysts focus on financial instruments like options, futures, and swaps. They analyze market trends and assess the risks and also potential rewards associated with derivative investments.
13. Insurance Underwriter:
Insurance underwriters assess insurance applications and decide whether to provide coverage. They evaluate the risk profile of applicants and hence determine the terms and conditions of insurance policies.
14. Compliance Officer:
Compliance officers ensure that financial institutions and businesses adhere to regulatory requirements and internal policies. They develop and implement compliance programs, conduct audits, and also provide training to employees on regulatory compliance.
15. Forex Dealer/Trader:
Forex dealers/traders engage in buying and selling foreign currencies in the foreign exchange market. They analyze market trends and also economic indicators to make trading decisions, aiming to profit from fluctuations in exchange rates.
Salary Potential in MBA in Finance
The salary potential for individuals with an MBA in Finance in India can vary widely based on several factors, basically including the level of experience, the reputation of the business school, job role, location, and the specific industry.
1. Entry-Level Positions (0-2 years of experience):
Financial Analyst: ₹4-8 lakhs per annum
Credit Analyst: ₹5-10 lakhs per annum
Investment Banking Analyst: ₹6-10 lakhs per annum
2. Mid-Level Positions (2-5 years of experience):
Senior Financial Analyst: ₹8-15 lakhs per annum
Treasury Manager: ₹10-18 lakhs per annum
Risk Manager: ₹10-20 lakhs per annum
3. Senior-Level Positions (5+ years of experience):
Finance Manager: ₹12-25 lakhs per annum
Senior Investment Banker: ₹15-30 lakhs per annum
Director/Head of Finance: ₹20 lakhs to ₹1 crore or more per annum (depending on the company size and also experience)
4. Specialized Roles (with certifications like CFA, FRM, etc.):
Chartered Financial Analyst (CFA): CFA charterholders often command higher Average package, with the potential to earn in the range of ₹10 lakhs to ₹1 crore or more per annum based on experience and also expertise.
Financial Risk Manager (FRM): FRM-certified professionals, especially in roles related to risk management, can earn competitive Average package, ranging from ₹8 lakhs to ₹50 lakhs or more per annum.
5. Investment Banking (Variable Pay and Bonuses):
In investment banking, basically a significant portion of the compensation comes from variable pay, including bonuses and commissions. Investment bankers, especially in top firms, can earn substantial bonuses, sometimes even exceeding their base salary.
Please note that these figures may vary based on the current economic conditions, industry demand, and individual negotiation skills. Additionally, the finance sector is highly dynamic, and salary structures can change over time. Hence It's advisable to research specific companies and industries to get the most accurate and up-to-date salary information.
Factors Influencing Salaries in MBA in Finance:
Company Size and Reputation: Larger and also well-established companies often offer higher Average package and better benefits.
Geographical Location: Average package can vary significantly based on the city. Metro cities like Mumbai, Delhi, and Bangalore generally offer higher Average package in comparison to smaller cities.
Education and Certifications: Higher education levels, also additional certifications, and specialized skills often translate into higher earning potential.
Work Experience: Experience plays a crucial role in determining salary levels. As professionals gain more experience, also their earning potential typically increases.
Major Recruiting Field and Companies
MBA graduates specializing in finance from top business schools in India are highly sought after by a variety of recruiters. Following are some major recruiters who actively hire finance professionals from MBA colleges in India accordingly as per their performances:
1. Investment Banks:
Goldman Sachs
J.P. Morgan Chase
Morgan Stanley
Citibank
Bank of America Merrill Lynch
Credit Suisse
Deutsche Bank
2. Consulting Firms:
McKinsey & Company
Boston Consulting Group (BCG)
Bain & Company
Deloitte Consulting
PricewaterhouseCoopers (PwC)
EY (Ernst & Young)
KPMG
3. Financial Services Companies:
American Express
Visa
Mastercard
PayPal
Fidelity Investments
Charles Schwab
BlackRock
Vanguard
4. Corporate Sector:
General Electric (GE)
Procter & Gamble (P&G)
Amazon
Microsoft
Apple
Google
Reliance Industries Limited
Tata Group
5. Asset Management Firms:
BlackRock
Vanguard
State Street Global Advisors
T. Rowe Price
Franklin Templeton Investments
6. Rating Agencies:
Standard & Poor's
Moody's
Fitch Ratings
7. Insurance Companies:
LIC (Life Insurance Corporation of India)
ICICI Lombard
HDFC Life
Max Life Insurance
8. Government and Public Sector:
Securities and Exchange Board of India (SEBI)
Reserve Bank of India (RBI)
Public Sector Banks (SBI, PNB, etc.)
Insurance Regulatory and Development Authority of India (IRDAI)
9. Fintech Companies:
Paytm
PhonePe
PolicyBazaar
Razorpay
Zerodha
10. Non-Banking Financial Companies (NBFCs):
Bajaj Finance
HDFC Ltd.
Mahindra Finance
Aditya Birla Finance
11. Educational Institutions:
IIMs (Indian Institutes of Management)
Top Business Schools and Universities
12. Research and Analytics Firms:
CrISIL
IHS Markit
Morningstar
FactSet
Please note that this list includes both domestic and international recruiters. The specific recruiters and opportunities can vary based on the reputation of the MBA college, the candidate's skills and experience, and the current job market conditions. It's crucial for MBA candidates to research potential employers, attend campus placements and job fairs, and network with professionals to identify the most suitable opportunities in the finance sector.
FAQ
What is MBA in Finance ?
A two-year graduate-level program named an MBA in Finance teaches students how to manage, oversee, and assess financial resources.
Is MBA is Finance a good option to study.
Yes, this is one of the best and evergreen specialization of MBA. It has a vast scope and give ample job opportunities.
What is MBA in finance Major Subjects?
Few of the Major Subject in MBA Finance are following: Financial Statement Analysis, Corporate Finance, Investments and Portfolio Management, Derivatives and Risk Management, International Finance, Financial Modeling, Mergers and Acquisitions, Behavioral Finance
Is MBA in Finance tough to study?
Yes, but it is easier if you had mathematics as subject in class 10th and 12th.