An MBA in Power Management is a specialized master's degree program is designed to provide a comprehensive understanding of the energy industry, including electricity generation, distribution, and management, as well as the broader field of energy policy and sustainability.
MBA Power Management in India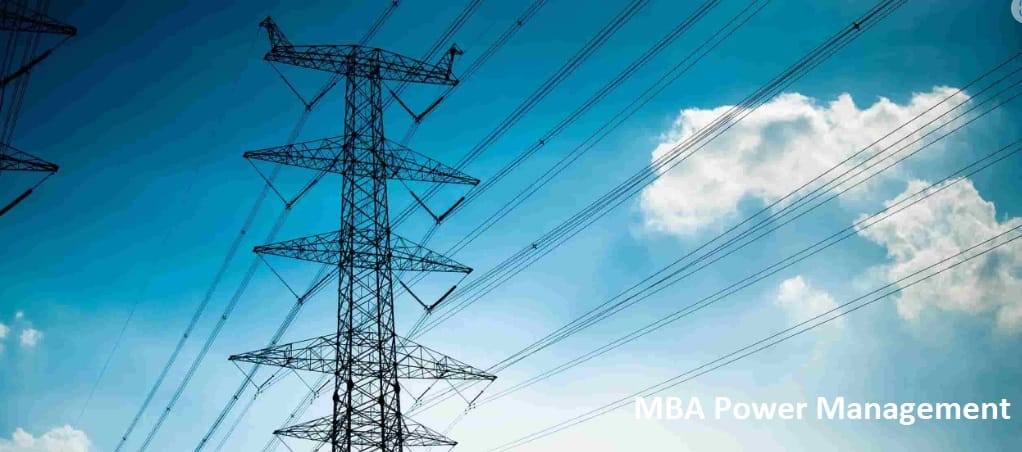 Scope in MBA Power Management
MBA in Power Management in India was promising, given the country's growing energy needs, increasing focus on renewable energy, and the government's efforts to reform and modernize the power sector
1.Power Distribution and Management:
Efficient power distribution and management are essential for addressing energy access issues and reducing losses in the grid. MBA graduates with expertise in Power Management can contribute to improving distribution networks and reducing technical and commercial losses.
2.Energy Policy and Regulation:
Graduates with expertise in this area can find opportunities in government agencies, regulatory bodies, and consulting firms that work on energy policy and regulation.
3.Government Initiatives:
The Indian government has been promoting initiatives like "Make in India" and "Atmanirbhar Bharat," which can create opportunities for skilled professionals in the energy sector.
4.International Opportunities:
India is also becoming a hub for international energy companies and organizations
5.Energy Sector Growth:
India's energy sector has been witnessing significant growth due to rising electricity demand, urbanization, and industrialization. The government has set ambitious goals for expanding the country's power generation capacity, with a focus on renewable energy sources such as solar and wind.
6.Renewable Energy:
An MBA in Power Management can prepare you for roles in the renewable energy sector, including project management, policy analysis, and business development.
Types of MBA Power Management Study Options
There are several modes to Study MBA for an Aspiring Candidate. The Following are the Types of MBA in Power Management Options Available.
Full-Time MBA
Features: Full-time MBA programs are intensive and immersive, hence providing a comprehensive curriculum. Students attend classes on campus, participate in group projects, and often have access to internships also. This mode is suitable for individuals looking for a traditional MBA experience basically without the constraints of a job.
Eligibility: 50% marks in graduation basically from Recognize University along with valid Entrance Exam.
Duration: 2 Years.
Fee Structure: Rs 2.0 Lacs – 18 Lacs.
Part-Time MBA
Features: Part-time MBA programs are for working professionals. Classes are often scheduled during the evenings or on weekends, allowing students to continue working while pursuing their Masters degree. This mode is ideal for those who want to balance work, life, and education as a result.
Eligibility: Basically a Graduate along with Minimum 2-3 years work experience.
Duration: 2-3 Years.
Fee Structure: Rs 2.5 Lacs – 8 Lacs.
Executive MBA (EMBA)
Features: EMBA programs are tailored particularly for experienced professionals, usually with a minimum number of years of work experience (varies by program). Classes are usually on weekends or in intensive modules, allowing executives to continue their careers while enhancing their leadership and managerial skills. EMBA programs often emphasize real-world applications and case studies.
Eligibility: Graduate with Basically Minimum 2-3 years work experience.
Duration: 1-2 Years.
Fee Structure: Rs 3.5 Lacs – 10 Lacs.
Distance Learning MBA
Features: Distance learning MBA programs are basically off campus Studies. Hence provide course materials to students, who study independently. All Communication with instructors and peers is primarily through mail, email, or online forums. Additionally Examinations are conducted at designated centers. Therefore, this mode is suitable for individuals who require complete flexibility and cannot attend regular classes.
Eligibility: Basically a Graduate from any Discipline from an UGC Approved University.
Duration: 2-3 Years.
Fee Structure: Rs 1.0 Lacs – 3.0 Lacs
Dual MBA Programs
Features: Dual MBA programs allow students to earn two degrees simultaneously, often in collaboration with international universities. Having Credit transfer facility in 2nd year in choice of University Abroad. Also in different disciplines such as MBA/MS or MBA/MPH or PGDM/MBA. Hence these programs are more specialized and can provide a broader skill set along with Practical Exposure.
Eligibility: 50% marks in graduation basically from a Recognize University along with valid Entrance Exam.
Duration: 2 Years.
Fee Structure: Rs 10. Lacs – 30 Lacs.
Features: Online MBA programs are entirely taught over the internet. However, students can access lectures, assignments, and resources remotely, allowing for a flexible study schedule. This mode is suitable for individuals who require the flexibility to study from anywhere, often while working full-time or managing other commitments.
Eligibility: Graduate basically from Any Recognize University.
Duration: Minimum 2 years, Maximum 4 years from the date of registration.
Fee Structure: Rs 1.0 Lacs – 2.5 Lacs
Accelerated MBA
Features: Accelerated MBA programs are also known as fast-track or one-year MBA programs. Moreover these programs are highly intensive, condensing the traditional two-year curriculum into a shorter timeframe. Hence. These programs are demanding and require full-time commitment, making them suitable for individuals who want to complete their MBA quickly. Also the students in accelerated MBA programs typically take a heavier course load each semester and may have limited breaks between terms.
Eligibility: Basically a Graduate along with Minimum 2-3 years work experience
Duration: 1 year.
Fee Structure: Rs 2.0 Lacs – 8 Lacs.
MBA Power Management Eligibility in India
The following are the basic eligibility criteria for Securing admissions to the MBA Power Management course are:
Educational Qualifications:
Bachelor's Degree: Applicant require to have a bachelor's degree in any discipline from a recognize university or college from Either India or Abroad.
Minimum Percentage: Many institutions require a minimum of 50 percentage or grade point average (GPA)equivalent in the undergraduate degree. The specific percentage or GPA requirement varies among institutions along with other Cut off Parameters.
Entrance Exams:
CAT/MAT/XAT/CMAT/ATMA/CUET: Most MBA programs in India require candidates to Either take one of the national-level management entrance exams or State level Entrance, National levels such as CAT (Common Admission Test), MAT (Management Aptitude Test), XAT (Xavier Aptitude Test), or CMAT (Common Management Admission Test). State level such as PGCET, MHCET, IPCET. Hence, different institutions may accept different exams, Also most of all Colleges have different Cutoff for Admission in MBA Power Management.
Minimum Percentile/Score: Basically the Institutions usually have a minimum percentile or score Cut off requirement in these entrance exams for candidates to be eligible for admission. The minimum percentile/score varies by institution and can be different for each category of students also (General, SC/ST/OBC, etc.).
Work Experience (Varies):
Some MBA programs may require work experience: While many MBA programs accept fresh graduates, some institutes, especially for executive MBA programs, Therefore require a minimum number of years of work experience, often ranging from 1 to 5 years.
Reservation Criteria:
Indian institutions follow the government's reservation policy, which includes quotas for different Category Students. Such as Schedule-Castes (SC/ST), Other Backward-Classes (OBC), Economically Weaker Sections (EWS), and other categories. Although Candidates belonging to these categories Usually have specific relaxations in eligibility criteria also. Minimum 5% Relaxation in Graduation percentage and varied Entrance Exam Cutoff are usually Given depending upon the Institute.
Personal Interview and Group Discussion:
Most of all institutions conduct stringent personal interviews and/or group discussions as part of the selection process. Therefore, the performance in these sessions is often considered while making final admission decisions by the Institute Admission Panel.
Statement of Purpose (SOP) or Essays:
SOP or Essays: Many a Times Applicants are often require to write a Statement of Purpose (SOP) or essays. Hence Explaining their motivation for pursuing an MBA, career goals, and why they are interested in the specific MBA program they are applying to.
List of Top MBA Colleges in India for MBA Power Management
India is home to several prestigious MBA colleges that offer specialize programs in Power Management. However, the ranking of these colleges can vary on different surveys and criteria. so it's always a good idea to research and consider multiple sources before making a decision. Following are some of the top MBA colleges in India known for their Power Management programs:
National Power Training Institute (NPTI), Faridabad
University of Petroleum and Energy Studies (UPES), Dehradun
MBA Power Management Entrance Exams
In India, several national and state-level MBA entrance exams are conducted for admission to MBA programs, including for MBA in Power Management. Therefore these exams are widely accepted by various business schools across the country (India). Following are some of the prominent Mandatory MBA entrance exams in India:
National Level MBA Entrance Exams:
Common Admission Test (CAT):

Conducted by: Indian Institutes of Management (IIMs).
CAT is basically one of the most popular and competitive MBA entrance exams in India, accepted by numerous top-tier business schools.

Management Aptitude Test (MAT):

Conducted by: All India Management Association (AIMA).
MAT is conducted four times a year and is also accepted by a wide range of management institutes across India.

Xavier Aptitude Test (XAT):

Conducted by: XLRI Xavier School of Management, Jamshedpur.
XAT is also accepted by more than 150 B-schools in India and is known for its rigorous examination pattern.

Common Management Admission Test (CMAT):

Conducted basically by: National Testing Agency (NTA).
CMAT is accepted specifically by AICTE-approved institutions and universities across India. Whereas, MBA institutes of national importance in India does not accept CMAT Scores.

Graduate Management Admission Test (GMAT)

Conducted by: Graduate Management Aptitude Council (GMAC).
In India, more than 400+ business schools offering MBA/PGDM accept GMAT results. Subsequently, these include the Most prominent B Schools like the Indian School of Business, IIM Ahmedabad, IIM Bangalore, IIM Calcutta, and the Institute of Management Technology (IMT), among others.

Common University Entrance Test (CUET)

Conducted by: National Testing Agency (NTA).
The CUET exam scores are accepted by around 197 CUET PG participating universities for admission to different postgraduate programs including MBA.

Narsee Monjee Management Aptitude Test (NMAT)

Conducted basically by: Graduate Management Aptitude Council (GMAC).
NMAT exam results are accepted by some of the leading MBA universities for flagship and specialized programs because it is an independent and reputable exam.
State-Level MBA Entrance Exams:
MAH CET (Maharashtra Common Entrance Test):

Conducted basically by: State Common Entrance Test Cell, Maharashtra.
MAH CET is the entrance exam for various management institutes in Maharashtra.

TANCET (Tamil Nadu Common Entrance Test):

Conducted basically by: Anna University, Tamil Nadu.
TANCET is accepted by several colleges in Tamil Nadu for their MBA programs.

APICET (Andhra Pradesh Integrated Common Entrance Test):

Conducted basically by: Sri Krishnadevaraya University, Anantapur, on behalf of Andhra Pradesh State Council of Higher Education (APSCHE).
APICET is for admission into MBA programs in Andhra Pradesh.

KMAT (Karnataka Management Aptitude Test):

Conducted by: Karnataka Private Post Graduate Colleges Association (KPPGCA)
KMAT is accepted by more than 169 B-schools across Karnataka.

OJEE MBA (Odisha Joint Entrance Examination for MBA):

Conducted basically by: Odisha State Government.
OJEE MBA is the entrance exam for MBA programs in Odisha.

UPSEE MBA (Uttar Pradesh State Entrance Examination for MBA):

Conducted basically by: Dr. A.P.J. Abdul Kalam Technical University, Uttar Pradesh
UPSEE MBA is for admission to MBA programs in colleges affiliated with AKTU, Lucknow.
Job Profile in MBA Retail Management
The job market for MBA graduates in Power Management in India can be dynamic and is influenced by factors such as government policies, technological advancements, and economic conditions.
1.Renewable Energy Project Manager:
Renewable energy project managers oversee the planning, development, and execution of renewable energy projects such as solar, wind, or hydropower installations.
2.Power Plant Manager:
Power plant managers are responsible for the efficient operation of power generation facilities, including thermal, hydroelectric, or nuclear power plants.
3.Energy Auditor:
Energy auditors assess the energy efficiency of buildings, industrial facilities, and power systems. They recommend improvements to reduce energy consumption, lower costs, and minimize environmental impact.
4.Energy Policy Analyst:
Energy policy analysts work in government agencies or research organizations, analyzing and shaping energy policies and regulations.
5.Energy Trading Analyst:
Energy trading analysts work for energy trading firms or utilities, analyzing energy markets, pricing trends, and risk management strategies. They may be involved in buying and selling energy contracts.
6.Environmental Compliance Manager:
Environmental compliance managers ensure that energy companies adhere to environmental laws and regulations.
Salary Potential in MBA Power Management:
The salary potential for an MBA graduate in Power Management can vary widely depending on several factors, including the level of experience, the specific job role, the geographic location of employment, and the organization or sector in which you work.
Entry-Level Positions:
For recent MBA graduates entering the field, entry-level positions such as energy analysts, project coordinators, or junior consultants may offer Average package ranging from ₹5 lakh to ₹10 lakh per year. The exact salary can depend on the organization and the city in which you are employed.
Mid-Level Positions:
As you gain experience and expertise in the power management field, you can expect higher Average package. Mid-level positions, such as renewable energy project managers, energy consultants, or power plant managers, may offer Average package in the range of ₹10 lakh to ₹20 lakh or more per year.
Senior Management and Leadership Roles:
MBA graduates with several years of experience and strong leadership skills can aspire to senior management positions in energy companies, consulting firms, or government agencies. Average package for senior roles such as Director of Energy Operations, Chief Sustainability Officer, or Energy Policy Advisor can range from ₹20 lakh to ₹50 lakh or higher per year.
Major recruiters in MBA Power Management:
MBA graduates in Power Management can find employment opportunities with a wide range of organizations in the energy and power sector, as well as related industries.
Energy Companies
Renewable Energy Companies
Consulting Firms
Utilities
Government Agencies
Environmental and Sustainability Organizations
Non-Governmental Organizations (NGOs) and Non-Profits
Energy Technology Startups
Research and Academia
Multinational Corporations
Manufacturing and Industrial Companies
Energy Technology Startups
FAQ:
What is the major Subject in MBA Power Management?
The syllabus for an MBA Power Management includes following Power systems engineering, Power sector economics and regulation, Power plant management, Power grid operations, Renewable energy technologies, Energy efficiency and conservation, Power market analysis and trading, Power project management, Power finance and accounting.