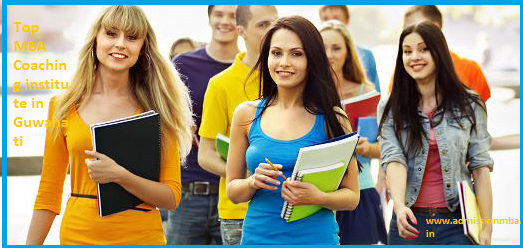 Top MBA Coaching Institute in Guwahati
are famous for preparing students for various MBA Entrance Exams of National and State level. Some of the National level MBA Entrance Exams Like
CAT Common Admission Test
MAT Management Aptitude Test
CMAT Common Management Admission Test
and some of the state level MBA Entrance Exams like
These Top MBA Coaching Institute  in Guwahati are also well known because of there teaching pedagogy and regular up dation in the course content. Some of the other common Practices followed by top MBA Coaching Institutes in Guwahatiare Mock tests, online tests free and GD/PI sessions for Admission in top MBA Colleges in India.
MBA Aspirants who want to Admission in Top MBA Colleges in India often get stuck along the way, Top MBA Coaching Institute in Guwahati helps people get un-stuck, Clarifying needs and goals, Resolving all kinds of complex Doubts and Queries, Increasing MBA aspirants personal and collective capacity to become better. In the era of cut-throat competition, have become a necessity and a large percentage of students each year get into top MBA Colleges in India.
Another advantage of is that they provide guidance to students on crucial matters like how to study, what to study, etc. One is familiarized with question paper patterns, frequently asked questions, important chapters and topics, etc.
List of Top MBA Coaching Institute in Guwahati are :-
Erudite Guwahati
Illotama Enclave, 4Th Floor, Opp. Rabindra Bhavan, Gnb Road, Ambari, Guwahati-781001
IMS Guwahati – IIT
Amingaon (Near-Iit Kv), Guwahati-781039
Career Launcher Guwahati Center
Jayanta Commercial Centre, 2nd Floor , G.N.B.Road, Near Guwahati Club
Guwahati
Assam
Career Launcher Jorhat Center
T R Phukan Road , Choladhora Jorhat Assam
IMS Silchar
NIT Silchar Silchar Assam
Phone : 9864057575
IMS Guwahati
1st Floor, Opp. Goswami Service, G.N.B. Road
Pin 781003.
IMS Guwahati – IIT
Amingaon (Near-Iit Kv), Guwahati-781039
T.I.M.E. Guwahati
Nabagiri Path, (Towards Assam Redcross Hospital), Chandmari, Guwahati-03
Educomp Leap
Chandmari Flyover Guwahati, Assam,781001