Address: IV Floor, Vishwakarma Bhavan, Shaheed Jeet Singh Marg, Hauz Khas, New Delhi, Delhi 110016, Contact Number: 011 2659 7034 Website: dms.iitd.ac.in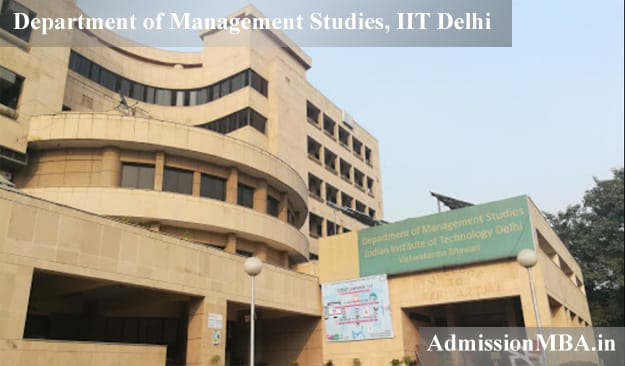 Department of Management Studies, IIT Delhi
Top Rank by NIRF
Department of Management Studies, IIT Delhi
Location
Delhi
Date of Establishment
1997
Approved by
AICTE
Type of Institution
Government
Affiliated with
UGC
Vision
To attain global prominence by developing thought leadership, innovative solutions, and responsible business leaders through flexible, values-based management education driven by high impact research.
MIssion
To provide high-quality and values-based management education to nurture business leaders with global outlook; conduct cutting edge research to contribute to the body of knowledge in management; and offer innovative management solutions to our stakeholders integrating technology and management for a sustainable world.
Courses

What is a Specialization degree ?

Information Systems
Finance
Marketing
Strategic Management
Operations Management

IIT DMS Delhi Fees 2023-25

IIT DMS Delhi Fees
Rs. 10.40,000/- For 2 Years
Entrance Exam
Those having applied to IIT Delhi MBA programmes on qualifying the CAT 2020 will be shortlisted and then invited for a WAT and interview, which will be held at IIT Delhi and IIT Madras
Who are eligible for Department of Management Studies, IIT Delhi MBA admission?
A Bachelor's Degree or equivalent awarded by any of the universities incorporated by an act of the central or state legislature in India or other educational institutions established by an act of Parliament or declared to be deemed as a University under Section 3 of the UGC Act, 1956, or possess an equivalent qualification recognized by the Ministry of HRD, Government of India. The bachelor's degree or equivalent qualification obtained by the candidate must entail a minimum of three years of education after completing higher secondary schooling (10+2) or equivalent.
IIT DMS Delhi Fees & Scholarship
Yes, Available

Department of Management Studies, IIT Delhi Admission 2023

Documents required

Documents required for admission in DMS, IIT Xerox of Graduation Examination mark sheet (1st & 2nd year mark sheets for 3 year degree holders.
Entrance score card.
Class 12th & 10th Certificate.
Pass Port Size Photographs.

What is intake in college?
The college has increased its intake Total Seats for students MBA 60=60 Only.

IIT DMS Delhi Average Package

IIT DMS Delhi Average Package
INR 21.9 LPA
Highest Package
INR 36.7 LPA

Median CTC offered

INR 20.6L

Placement Sector

Sales & Marketing
Consulting
Data Analytics
Information
Technology
Supply Chain and Operation

Recruiters
RBI, OnePlus, Shell, Wipro, ICICI, Deloitte, Amazon, Rockwell Automation and GAIL among others.