College Address : Maurawan road, mohanlalganj,
lucknow, Uttar Pradesh 226301
Official Website : AIMT
Phone : 011-26344275 | 9811004275
Ambalika Institute of Management and Technology
AIMT is one of the prominent professional institutes amongst a dozen educational institutes. Located in Mohanlalganj, on the outskirts of Lucknow, the institute is surrounded by 200 acres of lush green sprawling mango orchards and ensures pollution-free environment.
AIMT lucknow Placement
Ever-changing and ever-evolving technology is virtually transforming every aspect of human existence. This change is constantly creating a need for engineers, managers and technocrats. However, the supply of these professionals is far less than the steadily growing demand. Therefore, to provide our country and the world with competent engineers, managers and technocrats, Ambalika Institute of Management & Technology has been striving from the day of its inception.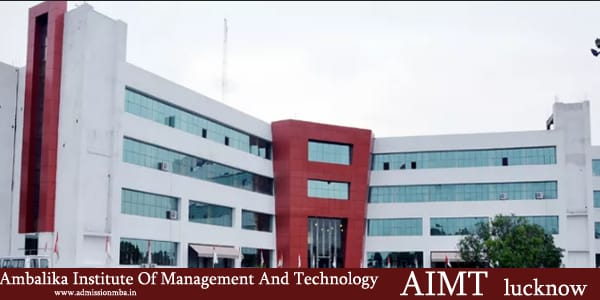 AIMT lucknow Placement
Delhi MBA College
Ambalika Institute of Management & Technology
Establishment
2008
Contact No
011-26344275 | 9811004275
Website
www.aimt.edu.in

Approvals & Affiliations

AICTE,AKTU

Course Offered

MBA

Duration

2 years

Semesters

4 semesters

Specialization offered

Finance
Marketing
Human Resource
International business
Information Technology
Marketing
Operatins
Research

Number of seats
 90

Ambalika Institute of Management and Technology Fees Structure

Fees Structure

 MBA- 89,749/- per annum.

Entrance Exam

CMAT/ CAT/MAT/KMAT/ATMA
Necessary Documents
Admission to MBA course shall be open for the students who have are Graduate in any stream from a recognized University with Minimum 50% Marks . A)Entrance score card (KMAT/CMAT/MAT/PGCET/CAT) Original + 4 copies B)TC/College leaving certificate C)Application Form D)Migration certificate (If studied in Non-Karnataka States) E)10th & 12th Marks Sheet Certificate F)Graduation Degree Marks Sheets ( 3 / 4 / 5 Years) G)Caste & Income Certificate (If claiming under SC /ST / I / II / III Categories) H)Degree Certificate / PDC I)4 Photos (Stamp Size)
Eligibility for Passing
A student shall be considered to have satisfied the attendance requirement if he/she has attended not less than 85% of the classes in each subject of that semester (Theory, Seminars, Industrial Training and Dissertation work) actually conducted up to the end of the Semester.A student,shall not be eligible to appear for the Examination of the Semester and shall be required to repeat that Semester along with regular students later.
Attendance Requirements
The student shall obtain a minimum of 50 % of marks in the University examination and a minimum of 50% of marks in aggregate including the Internal Assessment marks for pass in each of the theory subject
Major Recruiters

Airtel
Almerich Tech
Acienture Accel Frontline
American Express Bank
Ansal Housing & Construction Ltd
Apna Technologies
Asian Paints
Bajaj Allianz
Barco Electronics
Bharti AXA Life Insurance
Birla Sun Life Insurance
Blue Dart Express Ltd
Bluestar
Bose Corporation
Brick Red Pvt Ltd
Infosys.
WIPRO Technologies Ltd.
AIMT lucknow Placement
AIMT lucknow