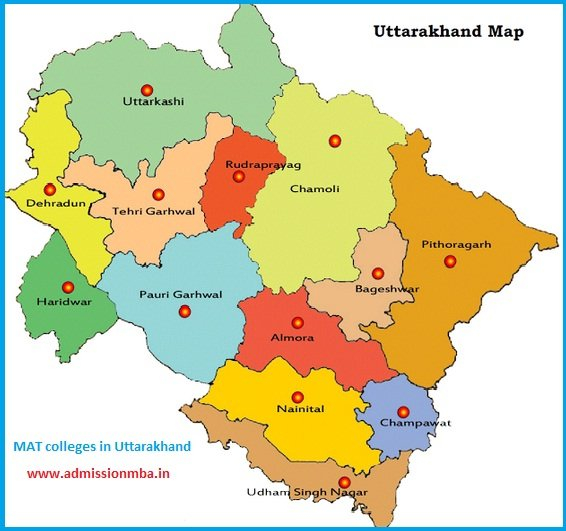 MBA Colleges Accepting MAT score in Uttarakhand
MBA Colleges Accepting MAT score in Uttarakhand are among the most demanded, searched and preferred colleges for students from Different part of the country to study Management Education either MBA or PGDM .
Management Aptitude Test(MAT) conducted by All India Management Association (AIMA) which is a apex body of professional management with active support of the Government of India is the national wide exam being accepted by over thousand of colleges in India and by many colleges in Uttarakhand, for Providing admission in management education MBA or PGDM.Since MAT exam is held for getting admission in Management Colleges in Uttarakhand also known among students as MAT Colleges in Uttarakhand for the purpose of Post Graduate admission.
MAT exam is among the most preferred and comfortable exam to appear in for students as MAT exam occurs 4 times in a year gives wider option to students for both Choosing the right college as per their need ,academic profile and score better each time.
Given below is the list of Top Mat colleges in Uttarakhand providing admission in to their respective management course either MBA or PGDM to students through MAT exam after fulfilling the eligibility requirements.
Name MBA Colleges in Uttarakhand
Admission Address

MBA Colleges in Dehradun City in Uttarakhand Accepting MAT entrance score

Mahadevi Institute of Technology
10, New Road,Dehra Dun
Doon Business School
122-Selaqui, Behind Pharma City,
Beehive College of Management & Technology
Beehive City, Central Hope Town, Selaqui, Dehradun, Uttarakhand.
Bfit Technical Campus Dehradun
Sudhowala, Chakrata Road Dehradun
Nimbus Academy of Management
Hadwali, Po Jhajra, Chakrata Road, Dehradun
Institute of Cooperative Management
6, Old Mussoorie Road, Rajpur
Graphic Era Deemed To Be University
566/6 Bell Road, Clement Town Dehradun
Tulas Institute
Mehre-Ka-Gaon Po-Selaqui Dhoolkot Tehsil- Vikas Nagar Dehradun Pin Code- 248197
Guru Ram Das Institute of Management & Technology
214, Rajpur Road Dehradun-248009
Dev Bhoomi Institute of Technology
Navgaon, Manduwala, Dehradun

MBA Colleges in Haridwar City in Uttarakhand Accepting MAT entrance score

Brd College of Management and Sciences
7 Km Milestone Roorkee- Dehradun Highway
Roorkee College of Management & Computer Applications Roorkee.
09- Mile Stone Roorkee – Dehradun Highway, Village – Kishanpur Rooree-247667, Distt- Haridwar (Uttarakhand)
Phonics Group of Institutions
12Th Milestone Bhaganpur-Haridwar Highway Village Imli Kheda, Dhrampur Roorkee Dist. Haridwar Uttarakhand
Swami Darshnananda Institute of Management and Technology
Gurukul Mahavidyalaya, Jwalapur, Hardwar
Gurukul Kangri Vishwavidyalaya
Faculty Of Management Studies, Gurukul Kangri Vishwavidyalaya
Coer School of Management
7- K.M. On Roorkee-Hardwar Road, Vardhmanpuram,Vill Firozpur, Roorkee.
Ramanand Institute of Pharmacy and Management
Haridwar-Roorkee Road Jwalapur Haridwar
Institute of Management Studies, Roorkee
10Th Km. Stone, Roorkee Dehradun Highway, Roorkee
Bishamber Sahai Management Institute
6Th Km Stone, Saliyar Saharnpur Dehradun Road
Roorkee Institute of Technology
Roorkee Institute Of Technology, 8Th Km, Dehradun Road, Puhana, Roorkee Distt. – Haridwar (Uttarakhand) Pin – 247 667
Om Bio Sciences & Management College
On Ward Roorkee 01 Km From Patanjalli Yoge Peeth Near Crystal World Vill: Panchayanpur Po: Daulatpur Roorkee

MBA Colleges in Nainital City in Uttarakhand Accepting MAT entrance score

Department of Management Studies, Kumaun University Campus, Bhimtal
Kumaun University Campus, Block Road, Mallital Bhimtal-263136 Distt. Nainital State Uttarakhand
Amrapali Institute of Technology and Sciences
Siksha Nagar, Lamachaur

MBA Colleges in Tehri Garhwal City in Uttarakhand Accepting MAT entrance score

Omkarananda Institute of Management and Technology
Omkarananda Saraswati Marg, Shivananda Nagar, Muni Ki Reti, Rishikesh

MBA Colleges in Udham Singh Nagar City in Uttarakhand Accepting MAT entrance score

Surajmal Agrawal Girls College of Management
Haldwani By-Pass Road Kichha, Distt: Udham Singh Nagar Uttarkhand Pin- 263148
Surajmal Laxmi Devi Sawarthia Educational Trust'S Group of Institutions
Sirolly, Kichha Distt: Udham Singh Nagar – 263148 (Uttarakhand)
College of Agribusiness Management
College Of Agribusiness Management, G.B. Pant University Of Agriculture & Technology, Pantnagar, U.S. Nagar-263 145
Shriram Institute of Management & Technology Pg College
7 Km Stone, Ramnagar Road, Kashipur
Satyendra Chandra Guria Institute of Management andtechnology
Bazpur Road, Kashipur, Distt-Udham Singh Nagar, Uttarakhand.
Saraswati Institute of Management & Technology
N.H. 74, 12 Km. Rudrapur-Gadarpur Road
MBA Colleges Accepting MAT score in Uttarakhand have unique teaching pedagogy ,having faculty with rich industry and teaching experience .The MBA Colleges in Uttarakhand have a wider industry interference ,imparting better industrial and practical knowledge in management students with Industrial visits, Summer training, live projects and finally providing multiple placements opportunities to students.
The participation of MBA Colleges Accepting MAT score in Uttarakhand may vary from all the 4 mat exam being conducted in a year i.e Feb, May, Sept, Dec. UPES