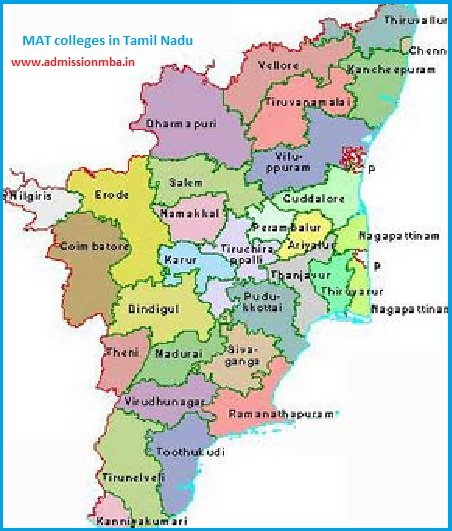 MAT score in Tamil Nadu are among the most demanded, searched and preferred colleges for students from Different part of the country to study Management Education either MBA or PGDM.
Management Aptitude Test (MAT) conducted by All India Management Association (AIMA) which is a apex body of professional management with active support of the Government of India is the national wide exam being accepted by over thousand of colleges in India and by many colleges in Tamil Nadu, for Providing admission in management education MBA or PGDM. Since MAT exam is held for getting admission in Management Colleges in Tamil Nadu also known among students as MAT Colleges in Tamil Nadu for the purpose of Post Graduate admission.
List of Top Colleges in TamilNadu accepting MAT :-
MBA Colleges in Tamil Nadu
Admission Address

MBA Colleges in Chennai accepting MAT score in Tamil Nadu

Madras School of Economics
Behind Anna Centenary Library Gandhi Mandapam Road Chennai 600025

MBA Colleges in Coimbatore accepting MAT score in Tamil Nadu

Anna University Regional Campus Coimbatore
Navavoor, Marudhamalai Road, Somayampalayam, Coimbatore-641046
Park Global School of Business Excellence
Avinashi Road, (Nh-47), Kaniyur, Coimbatore – 641 659.
Tips School of Management
Sf 361/1A, Karuvalur Road, Ss Kulam Po, Coimbatore 641107
Guruvayurappan Institute of Management
Coimbatore-Palakkad Highway Navakkarai (Post) Coimbatore- 641105 Tamilnadu

MBA Colleges in Kanchipuram accepting MAT score in Tamil Nadu

Vels Institute of Science Technology and Advanced Studies
Velan Nagar, P.V.Vaithiyalingam Road,
Great Lakes Institute of Management
East Coast Road Manamai Village Thirukazhukundram Village Kanchipuram District Tamilnadu 603102
St.Joseph College of Engineering
Trinity Campus, Nemili B Beemanthangal Village, Sriperumbudur, Kancheepuram District-602105.

MBA Colleges in Madurai accepting MAT score in Tamil Nadu

R L Institute of Management Studies
Tvr Nagar Aruppukottai Road Madurai 625 022

MBA Colleges in Salem accepting MAT score in Tamil Nadu

Tagore Institute of Engineering and Technology
Salem-Chennai Main Road, Deviyakurichi – 636 112, Attur(Tk), Salem(Dt), Tamil Nadu
Periyar University
Salem Bangalore National Highways, Periyar Palkalai Nagar, Salem

MBA Colleges in Tiruchirappalli accepting MAT

Shrimati Indira Gandhi College
P.O.Box No.369, Chatram Bus Stand, College Road, Tiruchirappalli-2.
Oasys Institute of Technology
Tiruchirappalli-Thuraiyur Main Road, Pulivalam P.O Musiri Taluk

MBA Colleges in Tiruppur accepting MAT

Cherraan Institute of Management Studies
Cherraan Nagar, Thittuparai, Kangayam.

MBA Colleges in Tiruvannamalai accepting MAT

Arunai Engieering College
Chitoor-Cuddalore Road, Mathur, Tiruvannamalai
Given below is the list of Top colleges in Tamil Nadu providing admission in to their respective management course either MBA or PGDM to students through MAT exam after fulfilling the eligibility requirements.
MBA Colleges in Tamil Nadu have unique teaching pedagogy ,having faculty with rich industry and teaching experience. The MBA Colleges in Tamil Nadu have a wider industry interference ,imparting better industrial and practical knowledge in management students with Industrial visits, Summer training, live projects and finally providing multiple placements opportunities to students.
The participation of MBA Colleges Accepting MAT score in Tamil Nadu may vary from all the 4 mat exam being conducted in a year i.e Feb, May, Sept, Dec.