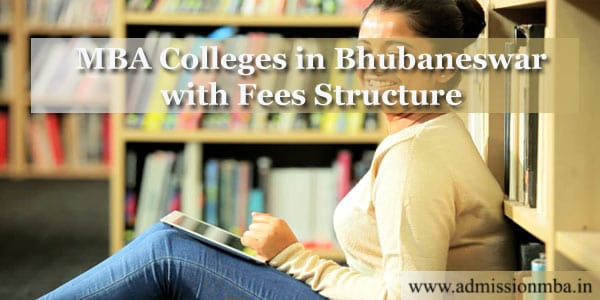 MBA Colleges in Bhubaneswar Fees Structure
| | | |
| --- | --- | --- |
| Colleges for MBA in Bhubaneswar Odisha | Location in Bhubaneswar | MBA Fees Structure (Rs) |
| Amity Global Business School, Bhubaneswar | Jaidev Vihar | 4.84 Lakh |
| Asian School of Business Management (ASBM) | Chandaka | 6.46 Lakh |
| Astha School of Management | Balianta | 2 Lakh |
| Affinity Business School | Khurdha | 1.68 Lakh |
| Astral Institute of Management Studies (AIMSBBSR) | Patia |  ——- |
| Biju Patnaik Institute of Information Technology and Management Studies (BIITM) | Patia | 2.24 lakh |
| Barrister Ranjit Mohanty B School (BRM) | Rasulgarh | 1.90 Lakh |
| Birla Global University (BGU) | Gothapatna | 7.00 Lakh |
| Bhubaneswar Engineering College | Pittapally |  ——– |
| Bhubaneswar Institute of Management and Information Technology (BIMIT) | Mancheswar | 1.50 Lakh |
| C.V. Raman College of Engineering (CVRCE) | Bidyanagar, Mahura | 2.54 Lakh |
| Centurion University of Technology and Management (CUTM) | Jatni | 4.74 Lakh |
| College of Engineering Bhubaneswar (CEB Bhubaneswar) | Chandrashekharpur | 1.99 Lakh |
| College of IT and Management Education (CIME) | Mancheswar Industrial Estate | 1.89 Lakh |
| Gandhi Institute for Technological Advancement (GITA, Bhubaneswar) | Janla | 2.18 Lakh |
| Gandhi Institute for Technology (GIFT) | Gangapada | 1.874 Lakh |
| Global Institute of Management | Naharkanta | 1.62 Lakh |
| Gurukul Institute of Technology (GIT) | Chhatabar | 1.30 Lakh |
| Indian Institute of Tourism and Travel Management (IITTMB) | Dumduma | 3.09 Lakh |
| Institute of Management and Information Science (IMIS) | Bankuala | 5.10 Lakh |
| International Management Institute (IMI Bhubaneswar) | Gothapatna | 11.79 Lakh |
| Indus College of Engineering (ICE BBSR) | Khurda | 1.40 Lakh |
| Kalinga Institute of Industrial Technology | Patia | 11.95 Lakh |
| KIIT School of Management | Chandaka Industrial Estate | 12.02 Lakh |
| Koustuv Business School | Chandrasekharpur | 1.60 Lakh |
| KIIT School of Rural Management (KSRM) | Chandrasekharpur | 6.47 Lakh |
| Konark Institute of Science and Technology (KIST) | Jatni | 1.35 Lakh |
| Koustuv Institute of Self Domain (KISD) | Patia | 1.60 Lakh |
| Krupajal Business School (KBS) | Kausalya Ganga | 3.60 Lakh |
| NIIS Institute of Business Administration (NIIS-IBA) | Madanpur, Khurda | 1.45 Lakh |
| Mahavir Institute of Engineering and Technology (MIET) | Palaspur | 1.50 Lakh |
| Modern Institute of Technology & Management | Kantabada | 1.40 Lakh |
| Centre for Management Studies, Orissa Engineering College (CMS-OEC) | Jatni | 1.52 Lakh |
| PJ College of Management & Technology (PGCMT) | Kesora | 1.4 Lakh |
| Rajdhani Engineering College (REC Bhubaneswar) | Mancheswar Railway Colony | 1.60 Lakh |
| Regional College of Management (RCMB) | Chandrasekharpur | 3.20 Lakh |
| Siksha 'O' Anusandhan University (SOA University) | Khandagiri Marg | 5.36 Lakh |
| Sri Sri University | Cuttack | 7.90 Lakh |
| Srusti Academy of Management | Patia | 1.30 Lakh |
| Suddhananda School of Management and Computer Science | Bhatapatana | 1.34 Lakh |
| Trident Academy of Creative Technology (TACT) | Chandrasekharpur | 1.26 Lakh |
| Times Pro | Nayapalli | 1.45 Lakh |
| Trident Academy of Technology (TAT) | Chandrasekharpur | 1.26 Lakh |
| United School of Business Management (USBM) | Patia | 1.98 Lakh |
| Utkal University | Vani Vihar | 0.5 Lakh |
| Xavier Center for Urban Management and Governance (XUMG) | Xavier Square | 15.0 Lakh |
| Xavier School of Rural Management (XSRM) | Harirajpur | 15.10 Lakh |
| Interscience Institute of Management and Technology (IIMT Bhubaneswar) | Khurda | Lakh |
| Xavier School of Human Resource Management (XAHR) | Xavier Square | 19.70 Lakh |
| Xavier School of Sustainability (XSOS) | Kakudia | 15.0 Lakh |
| Xavier Institute of Management (XIMB) | Jayadev Vihar | 19.90 Lakh |
MBA Colleges in Bhubaneswar with Fees Structure
MBA College fees in Bhubaneswar plays an Vital Role in an Aspirants Choice of MBA College Bhubaneswar Selection. As most of all the students Pre Decide MBA College as per their Budge. Furthermore Very Rarely Students Opt for Top MBA Colleges with out Deciding the MBA Colleges Bhubaneswar Fees Budget. The Complete List of the Most Demanded and Approved Top colleges Fees structure will help students to Take admissio. Hence the exclusive list of top mba colleges in Bhubaneswar with fees structure is an initiative by admissionmba.in to help students in conclusion.
MBA Colleges Bhubaneswar Fees
Top College fees in Includes all the examination fees and Tuition Fees also. Therefore all the Top MBA Colleges in Bhubaneswar have Different Course offering with Different Fees Structure. No such MBA Colleges in Bhubaneswar either have the same Course offering or the same fees structure. In addition MBA College fees in Bhubaneswar also includes Laptop, Books, Study Material, Foreign Tours. Also all Societies & Club Activates, Examination Fees, Alumni Membership Fees and other Charges all inclusive. Hence The Students Can Pay their fees either by Cheque/DD/RTGS/Paytm also. Most noteworthy Top MBA Colleges Bhubaneswar Fees can be paid in Installments also. Few of the college have either yearly fees payment plans and even semester wise fees payment plans. Also the students Get Complete Details of mba Colleges Bhubaneswar Fees structure prescribed in the offer letter or the admission letter they receive.
MBA College fees in Bhubaneswar and Scholarships
Scholarships are also provided by Most of all in Best Colleges fees. The Scholarships are Mostly of two Types (1) Academic and (2) Need Base. The scholarships are provide to students to nature students talent and appreciate the past academic record. And also remove Hindrance of fees for studying to the needy Students. In Few Colleges Scholarships are Even Provided to Reserved Category Students Also Where in The State Government Funds Their Education.