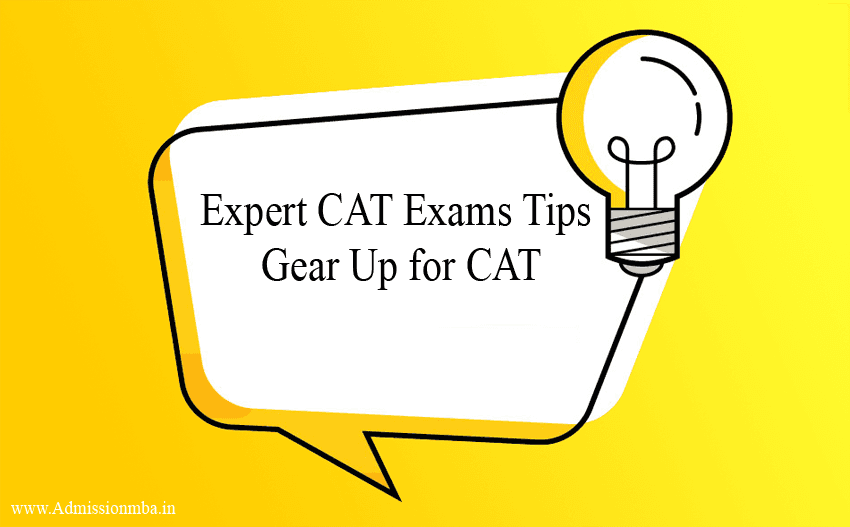 Expert CAT Exams Tips , Gear Up for CAT 2022
Success is Not the Destiny it is a Journey.Few Tips for getting Success in CAT 2022 as CAT mainly tests your concepts with speed and accuracy are, Following are the Expert CAT Exams Tips:-
1.Be open to Number of questions To be attempted
Focus on 60-70 questions with no constraints in navigation from one section to other. You will then have more than 2 minutes per question.
2. Act Smartly to Known:
Try and attempt questions you know and find Easy to Answer.
3.Time Management:
Focus on Time management ,Don't get yourself in odd situation by unnecessarily attempting Questions
4.Set Goals:
Read the set of questions before starting your exam and Set your goals and Focus on them only.
5.Clear up your last minute Doubts
Do clear your last minute doubts as it happen mostly our doubts makes us over confident and get us to face negative marks.
6.Practice online Tests (Mock and Test Series)
There are plenty of free online tests available to practice before exams.
7 Be Confident not over Confident:
Rather than focusing on all the topics, students need to try and select those topics with which they are more Confident . Even on the exam day, with the question sheet in hand, students shouldn't try to solve each and every question and waste their energy; they should rather spend 5 minutes in scanning a section and selecting questions from their area of expertise and skill.Negative marking is a part of CAT. CAT aspirants are advised to not take wild guesses in the Exam paper. Only if the student is able to eliminate 2-3 choices, then he should take a guess. Otherwise there is no point in wild guessing, as it may drop ones chances of making it right
8.Make Reading a habit
Read whatever you love. But try to read on different subjects articles,Read at least two magazines, one novel each week,Daily two hours required to study newspapers and Editorials. (English). Some things which CAT aspirants must do on an everyday basis are- Minimum 10 hours study everyday, especially before the 6 months of CAT exams. Preparation of minimum 10,000 words to enhance Vocabulary, study of newspapers and editorials for 2 hour's everyday and reading at least two magazines and one novel each week.
9.Try and Analyse Result
10. Practice previous year questions:
In order to ace CAT, students should look at questions from previous years' CATs and understand its syllabus. They should assess whether they are proficient, average or need improvement in each of the areas. The areas that fall in the third category should be focused on first followed by second and first.
11.Stay Relaxed :
Last but not the least, students are advised to keep their calm, relax, and believe in them on the day of the paper. They should be ready with all their stuff like admit card, pencils, pen etc well in advance to avoid last minute hassle and give their best shot is Expert CAT Exams Tips.
Incoming Search Terms:
Expert CAT Exams Tips Gear Up for CAT 2021, MBA entrance exams tips ,Success tips for Cat exam