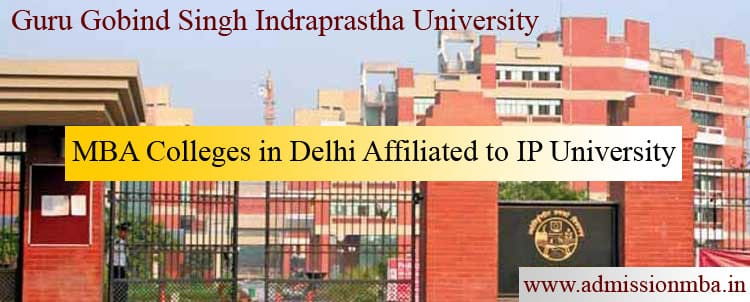 The Best Colleges for MBA affiliated to IP University in Delhi NCR are:
IP University is called Guru Gobind Singh Indraprastha University, is a public state university located in Delhi, India. established in 1998 by Government of Delhi, as a teaching-cum-affiliating university. The University is recognized by University Grants Commission, under section 12B of the UGC Act..
MBA Colleges in Delhi affiliated to IPU GGSIPU
16 MBA Colleges & Institutions Affiliated to Guru Gobind Singh Indraprastha University with Top Rating Management colleges Delhi, India UGC, NAAC-A Estd 1998 Government of Delhi.
Sr.No
Name of College & Institutes
Address in Delhi
Course

Dwarka in affiliated IPU College

1.
Banarsidas Chandiwala Institute of Professional Studies
Sector – 11, (Opposite Metro Station) Dwarka, New Delhi – 110075.
MBA

Greater Noida in affiliated IPU College

2.
Delhi Technical Campus
28/1, Knowledge Park – III, Greater NOIDA, UP.
MBA
3.
Army Institute of Management & Technology
Plot No. M-1, Block No. P-5, Sector – Pocket-5, Greater Noida -201306
MBA

Hameed Pur in IPU affiliated College

4.
HMR Institute of Technology & Management
Hameed Pur, Delhi – 110036.
MBA

Janak Puri in IPU affiliated College

5.
Institute of Information Technology & Management
 D -29, Institutional Area, Janak Puri, New Delhi .
MBA
6.
Management Education & Research Institute
53-54, Institutional Area, Janak Puri, New Delhi – 110058
MBA

Jasola in affiliated IPU College

7.
Periyar Management and Computer College
1&2 Opp.Sarita Vihar, FC–33, Jasola, New Delhi, Delhi 110025
MBA

IPU affiliated Colleges in Noida

8.
C-DAC, NOIDA (formaly Electronics Research & Development Centre of India)
Govt. of India, Anusandhan Bhawan, C – 56/1, Institutional Area, Sector – 62, NOIDA
MBA (IT)

Rohini in IPU affiliated College

9.
Bhagwan Parshuram Institute of Technology
P.S.P. – 4, Sector – 17, Rohini, Delhi – 11 00 85.
MBA
10.
Delhi Institute of Advance Studies- DIAS
Plot No.6, Sector 25, Rohini, Delhi – 110085.
MBA
11.
Gitarattan International Business School
Rohini Educational Society at PSP, Complex-II, Madhuban Chowk, Delhi.
MBA  (IB)
12.
Maharaja Agrasen Institute of Technology
Sector – 22 Rohini, Delhi – 110 085
MBA
13.
Rukmini Devi Institute of Advanced Studies- RDIAS
 2A&2B, Ph.- I, Madhuban Chowk, Rohini, Delhi – 110085
MBA
14.
Tecnia Institute of Advance Studies
Madhuban Chowk, Rohini, Delhi
MBA

Shakarpur in affiliated IPU MBA Colleges

15.
Bhai Parmanand Institute of Business Studies
Opp. Madhuban, Shakarpur (Extn.), Delhi -110092
MBA

Shastri Park in affiliated IPU MBA Colleges

16.
Northern India Engineering College
FC-26, Shastri Park, Delhi – 110053
MBA